Showbiz /
Alysha Brilla Releases Her First Album 'In My Head'
Alysha Brilla Releases Her First Album 'In My Head'
Showbiz Nov 05, 2013
Critically acclaimed Tanzanian-Canadian musical artist, Alysha Brilla is all set to make a name in the global music industry. Her first full-length album, In My Head, released by Sunny Jam Records, is now available in stores across Canada and iTunes. Her album features eclectic roots-pop fusion style instrumentals mixed with her exotic voice. I sat down with her to get a scoop on her new album.
Marriska Fernanades: What was the inspiration behind this album?

Alysha Brilla: The inspiration behind this album is a combination of my experiences and the music I was listening to while writing. During this time, I was listening to a lot of American Jazz as well as world music and I was going through a breakup. So there is an interesting juxtaposition of upbeat, rhythmic songs with poignant lyrics. I like finding meaning in melody.

MF: You have been in the industry for 10 years. How did it help in the release of your album?

AB: I was signed to a major US Record Label when I was 19 and a lot of things happened really fast. I have had some amazing experiences during my career so far. My experience certainly helped me when it came to producing this record, because I knew which sounds I wanted to hear and the message I wanted to get across to the world. I am really happy that I stayed true to my roots, my vision and myself.

MF: Who inspired you along the way?

AB: My mom has definitely always been a huge inspiration. She is one of the strongest and most independent women I know (along with being ambitious and driven). As far as artists go, I am a huge fan of music that comes out of trying situations. I started out being really into blues music, then jazz and reggae, which are all musical children of slavery and post-slavery. Even though a lot of my music focuses on love, I feel like a lot of it really emphasizes the importance of freedom on an emotional and spiritual level.

MF: You wrote and produced all the tracks in this album. What was the process like?

AB: It was an amazing process! To be a woman, producing in this industry is a bit of a rarity and that comes with its ups and downs. Songwriting comes relatively easily to me because, thank god, I am constantly inspired by this crazy world we live in. Writing is the fun part. Producing is a lot of work. I had an amazing group of musicians and engineers.They helped me create this record that I am so proud of.

MF: Who has been your biggest role model in the industry?

AB: One of my biggest role models in this industry has been…well, there are two. First is a producer who lives in L.A. named Martin Guigui. His general attitude towards life is so inspiring. I love the way that he connects art to things that may seem commonplace at first glance. He has produced films and music and is such a creative and funny guy. Also, my friend Mike D, who is also a musician, has always inspired me with his ability to shape-shift and honor the change that flows in his direction. This is a tough industry. It's great to know some inspiring people.

MF: What was it like working with Mike Jones, a JUNO winning engineer, and Tom Coyne, a Grammy award-winner?

AB: Working with Mike Jones was like working with a magician. I am not sure how someone gets so skillfully efficient, but he basically pressed the "on button" on the board, waved his hand over it, and my record sounded amazing. He has worked on some incredible albums both in England and Canada. I am so lucky I had him and Trevor Yuile helping me out on this record. Working with Tom Coyne was also surreal. He has mastered many of my favorite albums and to meet him and hear some stories was a real treat.

MF: Are there any South Asian musical influences on your album?
AB: I am pretty mixed, but I am definitely part South Asian! Even though my dad was born in Tanzania, there is certainly some Indian in his blood and you can see it in my face and I do think parts of it come across in my personality and music. For instance, I love Yoga. Indian food is my favorite. I put chilli flakes on everything. I really love some of the rhythms found in Indian music, and since rhythm is such a crucial part of what I do, it ends up making its way into my music.

Pic Credit: http://laprincessaworld.blogspot.ca/
MF: Is there anyone you'd like to collaborate with in the future?

AB: I would love to collaborate with Mark Ronson, a producer who worked on a lot of Amy Winehouse's music. I would actually just love to come to England and write and record with a bunch of producers. I think England produces so much amazing, progressive music and I would love to check it out and be a part of that scene.

MF: Any advice you'd like to share with upcoming artists?
AB: Love what you do and do what you love. Work incredibly hard. Most successful artists I know have some elements of deluded focus to their personality. It's a passion. It's all-consuming and permeates every aspect of your life, so allow it to be there always and never give up on your dream; the universe blessed you with it for a reason. Stay positive, everyone.
Feature Image: Alyshabrilla.com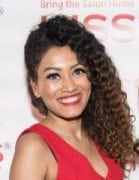 Author
Marriska (@marriska.fernandes) is an entertainment expert who has been creating celebrity, movies and pop culture content for digital outlets for over ten years. From reporting headline-grabbing celebrity news to reviewing movies to interviewing Hollywood and Bollywood's finest actors and industry...