Beauty /
Spring Forward With A Beautiful Body
Spring Forward With A Beautiful Body
Beauty Mar 07, 2015
Get Your Skin Spring-Ready
Spring is when people emerge from their parkas, look in the mirror and realize that winter is hard on vanity. Sunless days and heating have turned skin sallow, and freezing temperatures have reduced your exercise routine, increasing the unflattering flab on your midsection.
Fortunately, you can quickly erase the effects of winter on your skin with some key products and discipline.
WAKING DEAD SKIN

Darker skin tones look ashen when they're dry because of the dead skin cells accumulating on the surface. Shaving is a great way to remove them, but since the whole body is covered in skin, a granular scrub such as L'Occitane Amande Shower Scrub is useful. It relies on almond oil and shells to exfoliate and cleanse the skin. It's gentle enough to use daily. After using this scrub, my legs and arms gleam, and now my ingrown hairs are history.

Even though the temperature is higher, moisturizing with either a lotion or an oil is essential to seal in moisture. Dr. Roebuck's Pure Body Cream is full of great anti-ageing ingredients such as white tea, vitamin E and French neroli to hydrate and tighten the skin.

Dr. Roebuck's Pure Body Cream available at Murale.ca $29.99 CDN

If you prefer oils, try Vasanti Monoï Magic Oil. When you squeeze the bottle, it comes out thick, but as it warms on the skin, it becomes a dry oil that absorbs immediately. It's perfect for days when you're in a rush.
Vasanti Monoï Magic Oil $15 CDN

SORRY — I MEAN SARI, ABS
Winter's greatest cruelty is how abs disappear under layers of adipose tissue. Personally, I find the truth undeniable when I take out my spring wardrobe and realize that the zippers don't glide to an easy close.
Aside from eating healthily and exercising, which are more long-term approaches to achieving sari-worthy abs, Bliss has two products that immediately smooth and contour trouble spots.
The fatgirlslim Lean Machine contours trouble spots like cellulite and thickness located on the buttocks, stomach and thighs. You roll the handheld machine along your skin, where it lifts, suctions and massages to boost circulation and help the fatgirlsixpack penetrate. I hate that I can pinch more than an inch on my belly, but I appreciate that after three weeks, my abs look firmer and I no longer deal with zipper closure drama. These products complement my health regimen and confirm that my efforts are working.
fatgirlsslim® Lean Machine $145 US and fatgirlsixpack $38 US
CONCLUSIONS
Winter's end and its effect on vanity aren't permanent. With discipline and key products, skin regains its tautness and, thankfully, the body tightens.
Bliss images courtesy of Devon Consulting, Vasanti image courtesy of Overcat Communications, Dr. Roebuck courtesy of retail Site, L'Occitane image courtesy of retail site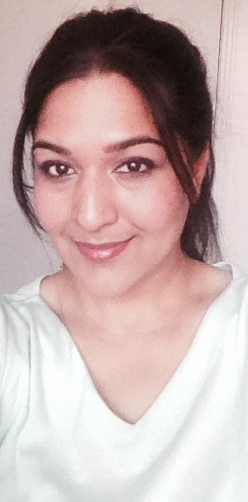 Author
Meena (@meenalaregina) always loved the idea of exploring the non-conventional idea of beauty. Having grown up as a pimply chubby teenager, she wanted to see the change in the world that best reflected your uniqueness as well. Her well-received collection of blogs where she tries on various beauty p...