The Truth Behind The Masque
Beauty Feb 02, 2015

The Beauty Behind The Mask
Masques have a reputation as green goop that should be used weekly to deeply cleanse the skin. The texture and time commitment have dissuaded women from incorporating this treatment into their skin care regimen — but you should reconsider.
The Evolution of the Masque
Modern masques are designed to work with your skin care regimen and deliver an intensive treatment in a short time. If your focus is anti-aging, try the Bliss Multi-'face'-eted All-in-One Anti-aging Mask. It relies on glycolic acid and jojoba oil to treat the skin. If your skin is dry and dehydrated, the Fresh Crème Ancienne Ultimate Nourishing Honey Mask could do the trick. It relies on honey and shea butter to hydrate the skin and restore elasticity. If your skin is dull and uneven, the Shiseido White Lucent Power Brightening Mask could help with its ion force complex that sloughs off cells containing melanin.
Top Left: Bliss Top Right: Fresh Below: Shiseido

These masques come in clay, cream and sheet formulas, respectively, and they require different time commitments.
So, when you're selecting a modern masque, ask yourself:
What's my skin care concern?
How much time do I have to dedicate to a masque?
What is my preferred texture?
How to Apply a Masque
Regardless of the masque you select, you need to cleanse and then exfoliate to ensure that the masque's ingredients penetrate. Darker South Asian skin tends to scar easily, so you should approach this step with the utmost care. You can exfoliate with a granular cream or a pad. The former is grainy to the touch and can irritate more sensitive skins, while the latter is a pre-soaked cotton pad that you can pass across the surface of your face.

I tested the Fresh Sugar Face Polish, which uses brown sugar and strawberry seeds to slough off dead skin cells, and the Bliss Steep Clean Mattifying Toner Pads, which use salicylic acid to resurface the skin. Both products delivered a great finish, but given that my skin is normal-to-oily and not sensitive, and I exercise daily, I prefer the Fresh polish.

L–R: Fresh and Bliss exfoliators


Once the skin is exfoliated, depending on the type of masque, the steps change.

For a deeper clean, I used Bliss. Deep cleansing involves facial steaming and keeping the masque on for 15 minutes. This masque ritual took 40 minutes from the cleanse to washing off.
L–R: Exfoliating with Fresh, Facial sfteaming, Squeezing pores
gently with fingertips covered in cotton pads, Wearing the masque, My face 40 minutes later

For hydration, I used Fresh. This is a convenient masque that requires cleansing, exfoliating and then applying the masque for 10 minutes. In 10 minutes, I put my next day's lunch together and answered texts. This masque took 12 minutes.
L–R: Face is cleaned, Exfoliating using a Bliss pad,
Applying the Fresh masque, My face 12 minutes later

For brightening, my mother, Nikhat, used Shiseido. She cleansed and exfoliated and wore the masque for 15 minutes, for an 18-minute ritual. The masque stayed on the contours of her face and the slits let her see and breathe. She cooked aloo gobi easily with the masque on and then rubbed in the excess cream at the end.

L–R: Face is cleaned, Masque is applied, Masque stays on face, Masque stays on during cooking, Masque peels off, Excess Serum is rubbed in, Her face 18 minutes later
Conclusions
The masques had an immediate impact and are a great complement to a skin care regimen. If used once in a while, the treatments won't have as much impact as a masque you use regularly. So it's important to select a masque that meets your skin care needs and time constraints.
Bliss, Fresh and Shiseido images courtesy of Devon Consulting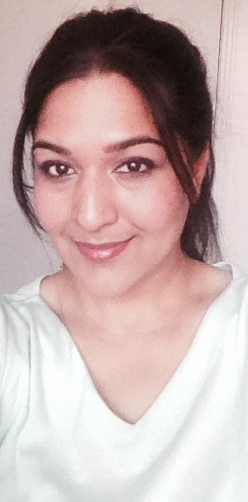 Author
Meena (@meenalaregina) always loved the idea of exploring the non-conventional idea of beauty. Having grown up as a pimply chubby teenager, she wanted to see the change in the world that best reflected your uniqueness as well. Her well-received collection of blogs where she tries on various beauty p...