Beauty /
Beauty Review: The Body Shop's Seductive Smoky Poppy Collection
Beauty Review: The Body Shop's Seductive Smoky Poppy Collection
Beauty Feb 04, 2015

Rekindle Passion With The Body Shop's Most Sensual And Indulgent Body Care Collection
This month, The Body Shop introduced one of its most seductive collections — The Smoky Poppy Collection. Edgy and daring, the range is sizzling with a slew of body products to spice up your love life. With Valentine's Day around the corner, the steamy collection could be just what the doctor ordered. The smoky poppy products are enriched with real, hand-picked poppy flowers from the Ankara region of Turkey. Whether date night is memorable or not, these earthy, woody notes will surely leave an impression. So go ahead and channel your inner Mistress of Spices.

The Smoky Poppy Eau de Toilette is layered with sultry spices, floral and woody notes that immediately set a mood for romance. Oriental, spicy fragrances have been longtime best-sellers, as they heighten a woman's sensuality. One of my favourite Bollywood stars, Priyanka Chopra, told Vogue that Romance by Ralph Lauren is one of her all-time favourite fragrances. This Ralph Lauren perfume also has strong layers of wood, florals and seductive musk. And we can all agree that PC has an exquisite taste. Maybe she'd give this smoky poppy a thumbs up!


Growing up in the Middle East, I realized that strong luxury fragrances were almost a ritual. Earthy, woody scents were infused into nearly everything and everyone. This collection certainly takes me home. The Smoky Poppy Body Lotion immediately infuses an Arabian touch, thanks to the Turkish poppy flowers. The lotion seals in hydration and makes sure you're left with a lingering scent all day (and night).

Infused with a warm and exotic aroma, the Smoky Poppy Shower Gel is a black formula that will cleanse you and leave an intoxicating scent behind. A good scrub followed by a good dose of this liquid love and you're all set to lure him in. Unlike other shower gels, this one keeps you refreshed for quite a while — and that sure is a plus for me.


Poppy seeds have long been an essential ingredient in Indian dishes. Now, this gem has made its way into our must-have beauty regimen. I love the infusion of poppy seeds in the Smoky Poppy Seed Body Scrub as it heals dead and dried skin, leaving behind no residue. The skin feels completely exfoliated and ready for a passionate love affair.

When weather gets unbearably cold, our skin is the first to take a turn for the worst. If you're going to go from day to night, extra hydration and moisture are key. You don't want flaky skin to be the uninvited third party on your date night. So lather up with the Smoky Poppy Body Butter, which will leave your skin desirably soft, smooth and irresistible — not to mention how much you'll love the lingering scent!

Aromatherapy oils influence moods and evoke pleasure and excitement. According to ByMoms.com, essential ginger oil conjures a woodsy scent, which evokes a warm feeling and increases endurance. For centuries, South Asian women have been using this scent on their wedding days. Looks like the Smoky Poppy Body Massage Oil will do the trick — it might be key in the art of seduction.


The Body Shop has also introduced Smoky Poppy Bath Bombs, and they sure can make your night special. Simply toss these into the tub and you two can jump right in. How's that for a Valentine's Day special? This bath-time treat just got too hot to handle!
All product images courtesy of The Body Shop.
Priyanka Chopra image courtesy of Vogue.com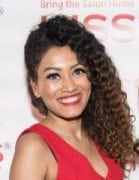 Author
Marriska (@marriska.fernandes) is an entertainment expert who has been creating celebrity, movies and pop culture content for digital outlets for over ten years. From reporting headline-grabbing celebrity news to reviewing movies to interviewing Hollywood and Bollywood's finest actors and industry...