Lush Lashes: Before & After
Beauty Jan 06, 2015

The Truth Behind Falsies
You can use false eyelashes (or "falsies") either to build on your mascara or on their own. Mascara enhances your natural eyelashes, but it can't mask sparseness, and it has only a limited ability to change the balance of your face. If your eyes are close-set, makeup artists recommend adding extra coats of mascara to the outer corners. The problem is that mascara can flake and clump.
Falsies, when used on their own, can replace mascara and give you either a natural or a dramatic effect.
There are two types of falsies: adhesive and self-adhesive. The former requires a specialized glue prior to application and the latter comes slightly tacky so you can apply immediately.
Remember that falsies tend to be on the longer side, and you can trim them prior to application using cuticle scissors. If you're applying individual lashes, make sure the lashes you apply to the inner corner of the eye are shorter. This mimics natural lashes. For strip lashes, you can give an overall trim or you can just trim the part you apply to the inner corner.
LEARNING CURVE: FALSIES IN EFFECT
My friend Rashmi and I explored the world of falsies and created two diverse looks.
I experimented with individual falsies, which you're supposed to insert among your real lashes. I wanted to make my eyes more almond-shaped, and I achieved this after some drama.
1. I applied all of my make-up except concealer and eye make-up.
2. I curled my lashes.
3. I removed an individual lash from the package using tweezers.
4. I dipped the root in the lash glue. It dries invisibly when its pressed against the lash line.
5. I attempted several times to nestle the falsies among my real lashes. This was a struggle because I was afraid of poking my eye — even though my hand was steady and the tweezer's sharp edges weren't close to my eyeball. I had several misfires! The falsie didn't stay in place or I squirmed away just when I applied the falsie. I eventually applied a pair of falsies at the outer corner of each eye.
6. I carefully applied two coats of mascara on my natural lashes, making sure not to disturb the falsies.
7. I applied a thin, black, liquid line using Écriture de Chanel to camouflage that falsies that I applied.
Overall, I liked the effect of the individual falsies. But I need to practice before I can incorporate them into my vanity routine.
My look started blah (left) but the individual falsies were so subtle that Rashmi and I decided to do a half-and-half picture (centre) and then show the complete effect (right)
Unlike my efforts, Rashmi's experience with self-adhesive strip lashes was a dream. She also followed steps 1 and 2, gently tapped the adhesive strip of lashes using her fingers, and applied liquid liner.
She achieved instant eye drama in two minutes.
Rashmi's eyes changed so much with the self-adhesive strip lash that we decided to do a half-and-half picture (left) and a full-on drama picture (right).
CONCLUSIONS
Self-adhesive strip lashes are the best type of falsies for beginners. It takes practice to make your fingers nimble enough to manipulate falsies and to be comfortable having something glued along your lash line. However, the individual falsies' effect is worth the effort — and I will master their application!
Product Images: Courtesy of retail sites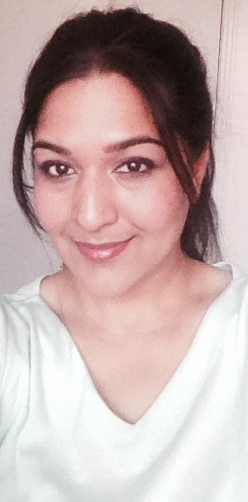 Author
Meena (@meenalaregina) always loved the idea of exploring the non-conventional idea of beauty. Having grown up as a pimply chubby teenager, she wanted to see the change in the world that best reflected your uniqueness as well. Her well-received collection of blogs where she tries on various beauty p...