Get The Dewy Look This Holiday
Beauty Nov 24, 2014

One Undeniable Trend Is The Dreamy, Dewy-Faced Look
Dewy trends are tricky; you're trying to achieve a glossy, illuminating look, so make sure you've properly cleansed your skin with a good exfoliator before setting your makeup. Here's a list of products that are perfect to help create a dewy look — my favourite makeup trend. I feel this trend highlights the best features of your face.
Moisturize
After cleansing and exfoliating your skin, a tinted moisturizer is the first step to the dreamy look.
Try Soap & Glory Glow Job, a tinted moisturizer that's a great base for a glossy and youthful finish.
You can always combine this moisturizer with Soap & Glory Hocus Focus, an illuminating lotion for a luminous look. When combined, you won't need any other products for a light and dewy-faced appeal.
Apply a light-weight foundation
Just because we're aiming for a dewy look, doesn't mean you have to feel greasy.
Light-weight foundations will also do the trick. My favourite light-weight foundation is Maybelline's Dream Wonder Foundation.
It gives you perfect coverage and a fresh feel all day.
Illuminate
If you want to go all out with the glowy look, go for a gold touch-up. Marcelle's CC Cream SPF 35 Complete Correction – Golden Glow adds that extra oomph that will keep your face illuminated and glossy all day long.

Brush up
Set the foundation with a brushing of light powder.
Benefit's Cheeky Sweet Spot is a set of six different powders and blushes to choose from. Simply dust your face with dab of powder using a soft brush.

Matte much?
If you have dry skin, you can go with a more hydrating powder that will soak up any greasiness but still keep your face hydrated.
I recommend Quo Hydra Powder Light. If you're trying to achieve the glossy look in the rough winter, this is certainly a go-to.

Bronze up
My final touch to complete the dewy trend is a baked bronzer.
I've always used The Body Shop Baked-to-Last Bronzer, which I apply under my cheekbones (between the cheek bone and jaw line) for a sculpted look.
Blush
For a light, sun-kissed touch of pink, use a natural pink blush with a hint of shine.
You can apply Revlon's Highlighting Palette to the apples of your cheeks to colour and illuminate or on your cheekbone to add a fine glow, creating a polished look.
Lipstick
When it comes to your lips, natural pink or nude is the best way to go with this look.
Elizabeth Arden's Beautiful Color Moisturizing Lipstick is my mainstay for a long-lasting and luxurious look.
One swipe will perfect your dewy and glossy look for the day!
Eyeshadow
When it's a dewy look you're after, try keeping your eye makeup a neutral tone.
Using Mary Kay Mineral Eye Color is one great option for neutral shades or matte shades.
Go for a shade darker than your skin tone — maybe Amber Blaze or Copper Glow would be ideal. These eyeshadows last a long time and complete your glamorous glossy look.
All Images courtesy of online retailers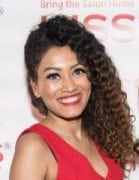 Author
Marriska (@marriska.fernandes) is an entertainment expert who has been creating celebrity, movies and pop culture content for digital outlets for over ten years. From reporting headline-grabbing celebrity news to reviewing movies to interviewing Hollywood and Bollywood's finest actors and industry...