Beauty /
Getting Your Make-up Right This Diwali
Getting Your Make-up Right This Diwali
Beauty Oct 12, 2014
Look Glamorous This Diwali With These Looks
October 2014 is the holiday season for many South Asians: Muslims observe Eid-al-adha and Hindus, Sikhs, and Jains celebrate light over darkness with Diwali- the joyful festival of lights.

To match glamorous, traditional outfits, make sure to balance the make-up. Depending on the intensity of your outfit, use a neutral eye – strong lip or smoky eye – neutral lip combination. The balance ensures that you, rather than your efforts, will be noticed.

Regardless of your make-up combination, you'll need groomed brows, voluminous eyelashes, and luminous skin.

The best eyebrows frame the face with their natural shape. Pluck stray hairs that lie below and between the eyebrows. Fill in sparseness with a dark-coloured eyebrow pencil such as Anastasia Beverly Hills Brow Wiz. It is a double-sided product with a brush on one end and a thin eyebrow pencil on the other. Brush the hairs downwards, draw soft mini strokes in the sparseness, and then brush them up.

Voluminous eyelashes are achieved when you curl them before you apply make-up (to avoid disturbing the liner), and then finish with a black mascara. Givenchy Noir Couture Volume Mascara is innovative in that some bristles fatten while others define eyelashes.
Create a radiant complexion with a light-infused product such as Diorskin Star Foundation. The weightless fluid can be layered, without caking on discolouration. Apply concealer after the eye make-up, to avoid mixing it with eye shadow. The Diorskin Star Brightening Concealer freshens and lifts the eye contour.

For the neutral eye/strong lip look, exfoliate the lips gently, and apply balm the night before. While getting ready apply a base like Guerlain Kiss Kiss Lip Lift to fill in lines, and make lipstick last longer. A lipstick with a great satin finish, that is festive and strong, is Guerlain Kiss Kiss Cherry Pink. Keep the eyes simple by colour washing with champagne eye shadow and applying black liner such as Givenchy Liner Couture Precision Felt-Tip Eyeliner, whose conical shape permits either thick or thin lines. Dab on pink blush- et voila!

Playing with contrasting shades
The dark smoky eye/neutral lip look is overdone: challenge it by using metallic shadows. First, tap on an eye shadow base to ensure lasting wear, and then try a palette like Dior 5 Couleurs in Cuir Cannage. Colour wash with the champagne shade, apply the shimmery chocolate shade in the crease, making sure to apply a bit on the lower lash line, and then line the eyes (upper and lower) with the bark shade, smudging it with a cotton bud. Complement the eyes with subtly highlighted cheeks, and a glossy nude lipstick.

The key to a beautiful and timeless look is to balance the outfit with the make-up. The make-up itself should focus on the eyes or lips; otherwise your face will be full of make-up and not your beauty.
Images courtesy of online retailers
Featured Image: heartbowsmakeup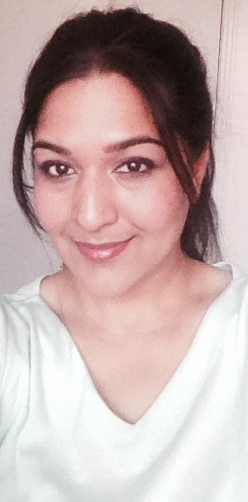 Author
Meena (@meenalaregina) always loved the idea of exploring the non-conventional idea of beauty. Having grown up as a pimply chubby teenager, she wanted to see the change in the world that best reflected your uniqueness as well. Her well-received collection of blogs where she tries on various beauty p...