Latest Dry Shampoos
Beauty Oct 08, 2014
Dry Shampoo – The Secret Weapon Time-Saver, Giving A Stress-Free Hair Day Or Two
Dry Shampoos have created a lot of buzz since they hit the market, mainly for their fast and effective way of cheating that 'just stepped out of the salon' look. Women all over have been giving the product a shot due to their hectic daily life schedules. Here are a few dry shampoos I've found that have really been effective when you want to avoid hitting the shower- but still want that fresh, fabulous look.
Cake Beauty

Rush Brush
Cake Beauty's brand new Rush Brush is a dry shampoo applicator that can be used on the go – even half way out the door. It's convenient for last-minute touch-ups. The rush brush is available in light to dark hues. This gem is certainly on my list of must-haves!
LUSH

LUSH No Drought

LUSH's No Drought is a dry shampoo that gets the job done, while adding that fruity fragrance that comes with all LUSH products. This one powder can be applied to all hair types – even brunettes like myself. Apply this to the scalp and hair, and then brush it off. Voila!
Joico

Instant Refresh Dry Shampoo

Joico's Instant Refresh Dry Shampoo brings a fast-drying aerosol formula for every hair type. It destroys the grease and adds volume. While hair looks its best, the dry shampoo also reconstructs damages strands.
Macadamia Hair

Macadamia Volumizing Dry Shampoo

One of my favorite hair care brands, Macadamia Hair, has a Macadamia Volumizing Dry Shampoo which refreshes and revitalizes the hair. It leaves no powdery residue behind while giving a fresh and bouncy look.
TRESemme

TRESemme's Fresh Start Smoothing Dry Shampoo
TRESemme's Fresh Start Smoothing Dry Shampoo is a must-have – especially for dry, frizzy hair like mine. This spray not only removes excess oil and impurities, but it leaves hair without any residue. What more can a girl ask for?

Do you have a particular fave dry shampoo you'd like to share with us? Feel free to leave us your pick below.
All images courtesy of the online retailers
Featured image: media3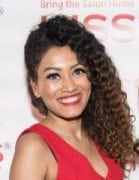 Author
Marriska (@marriska.fernandes) is an entertainment expert who has been creating celebrity, movies and pop culture content for digital outlets for over ten years. From reporting headline-grabbing celebrity news to reviewing movies to interviewing Hollywood and Bollywood's finest actors and industry...