Beauty /
Get The Pantone Colour Of The Year 2015 Marsala Look
Get The Pantone Colour Of The Year 2015 Marsala Look
Beauty Dec 15, 2014
The Sephora + Pantone Universe Collection is Sharp, Chic and Sophisticated
Marsala was chosen as the Pantone Color of the Year 2015 and I couldn't be happier. The radiant and subtly seductive shade is a perfect complement to any skin tone — and that includes our South Asian chocolate brown tones. In fact, the burgundy hue makes a bold statement and is certainly one must-have shade for South Asian women. Pantone and Sephora have collaborated on an exclusive line of limited-edition cosmetics for eyes, lips and cheeks. Celebrating the sophisticated and earthy shade, each product features Sephora Collection's rich colour payoff with refined finishes like matte, pearl, metallic and shimmer. Here's a look at the collection!
Facets of Marsala Multi-Finish Eye Palette ($49 CDN)
Redefining the eyes, this eyeshadow palette contains matte, glitter, pearl and shimmer finishes. The 24 coordinating shades offer an intoxicating mix to create a dramatic eye look.
Bold Marsala Mascara & Brow Highlighter
($25 CDN)
You've tried black mascara, but have you infused colour in your lashes? Achieve a dramatic colour effect with this moisturizing and volumizing mascara that you can use both on lashes and brows.
Marsala Metalshine Liquid Liner
($23 CDN)
This long-wearing liquid liner adds a dash of seductive colour to the lashline with a striking metallic finish. The soft brush makes application effortless for dramatic eyes.
Marsala Layering Lip Collection
($35 CDN)
This set of five ombré nude pencils provides sheer coverage and a dewy finish. The buttery formula can be your go-to option on days when you want to tone down your look with just a dash of colour.
Pure Marsala Matte Lip Crème
($23 CDN)
This lipstick certainly takes seduction to the next level. The matte finish will complete your look, taking you from day to night. Don't be afraid to try on this bold lip shade — it will bring out your best facial features.
Shimmering Marsala Cheek Trio
($35 CDN)
This chic compact contains two matte blushes in marsala paired with a cream highlighter. The intense colour, combined with the velvety texture, highlights the cheekbones in a very flattering way. Then, all you have to do is smile!
Cooling Marsala Multi Stick
($32 CDN)
I was very excited to try on this lightly pigmented balm, which
delivers a sheer splash of marsala.
It's perfect for cheeks,
contouring and highlighting. Having a medium chocolate brown complexion, I was amazed at how flattering this colour was. You can swipe on just the right amount of colour to use as a blush or highlighter.
All Images courtesy of online retailer: Sephora.com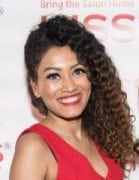 Author
Marriska (@marriska.fernandes) is an entertainment expert who has been creating celebrity, movies and pop culture content for digital outlets for over ten years. From reporting headline-grabbing celebrity news to reviewing movies to interviewing Hollywood and Bollywood's finest actors and industry...