Beauty /
Beauty Review: The BIOEFFECT Facial
Beauty Review: The BIOEFFECT Facial
Beauty Mar 16, 2015

BIOEFFECT Facial Is Spring's Must-Have Treatment!
I hit up Vee Mistry's Sitamaa Day Spa to get some details on their new BIOEFFECT facial and learn about the relaxing, rejuvenating, spring-time skin treatment that uses advanced skin care to treat pigmentation (a tough issue for South Asian skin tones) and anti-aging. Here's what you need to know about the treatment.

This 60-minute facial ($190 CDN) incorporates dermaplaning, IPL light therapy and the most advanced skin care on the market to date — BIOEFFECT. Dermaplaning exfoliates deeper to prepare skin for IPL treatment, while a chemical peel aids in the removal of hyper-pigmentation, acne scars, and rough and dry skin on the epidermal layer.
The IPL light aids in lightening old pigmentation and rebuilding collagen and elastin fibres to plump and volumize. Skin correctors and brighteners repair past damage. The skin is then saturated with BIOEFFECTS EGF. This cellular growth factor rewrites your skin's story.
This facial is good for all skin types and is recommended in a series of three to six treatments, depending on skin concerns. However, it doesn't limit patients who may want to start with just one treatment. This is a stacked treatment utilizing the benefits of technology as well as advanced medical-grade skincare.
The benefits from this treatment include rejuvenated skin, lightened pigmentation and tightened skin for anti-aging. This treatment is not suitable for clients who are pregnant, diabetic, on blood thinners, nursing or suffering from acne of grade 3 onwards. Before treatment, patients need a thorough medical consultation to confirm if the patient is the right candidate for this type of facial.
I was really impressed with the skin care brand BIOEFFECT, which is part of the facial treatment. BIOEFFECT is the world's first skin care brand to contain cellular activators made in plants. These activators stimulate skin cells' renewal process for refreshed, soft skin. This award-winning skin care formula might be just what your skin needs to recover from the harsh winter we've had and get you spring-ready.
Images courtesy of Sitamaa Day Spa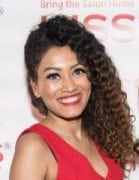 Author
Marriska (@marriska.fernandes) is an entertainment expert who has been creating celebrity, movies and pop culture content for digital outlets for over ten years. From reporting headline-grabbing celebrity news to reviewing movies to interviewing Hollywood and Bollywood's finest actors and industry...