Showbiz /
Aziz Ansari Becomes SNL's First South Asian Host
Aziz Ansari Becomes SNL's First South Asian Host
Showbiz Jan 19, 2017
Master of None star Aziz Ansari will host Saturday Night Live on January 21. The actor will be making his debut on the show.
The comedian makes history, as he will be the show's first host of South Asian descent. He'll be joined by Big Sean, who's also making his debut on the show.
This is just one of Ansari's many accomplishments lately. The standup comedian won his first Emmy for Outstanding Writing for a Comedy Series for Master of None. The show received a total of four Emmy nominations. He was also nominated for Outstanding Lead Actor in a Comedy Series, the first South Asian to receive this nod.
According to IndieWire, SNL has faced issues of diversity in the past, as 90 per cent of hosts have been white, with only two hosts of Asian-American descent — Jackie Chan and Lucy Liu.
But times sure are changing, as many South Asians are now paving the way in Hollywood, challenging the typecasting in the industry. Bollywood actress star Priyanka Chopra (who just nabbed her second People's Choice Award last night!) is now a household name in Hollywood. She shines on the ABC show Quantico and will star in her first Hollywood movie, Baywatch, alongside Dwayne Johnson and Zac Efron. Mindy Kaling has taken the comedy scene by storm with her show The Mindy Project while Dev Patel has bagged nominations for his role in Lion. Irrfan Khan gave a kick-ass performance in Inferno alongside Tom Hanks while Deepika Padukone showed her acting chops alongside Vin Diesel in xXx: The Return of Xander Cage.
Though Ansari is the first South Asian to host SNL, we have a feeling he won't be the last.
Main Image Photo Credit: TV Guide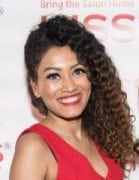 Author
Marriska (@marriska.fernandes) is an entertainment expert who has been creating celebrity, movies and pop culture content for digital outlets for over ten years. From reporting headline-grabbing celebrity news to reviewing movies to interviewing Hollywood and Bollywood's finest actors and industry...