Showbiz /
10 Item Numbers To Set The Sizzle On Valentine's Day
10 Item Numbers To Set The Sizzle On Valentine's Day
Showbiz Feb 14, 2017
Item numbers have always been a hot commodity in Bollywood films, and other industries have followed suit with the trend. See our favourite list of item numbers along with some cool behind-the-scenes details! 
Most Bollywood films are popular for their item songs.
The item number trend has been in Bollywood since its early days. But now, Lollywood has taken some bold moves by incorporating them into their movies as well.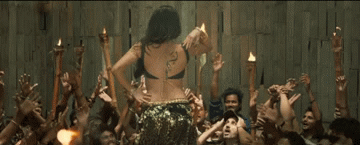 From Malaika Arora Khan to Kareena Kapoor Khan, Mehwish Hayat Khan to Saba Qamar — all have shot to fame for hot, bold moves that bring up ratings in your favourite movies.
Here's a look at 10 item songs that are sure to set the mood for you and your Valentine.
1."Kajra Re" — Bunty Aur Babli (2005)
Video Credit: YouTube.com
Aishwarya Rai Bachchan made hearts skip a beat with her performance in "Kajra Re." While the movie was a flop, this item number was the song of the decade. No doubt this is her favourite song! The love sparks flew between her and Abhishek Bachchan.
2. "Munni Badnaam Hui" — Dabangg (2010)
Video Credit: YouTube.com
She wasn't sure that she was the right fit for this item number, as "there were a lot of glamourous women in the industry who could do a fabulous song." But it took convincing from her husband, Arbaaz Khan, who asked her to see the song's "full potential." And as she notes, history was made.
3. "Ooh La La" — The Dirty Picture (2011)
Video Credit: YouTube.com
This item number features Vidya Balan turning heads alongside veteran Bollywood actor Naseeruddin Shah. She noted the fun she had working on this film with her co-star Shah. "When we were dancing in the midst of oranges it was hilarious. We were laughing like mad, dancing between pots, posing like old sculptures. We had to roll down a slope. It is not easy, more than (getting) hurt, I couldn't control my laughter," Balan reminisced.
4. "Chikni Chameli" — Agneepath (2012)
Video Credit: YouTube.com
Bollywood siren Katrina Kaif is not one to shy away from doing an item number either. Check out the hit song from 2012's Agneepath. She noted in an interview that the fast-paced style of the dancing was a "challenge." However, she had loads of fun working on the tune!
5. Ram Chahe Leela — "Goliyon Ki Rasleela Ram-Leela" (2013)
Video Credit: YouTube.com
Priyanka Chopra noted that the intense dance rehearsals for this song left her bruised all over, but the intricate composition of the dance itself makes this one of her favourite numbers.
6. "Baby Doll" — Ragini MMS 2 (2014)
Video Credit: YouTube.com
Sunny Leone set screens ablaze with her number "Baby Doll." The video went viral and is still a fan favourite in 2017. This song cemented her as the go-to item performer for future blockbuster films.
7. "Billi" — Na Maloom Afraad (2014)
Video Credit: YouTube.com
Mehwish Hayat added major shock value to the Pakistani film Na Maloom Afraad and exuded the right amount of energy to prove she can move like the best of them. "Everywhere I go, I hear people chanting, 'Billi! Billi! Billi!" said Hayat. "I am sure it was a huge surprise for the audience to see their favourite TV actor on the big screen and it was a huge challenge for me also. I'm glad it was so well received and the song became one of the biggest attractions of the movie."
8. "Tutti Frutti" — Karachi Se Lahore (2015)
Video Credit: YouTube.com
Ayesha Omar created quite the buzz on social media when fans got a teaser of what to expect from her number in Karachi Se Lahore. The song created quite the controversy, but Omar paid no mind.
9. "Kalabaaz Dil" — Lahore Se Aage (2016)
Video Credit: YouTube.com
Pakistani actress Saba Qamar has stated that the song is not an "item song," but fans beg to differ. Qamar is famed for her drama serials. She rose to controversy after fans caught trailers of her dance moves in the movie that claimed, "Bollywood has Sheila, we have Mastani."
10. "Laila Main Laila" — Raees (2017)
Video Credit: YouTube.com
You and your loved one can watch Sunny Leone do her thing in everyone's favourite song from Raees, starring Shah Rukh Khan and Mahira Khan. This isn't Leone's first time at the rodeo with item numbers, and something tells us it won't be her last.
Main Image Photo Credit: www.youtube.com
Author
After spending some time in a completely different field, Nomaan decided to drop it all and switch to Mohawk College to pursue his longtime interest in the world of Journalism. His experience working in multimedia platforms has helped him develop exceptional skills in thinking on his feet, being ...