5 Iconic Fragrances That Exude The Scents of South Asia
Looking for that special scent that speaks to you? Here's our list of fragrances featuring key South Asian scent-ual tones, including a celeb we think totally represents each one!
Scents, like fashion and music, are a means of interpreting culture. They come in several forms, from a cologne (which is very light) to an eau de toilette (which has a low concentration of fragrance) to an eau de parfum (which is stronger and quite lasting) to a parfum (which is the most concentrated type of fragrance—and the most expensive). A few spritzes of any of these scents on the wrists and décolletage, and behind the ears, communicates and interprets South Asian culture. South Asia has long inspired fragrance makers with its legends and its flora.
South Asian scent: Jo Malone's Mimosa & Cardamom Cologne
When Marco Polo arrived in India, you can only imagine how he reacted when he discovered the local spices. Cardamom, a spice native to India, is used in mithai such as halwa and kheer. Jo Malone has taken this spice and mixed it with the refreshing mimosa to create the aptly named Mimosa & Cardamom Cologne, $75 CDN for 30 mL and $145 for 100 mL. This scent plays on two aspects of freshness — it's a tad cheeky with the spice and energetic with the mimosa.
Our ideal celeb: The duality here reminds us of the supermodel Bhumika Arora, who could ooze earthy sexuality in a photo shoot and then portray a brazen appeal on the catwalk — both to jaw-dropping effect. This spicy and fruity mixture is original, and since it's a cologne, you can ensure that it lasts all day by layering it with the matching Body Crème.
South Asian scent: Jo Malone's Orris & Sandalwood Cologne Intense
Sandalwood is an essential material in South Asian culture. It lends a pleasant aroma to homes and finds use creating beautiful artwork.  This wood is also the basis of many fragrances. And unlike coniferous woods, this wood is sensual and slinky. Jo Malone's Orris & Sandalwood Cologne Intense, $190 CDN,  pairs sandalwood with iris to create a complex fragrance that evokes sari shops with their lit agarbatti yet feels so divinely fresh and free. Sandalwood is a strong scent, and even though it takes the form of a cologne here, the ingredient is lasting. Remember that ingredients, as much as the concentration of fragrance, impact how long a scent lasts on the skin.
Our ideal celeb: The talented and multi-layered American actress and Hollywood power-player Mindy Kaling.
 South Asian scent: Un Bois Vanille Eau de Parfum
Serge Lutens uses both sandalwood and coconut milk, a South Asian diet staple, to a creamy, enchanting effect in Un Bois Vanille Eau de Parfum, $145 CDN.  The name highlights the sandalwood and the vanilla, but what's outstanding here is how the richness of the coconut milk rises to the surface to create a lasting, mithai-scented effect. The texture of the fragrance is heavy, and it stays on the skin all day — and all night.
Our ideal celeb: This scent's sweetness and warmth evoke the positive attitude of the Indian film actress and environmentalist Dia Mirza, who questioned why the Goan government reclassified the coconut tree as not being a tree.
South Asian scent: Shalimar Souffle De Parfume
Shalimar from the famed fragrance house Guerlain was inspired by the eternal love story between the emperor Shah Jahan and his wife, the princess Mumtaz. The classic perfume was named for the gardens that the emperor created for his beloved wife. The scent was groundbreaking because Shalimar was the world's first oriental fragrance.
Shalimar Souffle de Parfum, $119 CDN, is an updated version of the classic, a sensual mix of bergamot and jasmine Sambac (from India) that ends on a vanilla note. The box features classic Mughal-type art and, of course, the Taj Mahal. This long-lasting eau de parfum, which you only need to spritz sparingly, is as beautiful as the love story that inspired it.
Our ideal celeb: This scent's soft sensuality evokes the charm and beauty of the legendary Indian film actress Madhubala.
South Asian scent: À la nuit Eau de Parfum
South Asia is renowned for its sweets and spices, but jasmine is a particularly unforgettable fragrance that lulls many children to sleep at night. Serge Lutens captures the essence of jasmine in À la Nuit Eau de Parfum, $145 CDN. Each time I smell it, I'm transported back to my aunt's garden in Allahabad.
Our ideal celeb: The use of clove, a spice common in Ayurvedic medicine and many South Asian dishes, makes the fragrance sensual and slightly piquant, like the British actress Sarita Choudhury, whose varied career includes everything from Mississippi Masala to the Hunger Games and who challenges the stereotypes imposed upon South Asian actresses.
Scents are an elegant way to express South Asian identity because so many of them draw on the legends and the flora of this region to tell a personal story. The key is spritzing sparingly and enhancing lighter formulations with supporting products such as matching creams.
Main Image Photo Credit: Guerlain Canada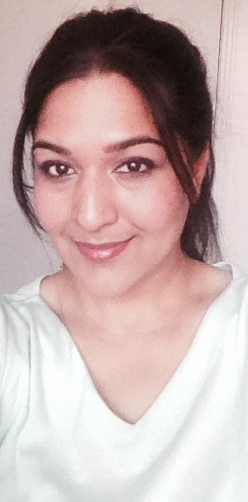 Author
Meena (@meenalaregina) always loved the idea of exploring the non-conventional idea of beauty. Having grown up as a pimply chubby teenager, she wanted to see the change in the world that best reflected your uniqueness as well. Her well-received collection of blogs where she tries on various beauty p...