Beauty /
DIY: This Spring's Top New Beauty Products To Try Out
DIY: This Spring's Top New Beauty Products To Try Out
Beauty Mar 13, 2017
From the perfect brown skin tone concealer to new masked oil to mattifying lip shades, there's a boatload of new and exciting top beauty products this spring.

Spring is almost around the corner but when it comes to the hottest new beauty products, the shelves are already packed with the best. We have rounded up some of the new beauty products that you can look forward to trying this season. From luxury brands to drug-mart finds, there's something for every wallet.
NARSsistic Forever: Conceal No More
It's okay to be narcissistic when to comes to a brand like NARS. There are three new products from NARS that flatlined my heart. The first is the NARS Soft Matte Complete Concealer, $37 CDN.
DIY Tip: This is the best concealer I have tried so far. Not only is the product a perfect shade for my skin tone, it also lasts for at least 14 hours. The Biscuit and Caramel shades are my go-to and a great option for South Asian skin tones.
NARSsistic Forever: Cheek Me Out
Another must-have spring gem is the NARS Cheek Palette Unfiltered II, $76 CDN. Ask any beauty blogger: this is the real deal. This limited edition mirrored palette consists of six shades of flirty pink blush.
DIY Tip: I like the second palette because it has every pink you'd like to blush with: from pale pink to hot pink. I love the mix of shimmer and matte options in each palette. You can also check out the Unfiltered I.
NARSsistic Forever: Lip Lock
And lastly, a celebrity favourite brand to extend its range of shades is the NARS Velvet Matte Lip Pencils, $33 CDN. Brie Larson sported the matte lip pencils at the Oscars this year so it's got the celebrity approval.
DIY Tip: I love the Dirty Mind Velvet and Lonely Heart which are more purple magenta options in this unspeakable weather. On bright, warmer days, I'd go for the Famous Red, Endangered Red and Do Me Baby. I love the new range of shades and what I like most about the NARS Matte Lip Pencils is the fact that they don't feel dry and patchy. It glides on smoothly and lasts an entire day.
Mad(e) for Marc Jacobs: Crème-licious
Marc Jacobs Le Marc Liquid Lip Crème, $38 CDN, is just the hydrating blend of matte lip crème needed on a eight-hour work day. Boasting a stellar range of nude shades, the liquid lipsticks are creamy enough to stay on during this transitional weather.
DIY Tip: I prefer the pinks over the nude shades in this collection.  You'll always find either Slow Burn, Truth or Bare or Shush Blush in my purse.  It gels well with brown skin tones.
Mad(e) for Marc Jacobs: Eye love you
The Marc Jacobs Highliner Matte Gel Eye Crayon Eyeliner is the matte version of the infamous liners. These new gems are the talk of the town.
DIY Tip: I was wary of the matte eye trend, but this was an instant hit with me. The bold formula glides onto the lid and the waterproof formula is a payoff. The bold bright colors are a welcomed spring addition to your beauty stash.
Estée Lauder: Repair, Recover, Rejoice
Estée Lauder is the cornerstone of luxury skincare and lately. I have been very impressed with their new launches. There are three new products that you should check out this season. First, is the Advanced Night Repair Recovery Mask-In-Oil, $100 CDN, an oil formula which seals the benefits of your night skin serum. It's used in the final step for your skin care regimen. It will seal the benefits of your night serum and rebuild the skin's strength.
DIY Tip: It's a lightweight formula and I can't wait to see the results. I'm changing my skin care routine going into spring and this might just be my new regimen.
Estée Lauder: Partner in Prime
The Estée Lauder Smoother Universal Perfecting Primer, $44 CDN, is just the ultimate makeup prep application.
DIY Tip: I do have a few acne scars at the moment and using a primer like this reduces the appearance of pores and allows for a smooth makeup application. I'd say get this one before it runs out.
Estée Lauder: Masked Perfection
The new Estée Lauder Advanced Night Repair Eye Mask, $14 CDN, is infused with advanced night repair technology to plump up the dry lines and keep the eyes looking rested and hydrated. It's a quick 10-minute fix if you need instant results.
DIY Tip: I plan to use this eye mask just before a big event and I can't wait to see what the outcome is.
The Body Shop: Honey, I'm Home
I'm in love with The Body Shop Almond Milk and Honey skin care range. Suffering from sensitive, dry skin in winter was a torture and this special line increases moisture and restores life to your skin.
DIY Tip: The Almond Milk and Honey Calming and Caring Bath Milk, $24 CDN, Exfoliating Cream Scrub, $22 CDN and Body Lotion, $15 CDN, are my absolute favourites. They are silky smooth and leave a soft baby-like finish to the skin. I would say use it daily to feel the difference. It reminded me of the Cleopatra legend that the Queen of Ancient Egypt bathed in milk to preserve her youth and beauty. This comes close, no?
The Body Shop: Peel-rrific
I was also very impressed with The Body Shop's Drops Of Youth Youth Liquid Peel, $25 CDN, which peels away any impurities and dead skin cells on the surface. This 100 per cent vegan product leaves a fresh radiant look. You can feel the dirt peel away on your face. Gross, but effective.
DIY Tip: I use this regularly to get rid of makeup and other impurities. So far, I have no complaints.
Vichy Idealia: Age no more
I have always been a fan of Vichy and stand by their products. I suffer from extremely dry skin and Vichy's Aqualia Thermal and Normaderm lines have been very effective. New from Vichy this season is their Idealia range which addresses first signs of aging, including fine lines and pores. The collection uses extracts of fermented black tea and blueberry, making this an antioxidant-rich formula.
DIY Tip: I'm excited to try the Night Peeling, $40 CDN, which contains glycolic acid to give a radiant complexion by morning and the Idealia Smoothness & Glow Energizing Cream, $45 CDN, which refines pores and reduces fine lines. A perfect spring skin care regime.
Philosophy: Timeless Beauty
The new philosophy Time in a Bottle 100% In-Control, $85 CDN, is a serum that repairs skin damage from environmental factors and natural aging. Filled with antioxidants, vitamin c8 and natural plant extracts, this serum will seal the deal and all you have to do is let this miracle maker work its charm.
DIY Tip: I have heard a lot of positive feedback on this serum. I can't wait to try it out.
NYX: Lust-Worthy Lips
As someone who wasn't a fan of matte lipsticks, I was very impressed when I tried NYX Cosmetics Lip Lingerie lip gloss, $9 CDN.
DIY Tip: This weightless liquid lipstick didn't feel like matte and I LOVE the colors. Many of their shades complement brown skin tones so well. Now there's a new range of shades that I can't wait to try.
NYX: Lingerie: Shtick Crazy
There's also a new NYX Cosmetics Wonder Stick, $14 CDN, which serves for contouring and highlighting.
DIY Tip: They have shades that will complement South Asian skin tones as they introduced Deep Rich and Deep Dark options. I am so excited to try these new products for spring.
Nudestix: Matte-tastic
The new Magnetic Matte Lip Colors from Nudestix are the for those creme lovers who don't like matte. This non-drying latte color glides on like a creme lip colour and lasts for long.

DIY Tip: I love how extra pigmented this product is. The best thing? It's waterproof and stays on for a good eight hours. It's rich with a super smooth coverage. This has me all excited. My favourite colors are the Vino, Greystone, Burgundy and Boho.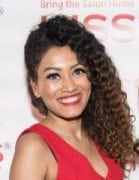 Author
Marriska (@marriska.fernandes) is an entertainment expert who has been creating celebrity, movies and pop culture content for digital outlets for over ten years. From reporting headline-grabbing celebrity news to reviewing movies to interviewing Hollywood and Bollywood's finest actors and industry...