Beauty /
DIY: Review Of Monika Deol's STELLAR* Makeup Collection With Tips
DIY: Review Of Monika Deol's STELLAR* Makeup Collection With Tips
Beauty Mar 24, 2017
Monika Deol answers the call to bring diversity to the beauty counter with her own STELLAR* beauty collection.
Almost every South Asian woman with a brown skin tone has been through that trial-and-error phase of testing several beauty brands' foundations, mixing one or two colours to get that perfect shade. Been there, done that.
Canadian personality Monika Deol has hand enough of the struggle and decided to address the need for more foundation shades in the medium skin tone range. She launched her own brand, the STELLAR* beauty collection, which is now available in Sephora Canada and in the U.S.
There are 22 foundation shades, 17 of which cater to medium skin tones for women of Indian, Hispanic, Latino, Afro-American, Aboriginal, Chinese, Filipino and Middle Eastern descent. Also included in this collection is a mascara, six concealers, three blushes, four powders and 19 lipsticks.
Here are some of my favourite items from the STELLAR* beauty collection:
Limitless Foundation
The STELLAR* Limitless foundation, $45 CDN, is pretty stellar. It is lightweight and blends well with a primer. It is vegan, cruelty-free and free of fragrance. It conceals hyper-pigmentation and any discolouration.
DIY Tip: I finally found my foundation match: S07. It's not too dark or too light. It blends seamless into my skin. It even works well without a primer and lasts for a solid eight-hour work day.
Limitless Concealer
Concealers have to be similar to your skin tone or darker (news to me), else it goes ashy. There are six STELLAR* Limitless concealer shades, $32 CDN, available and it seems to gel well with brown and fairer skin tones.
DIY Tip: I found that you have to apply a small dollop of this concealer as it has more coverage and you don't want to have a patchy spot under the eyes.
Cosmic Face Powder
My favourite from the collection is the Haze powder, $36 CDN. You know how Snapchat has a filter to soften the skin? I couldn't believe the effect that this powder has. It gives an Instagram filter-like look that is completely worth it.
DIY TIP: I use a flat brush instead of the powder puff as it adds more powder on the skin than necessary. Just a few brush strokes is all it takes to look Instagram-ready.
Cosmic Blush
The STELLAR* Cosmic Blush, $30 CDN, is available in three shades: Beam, a bright pink; Eclipse, a coppery peach; and Flare, a coral pink. I love the coppery peach as it best suits my skin tone.
DIY Tip: I love the shimmery, dewy look this blush brings. I dab just a bit on the apples of my cheek for a natural glow. It even does the job of a highlighter so you wouldn't need one. If you know about the strobing trend, you can try that with this blush.
With this STELLAR* beauty collection, we are all set for spring. There are several new products set to release this summer so until then enjoy these brown(ies).
Main Image Photo Credit: STELLAR*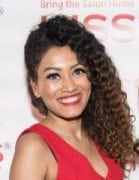 Author
Marriska (@marriska.fernandes) is an entertainment expert who has been creating celebrity, movies and pop culture content for digital outlets for over ten years. From reporting headline-grabbing celebrity news to reviewing movies to interviewing Hollywood and Bollywood's finest actors and industry...