Beauty /
5 Key Beauty Products For Your Winter Hair Care
5 Key Beauty Products For Your Winter Hair Care
Beauty Feb 22, 2017
We sometimes forget that our mane needs major TLC when dealing with winter temps. Here are our surefire winter hair care tips. 
Winter brings out the worst in us and our tresses. Giving your hair a much-needed dose of moisture is essential. Whether you choose to use a moisturizing mask or dampen the hair with ultra hydrating conditioner, you need to adopt a way to pamper your mane during this tough season. Here are some of my top picks to help your mane survive winter.
Rock Those Curls
Moroccanoil Curl Enhancing Conditioner, $29 CDN, is my secret weapon to rocking my curls in winter. With all the frizz this dry spell invites, I am grateful for this product. I apply a lot of conditioner that not only reduces frizz, but defines my curls, adding an extra bounce to it. In winter, I will apply a dollop of this conditioner and leave it in to set the curls for a more defined look. This really works wonders for the bounce in my hair.
Colour Me Away
Gliss has recently launched five different hair care lines addressing different hair care problems. The colour-treated line is ideal to give your hair protection for up to 12 weeks. I'm looking forward to trying the colour-treated hair line which includes shampoo, conditioner and a treatment. If you don't have colour-treated hair, there are several other lines to check out.
Dry Spell Be Gone
The Phytoelixir Intense Nutrition Mask, $54 CDN, is key to soaking in a much-needed hair repair treatment. This product is the real deal. Suffering from dry hair is my curse, but my hair gets a bounce of life with a rich mask like this. Narcissus flower wax and macadamia oil keep hair supple and radiant. This is a go-to product to manage the unmanageable tresses in winter. Available in March.
It's Time for CPR
Loreal Professionel's Pro Fiber Revive Mask is a deep repair mask that melts into the hair fiber to nourish and revive it. This in-salon hair treatment is the way to go. Following the in-salon hair treatment, you should continue to use the mask at home for a bounce of radiant soft hair. I noticed a change in the texture of my hair within a few weeks.
Roots and Beyond
Tresemmé Renewal Hair and Scalp works to keep the hair from falling by conditioning it from roots and scalp to the tips. The shampoo and conditioner will strengthen your hair, especially if you find your hair falling a lot in winter. What I love about Tresemmé is that you can feel the softness after just one wash. The product is light so it can be used for daily use — though maybe avoid daily hair wash in winter as it dries the hair and removes any nutrients in the scalp and hair.
Main Image Photo Credit: Boldsky.com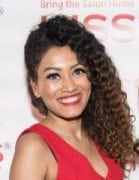 Author
Marriska (@marriska.fernandes) is an entertainment expert who has been creating celebrity, movies and pop culture content for digital outlets for over ten years. From reporting headline-grabbing celebrity news to reviewing movies to interviewing Hollywood and Bollywood's finest actors and industry...