Showbiz /
Get Reel: Films To Watch At This Year's Toronto International Film Festival 2016
Get Reel: Films To Watch At This Year's Toronto International Film Festival 2016
Showbiz Sep 07, 2016
With the Toronto International Film Festival just days away, the city once again rolls out the red carpet for the world's finest filmmakers, who are set to unleash an avalanche of intriguing cinema. Seriously, we feel overwhelmed! Here are just a few of the flicks we'll be lining up for in the coming weeks.
South Asian Talent
Lion

Dev Patel stars as Saroo Brierley in Lion
Photo Credit: TIFF
Dev Patel headlines this adaptation of the 2013 memoir A Long Way Home, detailing the incredible life's story of Saroo Brierley. At five years old, Brierley got lost in Calcutta. A thousand miles from his village, he was forced to survive on his own until being adopted by an Australian couple (Nicole Kidman and David Wenham). Here's where things get "incredible." Twenty-five years later, Saroo used Google Earth to scan his former country, eventually finding a familiar landmark that set him on the painful, confusing and uplifting path back to the family he left behind.

Queen of Katwe

Madina Nalwanga and Lupita Nyong'o star in Queen of Katwe
Photo Credit: TIFF
In her first full-length feature since 2012's The Reluctant Fundamentalist, director Mira Nair returns to the fest with this high-profile Disney heartwarmer. It's the true story of a young Ugandan girl named Phiona Mutesi (Madina Nalwanda), whose mind and possibilities expand when a missionary (David Oyelowo) arrives and teaches the local kids to play chess. Demonstrating a prodigious talent, it's not long before she's winning tournamens and on her way to becoming a pro; along the way, she's motivated not only by a love of the game, but the prospect of a better life for herself and her mother, Harriet (Lupita Nyong'o).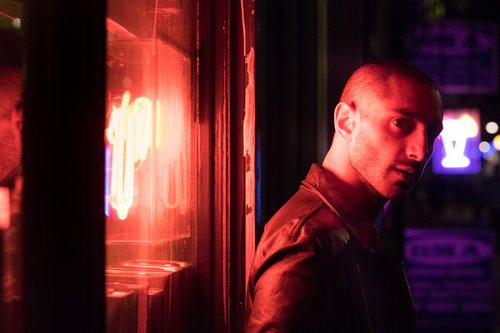 Riz Ahmed stars as London P.I. Tommy
Photo Credit: TIFF
Hot on the heels of his breakout role in HBO's legal drama The Night Of, Riz Ahmed stars in this gritty British neo-noir from Dredd director Pete Travis. It's the tale of a second-rate London PI who's tasked with tracking down a missing girl. Of course, these kinds of stories are never so simple as "finding the girl," and he gets tangled up in a larger mystery involving fanaticism, dirty politics and a dark secret from his own past.
Mostly Sunny
Sunny Leone
Photo Credit: TIFF
Cooking wWith Stella director Dilip Mehta trains his sharp documentarian's eye on Sunny Leone (AKA Karenjit Kaur Vohra), whose path to stardom has been anything but conventional. She grew up in Sarnia, Ontario, and became famous in the United States as an adult film star before finding mainstream success in Bollywood. Who is the woman behind the stage name? What's the key to her crossover success? And why did her past life in porn matter less to audiences in India than it still does to the Indian community in her small Canadian town?
Anatomy of Violence

Deepa Mehta's Anatomy of Violence
Photo Credit: TIFF

In December 2012, a 23-year-old Indian woman was making her way home after a screening of Life of Pi. She boarded a bus, where six men raped and tortured her; she died in hospital two weeks later. The case shocked India and made headlines the world over. In this challenging drama, director Deepa Mehta delves into that harrowing night, as well as the individual experiences and toxic patriarchal forces that allowed the crime to happen in the first place.
India in a Day

Richie Mehta's India in a Day
Photo Credit: TIFF

Director Richie Mehta (Siddharth) paints an arresting, enlightening and relatable portrait of India, via a documentary he's pieced together from thousands of hours of footage shot by average people on their smartphones and camcorders. Filmed entirely on October 10, 2015, India in a Day makes the viewer privy to the lives, routines, disappointments and dreams of an entire country.
A Death in the Gunj

A Death in the Gunj
Photo Credit: TIFF

Actress Konkona Sensharma takes her first stab at directing with this tender, tragic coming-of-age tale set in the late '70s. The story centres on a 20-something loner (Vikrant Massey) who slowly unravels while on vacation — overwhelmed by family tension, forbidden desire and a soul-crushing identity crisis. Kalki Koechlin and Gulshan Devaiah also star.

The Rest of the Fest

La La Land

Emma Stone and Ryan Gosling star in La La Land
Photo Credit: TIFF
Already pegged as a major Oscar contender, this visually and emotionally arresting musical from Whiplash director Damien Chazelle stars Ryan Gosling and Emma Stone as a jazz pianist and an aspiring actress who sing and dance their way through a classic Hollywood love story with a modern twist.

Arrival

Amy Adams in Arrival
Photo Credit: TIFF

In advance of helming the upcoming Blade Runner sequel, French-Canadian director Denis Villeneuve shows off his sci-fi chops with this much-buzzed tale of a language expert (Amy Adams) who's recruited by the military to figure out how to communicate with a mysterious extraterrestrial craft — one of dozens that have been appearing all over the planet.
Amy Adams in Nocturnal Animals
Photo Credit: TIFF

Following up on A Single Man, his stunning 2009 directorial debut, American fashion icon Tom Ford returns with the taut, poignant tale of a woman (Amy Adams) who becomes engrossed in a manuscript written by her estranged ex-husband (Jake Gyllenhaal); it's the story of a teacher (also played by Gyllenhaal, in her mind's eye) whose family road trip takes a turn for the nightmarish. The further she reads, the harder it becomes to ignore harrowing truths about their shared past and the life she's made with her frequently absent new husband (Armie Hammer).

The Girl With All the Gifts

Gemma Arterton (C) in The Girl With All the Gifts
Photo Credit: TIFF
One of the highlights of the year's Midnight Madness slate, this artistically ambitious horror flick takes place in a world where a fungal infection has turned most of the population into ferocious zombies. The key to turning the tide could lie with a group of children being kept under lock and key at a military compound, closely studied by a group of scientists (led by Glenn Close). They're infected, but can function completely normally — until they get a whiff of human flesh.
But when the compound is overrun and one young girl (Sennia Nanua) escapes alongside her beloved teacher (Gemma Arterton) and other survivors, she's forced to come to terms with who and what she really is.
Sasha Lane in American Honey
Photo Credit: TIFF

Fresh off taking the vaunted Jury Prize at Cannes, the latest from Fish Tank auteur Andrea Arnold focuses on another confused, conflicted teen girl. This one's name is Star (Sasha Lane, making an auspicious debut). She joins up with a group of young grifters, selling bogus magazine subscriptions as they booze and party their way across the United States. Shia LaBoeuf earned rave reviews for his portrayal of the James Dean-ish drifter who woos her into the gang.
Kyle Chandler and Casey Affleck in Manchester By the Sea
Photo Credit: TIFF

The works of frequent Scorsese collaborator Kenneth Lonergan (Margaret) have a way of going underappreciated — a trend that will undoubtedly cease with this rich, nuanced and deeply human drama, which has already electrified several stops on the festival circuit. It's the story of volatile Boston handyman Lee (Casey Affleck) who's called back to his hometown to care for his teenaged nephew after the boy's father (Kyle Chandler) passes away and unexpectedly names Lee as his son's guardian.
Main Image Photo Credit: TIFF
Author
A long-standing entertainment journalist, Currie is a graduate of the Professional Writing program at Toronto's York University. He has spent the past number of years working as a freelancer for ANOKHI and for diverse publications such as Sharp, TV Week, CAA's Westworld and BC Business. Currie ...