Showbiz /
Star-studded Tastemakers Lounge Presented By Brita At TIFF 2014
Star-studded Tastemakers Lounge Presented By Brita At TIFF 2014
Showbiz Sep 11, 2014

Celebrities and media dropped by the Tastemakers Lounge for some much needed pampering.
Celebrating its tenth year, the Tastemakers Lounge is back at TIFF: with its famed brands providing media darlings a break from the red carpet. The Tastemakers Lounge presented by Brita keeps Canadian brands at the forefront. While the festival goes strong, many celebrities are enjoying the lounge swag.

"Hosting Tastemakers during The Toronto International Film Festival for a decade has been an incredible experience. Each year the festival has continued to grow, and so has Tastemakers," said Goldblatt-Sadowski. "We are especially proud of the many Canadian brands we've been able to introduce on an international stage and want to give a special thank you to the talent, VIPs, brands and media that have supported us for the last 10 years. With the brands featured this year, we're celebrating this milestone in a big way. Here's to 10 more!"

Canadian actress Elisha Cuthbert was spotted enjoying the Brita water bar while British singer and songwriter, Ellie Goulding was introduced to Tonia DeBellis designer wear; Rene Russo was spotted sporting one of the designer's Haute Hoodies. Australian hunk Alex Russell and Criminal Minds' Shemar Moore were more than happy to try on the Canadian leather brand SOREL – so happy they took pairs home.

Canadian hosts Jian Ghomeshi, Sangita Patel, Cheryl Hickey and Ben Mulroney dropped by the lounge to take a peek at the diverse range of products available. Degrassi's Annie Clark and Melinda Shankar checked out RISE Gear, a line compartmentalized travel bags that double as shelves on the go.

Many of the stars, including Canadian rapper Kardinal Offishall, signed the LUSH Cosmetics Charity Pot supporting Toronto-based organization including Girls Rock Camp Toronto and the Children's Peace Theatre. The autographed pot will be auctioned off for charity.

Other brands for celebs got to check out included Calvin Klein's REVEAL fragrance, Papa D's Tropical Hot Sawce, Counting Sheep Coffee and olive + piper.
Check out the smiles on these celebs':

Ellie Goulding showing support for Girls Rock Camp Toronto

Kardinal Offishall can't believe the cool swag

Elisha Cuthbert at the Brita bar

Shemar Moore keeps his feet comfy in Sorel

Rene Russo keeping comfy with Tonia De Bellis

Images courtesy of Rockit Promo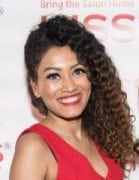 Author
Marriska (@marriska.fernandes) is an entertainment expert who has been creating celebrity, movies and pop culture content for digital outlets for over ten years. From reporting headline-grabbing celebrity news to reviewing movies to interviewing Hollywood and Bollywood's finest actors and industry...