Showbiz /
The First Ever South Asian House At SXSW Made All Sorts Of History
The First Ever South Asian House At SXSW Made All Sorts Of History
Showbiz Apr 19, 2023
We are taking over the world, one festival at a time! The first ever South Asian House at the 37th Annual SXSW in Austin, Texas made all sorts of history with a weekend filled with amazing panel discussions, DJ sets and of course all sorts of fun. Check out all the highlights here! 
The first ever South Asian House (SAH) took place during the first weekend of the 37th annual SXSW. It was sponsored by The Auntie Network, Tasveer, One Minute Saree, URL Media, The Partnership Inc., Sway with Pray, Indie Meme and Lailit Vadlamani & Shubha Iyengar.
From Saturday March 11th through Sunday March 12th, SXSW South Asian House was the nucleus for thought provoking chats by featured speakers from business, tech, film, TV, theater, music, and fashion took over the pop-up. SAH also hosted a networking event with happy hour each day, as well as live music and a DJ set each night.
Tasveer presented a Red Carpet Awards Ceremony and a live Oscar Viewing Party. Several South Asian nominees and celebrities were cheered on by the House during the Academy Awards.
The inaugural event featured a fireside chai & chat with movie producer Rishi Rajani (CEO, Hillman Grad Productions), actor Reema Sampat (Orange is the New Black), and journalist/entrepreneur Snigdha Sur (Founder & CEO, The Juggernaut).
Then an hour-long discussion "Creating South Asian Content for a Global Audience," with actor Rizwan Manji (Schitt's Creek, Peacemaker), Executive Producer of VICE TV, Falguni Adams, and Apoorva Bakshi, Emmy award-winning producer of the hit TV series Delhi Crime.
The second panel, "Investing in the Future of Our South Asian Stories," included actor Kausar Mohammed (4400, The Flash), CEO and Co-founder of URL Media S. Mitra Kalita, and Atit Shah, CEO of Create Entertainment, moderated by co-founder of Box Office Guru Media Gitesh Pandya.
Check their Instagram page for more amazing snaps from this historic weekend!
Congrats to all and we can't wait for next year!
Main Image Photo Credit: www.instagram.com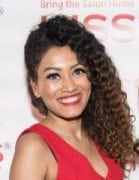 Author
Marriska (@marriska.fernandes) is an entertainment expert who has been creating celebrity, movies and pop culture content for digital outlets for over ten years. From reporting headline-grabbing celebrity news to reviewing movies to interviewing Hollywood and Bollywood's finest actors and industry...