Our Best Dressed At The 2017 IIFA Awards
The biggest night in Indian cinema took place in New York over the weekend, and we have our list of the best-dressed celebs at the 2017 IIFA Awards 2017 right here! 
At the 18th edition of the IIFA Awards, not only did the stars shake a leg on stage and pick up a golden trophy for their work on screen, but it was also the night to strut the green carpet in their most fashion-savvy outfits. Take a look at which actors earned a gold star in our books.
Alia Bhatt
Alia Bhatt looked like a chic princess in a Zahair Murad strapless couture ball gown. The dazzling dress put her tiny waist on display as the actress strutted the green carpet. She not only took home the Best Actress trophy but also scored a perfect 10 in the style department.
Katrina Kaif
Katrina Kaif channelled her inner Disney princess. She looked like royalty in a blue Ziad Nakad gown, accentuating her figure with elaborate sequined details and a deep plunge. Doesn't her outfit remind you of Aishwarya Rai Bachchan's Cannes outfit this year?
Salman Khan
The legend himself made an entrance in this dashing suit at IIFA Rocks. He paired a blue shirt with a grey suit that kept him looking sharp and polished.
Disha Patani

Disha Patani looked stunning in a shimmery gown that flaunted her toned figure. The sheer gown did give us flashbacks of Bella Hadid's dress at the amfAR gala. The "Naked Dress" trend sure has hit Bollywood.
Narghis Fakhri
Narghis Fakhchannelledled elegance with a splash of sexy. She sported a burgundy gown with a plunging neckline that kept her assets on display.
Varun Dhawan
Varun Dhawan looked dapper in a classic black suit at the IIFA Awards green carpet. A well-fitting suit, an entertaining persona and a dash of nepotism go a long way, don't they?
Sonakshi Sinha
Taking a page out of Beyoncé's style handbook, Sonakshi Sinha went blonde and sported a red Labourjoisie dressed that flaunted her curves. With a deep plunge, the red dress was a stunning option for Sonakshi. She looked glam as she rocked the IIFA Awards green carpet.
Kriti Sanon
At IIFA Rocks, Kriti Sanon looked elegant and chic as she channelled a Disney princess, bubblegum-pink ball gown that perfectly cut off at the ankles. It's a different take on ball gowns — and it looked comfortable for her to move around.
Manish Malhotra
The designer himself looked smart and polished as he chose to sport an Indian kurta at IIFA Rocks. He gets 10 points in my books.
Shahid Kapoor and Mira Rajput
Bollywood's IT couple, Shahid Kapoor and Mira Rajput, looked adorable on the green carpet. Neither one of them overdid it. They kept things simple and elegant.
Taapsee Pannu
Taapsee Pannu chose an Indo Fusion look at IIFA Rocks. She chose a red Kommal Sood gown featuring the perfect red and gold combination that's a popular number among Bollywood beauties.
Alia Bhatt … again!
Alia Bhatt sported another look that we simply loved. She sported a traditional ivory Manish Malhotra lehenga at IIFA Rocks. A stellar ensemble!
Sonu Sood
Sonu Sood was looking sharp and dapper on the IIFA Rocks green carpet. He wore a three-piece suit featuring a plaid pattern. The way he carried off the ensemble made it a clear hit.
Main Image Photo Credit: L–R: Sunshinesachs (Narghis Fakhri), Bollywoodlife.com (Katrina Kaif), Desiblitz.com (Sonakshi Sinha)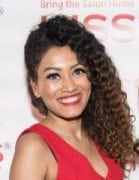 Author
Marriska (@marriska.fernandes) is an entertainment expert who has been creating celebrity, movies and pop culture content for digital outlets for over ten years. From reporting headline-grabbing celebrity news to reviewing movies to interviewing Hollywood and Bollywood's finest actors and industry...