Showbiz /
Priyanka Chopra To Produce New Show On Madhuri Dixit
Priyanka Chopra To Produce New Show On Madhuri Dixit
Showbiz Jul 31, 2017
Hollywood bombshell, Bollywood beauty and Baywatch star Priyanka Chopra is set to develop an American comedy series on Bollywood legend Madhuri Dixit's life in the USA. 
Priyanka Chopra will be producing a comedy series based on the life of Bollywood legend Madhuri Dixit, who will also executive-produce the show.
The currently untitled series follows the life of Madhuri Dixit after she moves to the American suburbs with her family. It will detail her efforts as she tries to bring her colourful lifestyle to an otherwise quiet, boring town.
The series will be penned by Sri Rao, a Bollywood writer and a writer for Hollywood shows such as General Hospital: Night Shift. He'll also executive-produce alongside Dixit's husband, Sriram Nene.
Production house Mark Gordon Company (MGC), which is responsible for producing hit shows such as Quantico and Grey's Anatomy, will also executive-produce the series.
Sri Rao recently announced the collaboration by tweeting a photo of himself with Chopra and Dixit. He wrote, "Thrilled to finally announce my exciting new project with these two legends and icons."
Priyanka Chopra ventured into production when she started her own production house, Purple Pebble Pictures. The studio produced the Marathi award-winning film Ventilator. The actress is currently shooting her third Hollywood film, Isn't It Romantic, alongside Liam Hemsworth, Rebel Wilson and Adam DeVine. She will also be seen in the third season of Quantico. Chopra made her Hollywood debut with Baywatch this year and last starred in the Hindi film Gangaajal in 2016.
Veteran actress Dixit took a break from Bollywood when she married Dr. Nene. She moved from Mumbai to Denver, Colorado, to start a family and is now the mother of two sons. She returned to Bollywood five years ago and was last seen in Gulaab Gang in 2014.
We are anxiously awaiting to see this dynamic duo of power women will make this series happen!
Main Image Photo Credit: Sri Rao /Twitter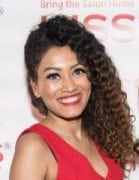 Author
Marriska (@marriska.fernandes) is an entertainment expert who has been creating celebrity, movies and pop culture content for digital outlets for over ten years. From reporting headline-grabbing celebrity news to reviewing movies to interviewing Hollywood and Bollywood's finest actors and industry...