Beauty /
Don't Look Like You're Fasting When You're Fasting: Our Ramadan Beauty Tips!
Don't Look Like You're Fasting When You're Fasting: Our Ramadan Beauty Tips!
Beauty May 15, 2018
Ramadan which starts today, is a time of spiritual reflection but this does not mean that you should lose your glow to thirst and exhaustion … just adjust your routine and experiment with simplicity and hydration. Check out our Ramadan beauty tips! 
Ramadan is the ninth month of the Islamic calendar, and a time when many Muslims partake in the daily fast from sunrise to sunset.  The fast is difficult because one is not allowed to consume water, yet  life continues at a hectic pace.  In western countries where the economy is not constructed around the Islamic calendar, Muslim women need to get up early, look great, and perform at a high level in all facets of their lives.
The challenge during Ramadan is how does one conserve energy while maintaining top performance. For many women arriving at work make-up free and slovenly because they are fasting, is not an option.  For these women, I recommend that in order to conserve energy, focus on hydration which is the cornerstone of glowing skin, and simplify the make-up routine.
 SAHERI AND IFTAR RAMADAN TIPS FOR SKIN HYDRATION
Saheri when you get up to eat before your fasting begins, is particularly brutal because the sleep is broken but if you miss it, the fast is exceptionally difficult.  Even though your body will command "Sleep!" you should take the opportunity to eat fruit such as blueberries which ensures regularity, and drink warm water and lemon, mineral water and coconut water. The saheri should also include protein but fruit such as grapes, strawberries and cantaloupe deliver fibre and water to the system.  The tank needs to be a font of hydration to power the body during the next 12 hours.
Iftar is the time to break the fast and is crucial for hydration because this is when you replenish your body. The temptation is to drink eight glasses of water in a row and gorge on samosas.  The combination of eating salty food and drinking quickly results in a bloated tummy and lots of urination, in a short amount of time. During Iftar the water consumption should be paced and deliberate.
Tap water is a classic but given that you have sweated and urinated all day, there is bound to be mineral depletion and dehydration, resulting  in a lacklustre complexion and fine lines.
To restore the complexion, first use the Ayurvedic-recommended practise of drinking a glass of warm water and lemon to cleanse the system.  Second, consume two glasses of mineral water such as San Pellegrino, to replenish the mineral stores.
Third, drink two glasses of coconut water,  such as Vita Coco, as it reinforces the electrolyte balance.
The key is to sip, not chug, each glass of water throughout Iftar and match them with each part of the meal.  You can also eat hydration by matching  each samosa and pakora you eat with several pieces of water-rich fruit and vegetables such as carrots, spinach, watermelon and pineapple.
Finally, to ensure that the complexion glows, ensure regularity by taking a spoonful of  psyllium husk with 2 glasses of tap water prior to going to bed.
Note, that I have not included tea or coffee in my recommendations because they are diuretics and will encourage your body to expel water, a chemical that is essential for glowing skin.
KEY TIPS FOR RAMADAN SKINCARE 
Wash your face with a creamy cleanser such as the Estée Lauder Revitalizing Supreme+ Global Anti-Aging Instant Refinishing Facial.  This step is an excellent opportunity to massage the face gently by using circular motions all over to activate the glow.
Rinse well then apply a non-alcoholic toner such as Burt's Bees Rosewater Toner to remove all remnants of the cleanser.  To ensure that the glow comes through, the skin must be free of residue and plumped.
To seal in the hydration and glow, add an essence such as Caudalie Vinoperfect Concentrated Brightening Essence.  I like to pour several millimetres in the palms of my clean hands and then tap it into my face until it is absorbed. The glycolic acid brightens and the grape water hydrates.
The next step is to apply a moisturiser. I appreciate the Dior's Capture Youth hydration system. The base is the Age-Delay Advanced Creme. It's lightweight, odourless and is easily absorbed by the skin.
The cream is reinforced when you add the complementary Capture Youth Glow Booster. The impact is a rested face which is hydrated and glowing. At night, you can switch the serum to address other skincare concerns such as firmness or dryness.
KEY PRODUCTS FOR YOUR RAMADAN MAKEUP 
Colour cosmetics should focus on easy, breezy beauty that adds glow and polish in a few flourishes.
To reinforce the hydration that you have accumulated through smart water consumption practises and an enhanced skin care routine, massage-in (yet again) a glow primer such as Clarins SOS Primer in 00.  It's colourless, odourless, spreads easily and is rapidly absorbed. The primer evens out the texture and adds a touch of glow.
The eyes should remain neutral because let's face it, who has the energy to fix a melted smoky eye at lunch when everyone is eating and you are focused on trying to adjust to the fast? I recommend a simple palette such as Laura Mercier Bohème Chic Eye Clay Palette, which comes with three metallic neutrals and three matte neutrals that flatter South Asian skin tones. I like to tap on a primer such as Laura Mercer Eye Basics and then follow with a creamy-coloured shadow such as Metallik White gold and then a deeper neutral on the lower eyelid such as Metallik Bronzegold.  The soft shimmer adds luminescence to the area.
In the spirit of simplicity, I draw a thin black line using a liquid liner such as Charlotte Tilbury The Feline Flick, just pulling the line past the end of the outer corner of the eyes. The goal is to add a touch of definition for a professional finish. I love this product because its full marker, felt tip makes it easy to draw a line as it stays on the skin and glides with ease.
Energy conservation is at a premium, so instead of curling the lashes, opt for a softly lifted look using a curling mascara such as  Diorshow Iconic Overcurl Mascara. The bristles lift the tiniest lashes and the formula sets the lashes into a softly-lifted curl.  It does not flake and subtly opens the eyes.
Once the eyes are done, I like to add a glow product to even out the complexion.  Charlotte Tilbury Unisex Healthy Glow is a hydrating tint that comes out of the tube and then adjusts to your skin tone. This universally flattering product covers slight discolourations and adds a sun-kissed glow to the complexion. It has a soft scent that fades after a minute but the even, glowing skin lasts all day.
Unfortunately getting up for saheri exacerbates dark circles and Nars Radiant Creamy Concealer is an excellent option for neutralising dark circles and covering them, as many of the shades have the requisite level of peach to effectively deal with the blue veins in the eye contour .
In keeping with the theme of easy, glowing make-up, use a big blush brush and apply an illuminator such as Laura Mercier Face Illuminator to the forehead, the tops of the cheek and the chin. The look is not about being sculpted because that takes up too much time and energy, so broad flourishes with the brush do the trick.
Too much neutrality can deaden the face, so I like to focus on the lips for a splash of colour. Lipstick, even the satin ones, have a thicker texture than a lip gloss, and can cling to dried-up skin. A hydrating lip gloss such as Givenchy Gloss Interdit Vinyl add moisture and colour in one fell swoop. The applicator is shaped like a doe's foot but the base is flat, so when you apply the gloss it really fills in the lip with minimal spillage over the contour. The gloss smells faintly of watermelon but it dissipates within a minute of application.
To keep the look fresh, pack a hydrating spray such as Caudalie Beauty Elixir to apply at regular intervals throughout the day. The spray produces a fine mist that will not disturb the make-up and it instantly brightens the face. If your skin is so oily that even lightweight make-up tends to cake, this spray will make the face look smooth. As with the all of the products recommended in this blog, the scent is faint and dissipates quickly.
TIPS FOR RAMADAN FRAGRANCE 
The face is done and the next step is fragrance…
For millions of women, myself included, fragrance finishes the look and is an expression of my mood and character. If I do not leave the house without fragrance, I feel incomplete. The desire to express oneself through fragrance can be impeded by headaches that occur when one smells fragrance on an empty stomach. Since water is disallowed, popping a tablets is not option, so the next step is to change the approach to fragrance.
Fragrances should not be stronger than eau de toilette or a simple splash. The fragrance strength is low in these formulations and permits you to complete your beauty ritual in peace. I like the Estée Lauder'S Bronze Goddess Gelée, which is a clear, soothing, cooling  gel that smells softly of the beach and lightly hydrates the skin. I feel enveloped in a gentle fragrance when I apply it from head-to-toe and its coolness is sure to provide comfort for women who are particularly sensitive to heat.
Caudalie's fragrances are more like fresh splashes of soft fragrance which have staying power but do not grate the olfactory senses. Rose de Vigne, which literally smells like a rose about to bloom, is miles away from your nanni's rose fragrance, and its softness is feminine and sensual. If you prefer a touch of sweetness, Thé des Vignes adds a touch of musky sweetness, neroli and jasmine to the body, without overpowering the senses.
Ramadan should not be equated as a time when you have to let yourself go in the name of exhaustion and energy conservation. It's an opportunity to master the basics of hydration and to practise simplicity in one's beauty routine.
The trick for successful hydration is to consume water and food slowly and deliberately both during iftar and saheri. The responsible, deliberate consumption of water is complemented by a skin care routine that emphasises massage.  Massage encourages circulation and the use products that seal the moisture in, let the glow come through.
To ensure that the glow that is achieved with good water consumption and a an enhanced skincare routine, make sure to apply make-up with a light hand and focus on products that add light to the face. Finally, fragrance should not be left by the wayside during Ramadan, if it is an integral part of your routine. As with the other steps, tweak the type of fragrance you wear and see it as an opportunity to experiment with lesser-concentrated products.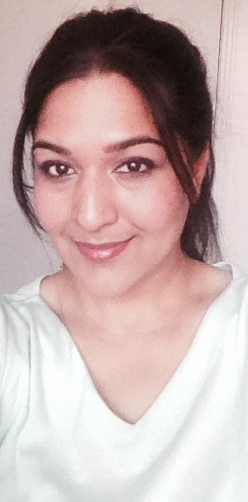 Author
Meena (@meenalaregina) always loved the idea of exploring the non-conventional idea of beauty. Having grown up as a pimply chubby teenager, she wanted to see the change in the world that best reflected your uniqueness as well. Her well-received collection of blogs where she tries on various beauty p...