Beauty /
From Blah To Babe: Let Your Inner Goa Girl Shine With Our Tips For Sexy Summer Skin And Hair
From Blah To Babe: Let Your Inner Goa Girl Shine With Our Tips For Sexy Summer Skin And Hair
Beauty May 29, 2018
The Goa Girl is the South Asian twist on the classic beach look which  focuses on how to achieve beach beauty with our hair texture and skin tones. So let your inner Goa Girl shine with our tips for sexy summer skin and hair! 
The beach represents a hazy,  easy beauty that is focussed more on softness rather than perfection. We have seen images of beach beauty as interpreted through St. Tropez, the Amalfi Coast, and Cuba, all of which are gorgeous and offer the beach look through the lens of French, Italian and Cuban cultures … but what about South Asia?
The Indian state of Goa, a former Portuguese colony and  renowned hippie destination, is deeply appreciated for its beaches and fauna. It borders on the Arabian sea and its soft blues, beiges and greens serve as an inspiration of how women can add a dash of South Asia to their beach look.
The successful beach looks encapsulates three elements, namely softly tousled hair, soft make-up and a sensual fragrance … so that you embody the Goa Girl.
GOA GIRL HAS GOT TO GET HER HAIR RIGHT!
South Asian women are renowned for their manes which are shiny, dark, thick and coarse. The very qualities that make the manes beautiful  could be perceived as obstacles to the beach look which is soft, wavy and highlighted.
The Goa Girl hair is about embracing your natural colour and manipulating its texture so that it is slightly messy but far from crunchy. Typically, beach hair requires a douse of lemon juice and hefty spritzes of sea salt spray to create soft waves with a sun kiss. These tips will dry out coarse South Asian hair.  So, the approach to beach hair must be different for us.
Start with a moisturising shampoo that does not strip the hair of its natural oils, such as Kérastase Aura Botanica Bain Micellaire which contains Samoan coconut oil that hydrates the hair. It's formulated without parabens and silicones and its micellaire nature means that your strands are treated like silk when you rinse it. Remember that if you have short hair that you need only a dime's worth of product, for medium hair a nickel's worth, and for long hair, a quarter's worth.
After rinsing the hair, apply a hydrating conditioner such as Kérastase Aura Botanica Soin Fondamental, and always focus on the mid-shaft to the tips, where the hair is older, porous and prone to be frizzy. The conditioner, like its shampoo counterpart, is filled with Samoan coconut oil that genuinely nourishes the hair, leaving a soft finish. The quantity recommendations for shampoo  made herein above, also apply to the conditioner application.
After gently squeezing the hair dry, spritz on a tousle effect spray such as Kérastase Spray à porter. This product, unlike its sea salt counterparts, is not sticky to the touch. Its focus is on softness and when you spritz it all over your hair, there is no strong scent or heaviness. Once you have applied the product on the top, underneath and also in between, you should start to twist your hair in different ways.
Conventional beach hair dictates that you should use a curling iron and grab different parts of the hair to pull it in for a twirl. My experience with this tip is that it's time consuming because my hair is thick and the curling iron simply does not possess the heat strength to truly alter the shape of my strands. I have spent up to an hour curling my hair, then finger combing it, only to have it lose its fullness an hour into a party.
I prefer to take sections of hair and either twist it (see photos below) and mixing it up with some braids.
Beach hair is not about uniformity, rather, like the sea, it is composed of different waves, which are achieved through twists and braids. I leave in the hair manipulations for about 45 minutes which is enough time for me to do other things. I then release my hair, which is still slightly damp.
One can decide to let the hair air dry so that the hair manipulations are preserved but I prefer to dry it, to eliminate the frizz. The trick is to use a lightweight hair protectant that will neither weigh down the hair nor  mute the soft texture and waves. I love Phyto Phytodéfrisant  Botanical Straightening Balm because it is an odourless jelly  that you can easily work into the hair with minimum rubbing. A small amount has a great impact.
I delicately rub it throughout my hair and then lightly brushed it with the Kérastase Round Brush which is made of natural board bristles which measure up to 2.1 cm in length. The length permits me to lift the hair from the roots effectively while I dry it without using a nozzle. I did not guide the brush down the full shaft of the hair, I just made sure that the roots were lifted so that the hair dry would create a light, floating effect.
The final result is a head full of light, shiny waves and an airiness that looks like you spent the day at the beach!
GOA GIRL TO THE BEACH!
The beach has two beauty aspects. Under the hot sun, key dashes of  warm colour give you a day look. The night time beach look is driven by a shimmery seduction that takes its cue when the moonlight kisses the sea.
COMPLEXION TIPS FOR DAY AND NIGHT
The first step is skin. Regardless of your skin type, a dewy finish works best with the Goa Girl look. I enjoy Clarins SOS Primer. It's a colourless product that sinks into the skin and really creates a glowing base for the make-up. My skin is combination, and I loved that it did not cake on my nose or cheeks.
The next step is to unify the skin tone, not cover it up to the point of sterility and perfection. A lightweight foundation such as Dior Airflash is ideal.
The foundation comes in a spray can, and you can spray it on your face so that it lands as a gentle mist. The problem is that it also lands on the eyebrows and eye lashes. I like to spray it at the base of my left thumb and use a straight-fibred brush such as Make Up For Ever Straight Brush 108 to blend it into the face. 
Dior Flash is a true liquid and sponge would absorb and hence, waste the product. I make sure to spot apply the product where needed, as a beach look is about showing your true skin, and looking relaxed.
If you are like me, circles, scars and imperfections are a daily reality and concealer is a must. However for the Goa Girl look, I prefer to use liquid concealers such as Nars Radiant Creamy Concealer with heavy peach pigment to neutralize the darkness and then pat it with translucent powder such as Laura Mercier Loose Setting Powder.  The end result is a brighter look that emphasizes the natural luminosity of your skin.
EYE BASICS FOR DAY AND NIGHT 
The eyebrows should be set in place with either a clear or slightly tinted brow gel such as Givenchy Mister Brow Filler. The tinted version will minimize any sparseness and emphasize the shape of the brows.
I then like to apply a brightener such as YSL Touche Éclat over the entire lid because it covers the darkness without the heaviness of a typical primer and its brightness opens the eye area.
The final step is to curl the lashes because day or night, a Goa Girl is always batting 100.
DAY LOOK – TOUCHES OF METAL
The daytime Goa Girl beach look is about harnessing the sun's energy and adding it to your face. The eyes should be easy with a swipe of cream shadow that you apply from the lash line to the crease with your finger. Charlotte Tilbury's Eyes to Mesmerise is a great collection of cream shadows that you tap on, blend and then proceed to dazzle.
The Rose Gold Shade flatters light-to-medium skin tones, while Star Gold, a gorgeous  copper, makes darker tones sizzle. The eyes should be lined with a deep brown liner such as Charlotte Tilbury Rock N'Kohl Barbarella Brown, which flatters all South Asian skin tones.
I then finish off the eyes with one coat of a thickening mascara such as Stila Huge Extreme Lash Mascara. The trick is to define the lashes in one swipe, so that you add a bit of definition to an easy look, so that it works for the office and evening cocktails.
The cheeks should be lightly touched up with warm blush such as Nars Liquid Blush in Torrid.  The texture is lightweight and you can build intensity with thin layers.  Its warm coral base flatters all South Asian skin tones, and looks undeniably beachy.
The final cosmetic is the lip product and there are two shades that capture the essence of the Goa Girl. If your approach is more subtle Laura Mercier Crushed Pecan is the perfect warm nude that defines the lips without drama.
If you prefer a touch more drama, Urban Decay's Heat Wave is a metallic, copper shade lipstick that adds shine and coordinates beautifully with Star Gold.
NIGHT LOOK – CAPTIVATE WITH NATURE
The night time Goa Girl beach look replaces the replaces the sun worship with moonlight delight. Once the eye base is in place, Urban Decay's Beached Eye Shadow Palette provides plethora of colour combinations that let you express your night time Goa Girl.
The powder shadows go on lightly, so you can layer until you have reached your desired intensity. I love to apply Blaze on the lower lid, so that the eye opens up, and then add a mix of Double Dip and Plunge in the crease. I prefer a smoky look at night, so I use a smudger brush such as Make Up For Ever Brush 212 to apply Wedge to the upper and lower lines. I then apply one coat of Stila Huge Extreme Lash Mascara.
As with the day look, Torrid works beautifully with the night beach look. Its warmth is in step with the sensuality and mystery of the moon.
For the lips, I recommend that you apply a layer of the Lip Fusion XXL Advanced Contoured Plumping Primer. This clear, chubby stick glides on effortlessly and in a minute the lips start to tingle and then stand at pout.
I like to build on the pout with lipstick that is a perfect mix of Sicilian blood orange and canteloupe, such as Urban Decay 100 Degrees Lipstick. Its sheer finish belies its seductiveness. It's universally flattering on South Asian skin tones and perfect for the Goa Girl!
IN A NUTSHELL
The Goa Girl is the South Asian beach look which interprets the beach beauty basics according to South Asian hair types and skin tones.
The coarseness and thickness of typical South Asian hair means that soft shampoo conditioner and styling products are necessary to tame the natural texture.  Further, conventional styling tools might damage rather than beautify hair, so simple steps like braiding and twisting semi-wet hair is a great way to add texture.
The make-up, like the hair should be soft. The softness is achieved by working with shades that are inspired by the beach and are easy to apply. The goal of the Goa Girl is to be accessible and relaxed, not made up to the point of sterility. The philosophy creates ideal looks for the day and night.
Finally, a light spritz of a beach perfume seals the deal to your being a Goa Girl!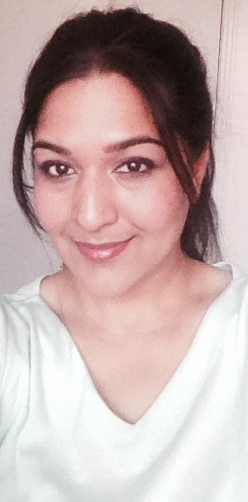 Author
Meena (@meenalaregina) always loved the idea of exploring the non-conventional idea of beauty. Having grown up as a pimply chubby teenager, she wanted to see the change in the world that best reflected your uniqueness as well. Her well-received collection of blogs where she tries on various beauty p...