Beauty /
DIY From Lid To Lip: Spring Into Action With Our Sharbat Inspired Beauty Looks
DIY From Lid To Lip: Spring Into Action With Our Sharbat Inspired Beauty Looks
Beauty Apr 24, 2018
Spring is not solely reserved for pastel shades, it also embraces sharbat shades whose inherent warm creaminess flatters South Asian skin tones. So check out our Sharbat inspired beauty looks from lid to lip!
When spring has the courage to vanquish winter, the desire to wear fresh, pretty make-up is irresistible.  A popular option is to incorporate pastels but given their white base, this option is not viable for many South Asian skin tones.  However pastels are not the only way to add fresh hues to your personal palette.  Sharbat, or sorbet if you prefer, shades, like their ice dessert namesake, are slightly creamy and liquid fresh, and hence flattering  on all South Asian skin tones.
SHARBAT SHADES DEFINED
Sharbat shades, such as raspberry ice cream, freshly-cut watermelon and sliced tangerine, are  the halfway house between the drenched hues of winter and their spring pastel counterparts.  The creaminess has the requisite warmth to work on deeper skin tones and introduce spring prettiness to the vanity.
BASIC PRINCIPLES FOR APPLYING SHARBAT SHADES
The trick to working the sharbat shades without delving into a candy-hued look is to apply the "two-thirds face" approach.  The two-thirds refers to working colour on either the eyes and the cheeks, or the cheeks and the lips.  Well done cheeks are essential for the look, because it occupies most of the face and is a great place to communicate the freshness of spring.
The application philosophy is to always use a light hand, and then build on the layers to achieve the desired intensity.  The key verbs are tap and dab, and contouring should be kept to a minimum, i.e. pick only one feature to contour.  Freshness is not about being sculpted, rather it is about embracing a hint of rawness, and allowing you to shine through.
Read on to learn how to use the "two-thirds face" approach to master Sharbat Beauty.
KEY: GREAT SKIN
A beautiful complexion is essential for any look, and as it warms up no one wants to lose time in front of the mirror, after all sunshine is fleeting in Canada!
Concealer is essential for Sharbat Beauty but a great way to reduce the need for this product is to use a highly-pigmented foundation such as Diorskin Forever Undercover.  The coverage is medium-to-full but the liquid is lightweight,  stays in place, and corrects discolouration in one swipe.
This type of foundation goes on best with a flat, dense, duck-billed brush such as Make Up For Ever Straight Brush 108.
I take one drop on my hand, then dab it on the trouble areas of my face.
Since the foundation sets quickly, I immediately take the brush and blend it into the skin, making sure to reach the hairline.
The only issue are my under eye circles, which I address with my corrector and concealer.
Given that my skin is a tad oily, I always set my concealer with a lightweight powder.  Sometimes my complexion looks great but there is a still a hint of tiredness.  In this situation, I refer to the colour wheel  to see what I can apply to liven up my face without adding too much colour.  Givenchy Prisme Libre in Mousseline Pastel is a matte, loose powder which uses pastel shades such as lavender, green, blue and white to brighten the complexion.  It looks great on light-to-medium skin tones.
I had my doubts about the powder and was fully prepared to look like an ashen clown.  I applied the powder to my under eye area, let it bake for two minutes,  and then used a large fan brush, namely the  Make Up For Ever Powder Fan Brush 134, to brush away all of the powder.
It is stunning to see how much my face opens up with a hint, fleeting touch of pastel.  Note that the pastel serves a brightening function and is not used to adorn my face because it would look ashen  An excellent equivalent for dark skin tones is Givenchy Prisme Libre in Organza Caramel.
DESI DIVA'S CHOICE: EYES OR LIPS
The next step is to decide whether your focus will the eyes and cheeks or the cheeks and eyes.
If you choose the eyes, I recommend using one shade on the lower lid and then tap or dab it to just above the crease.  The colourful nature of sharbat shades means that the impact is in the colour itself, not in the artistry of complex mixing and application.  Shiseido Paperlight Cream Eye Color is a collection of sharbat and pastel cream shadows that tap on light, set quickly and permit you to build intensity with successive layers.  My personal favourite Hisui Green which encapsulates sixties glamour and evokes the great Helen while she danced to the song "Piya tu aab to Aaja" in the film Caravan.
A great way to enhance the drama is to draw a thin cat eye, and then rim the lower waterline with a chocolate brown pencil.  To prevent the eyes from looking too overdone the mascara should define, lift and slightly fatten the eye lashes.  An excellent  mascara for Sharbat Beauty is Estée Lauder Sumptuous Knockout Defining Lift and Fan Mascara ("Basic Sharbat Eye Look").
Note that the Basic Sharbat Eye Look works beautifully if you opt to apply the "two-thirds face" approach to the cheeks and lips.  The high definition creates a great canvass for the rest of the face.
If you choose lips, I recommend an unabashed matte finish as featured in the Laura Mercier Velour Extreme Matte Lipstick collection.  The deep pigment harmonises beautifully with the foundation, and the colour suggests that you had a full vat, not a mere cup, of delicious Sharbat!  I also appreciate that the Laura Mercier lipsticks stay on for hours but do not cling to the lips.  A beautiful shade for South Asian skin tones is Bring It, a raspberry pink shade that is work and play appropriate.
CHEEKY CHOICES
The expanse of the cheeks are a wonderful way to communicate your Sharbat Beauty.  The liveliness of these shades lifts the face.  A great palette for all South Asian skin tones is Narsissist Wanted I Cheek Palette.  This sextet of blushes is a mix of matte and shimmery shades that remain close to a pink base.  I like to mix Unlimited (a shimmery gold pink) with Notorious (matte lavender) to create a flattering shade that sculpts my cheeks.  Deeper skin tones will look amazing in Crave( matte bright coral) topped with Unlimited on the highest points of the cheeks.
SCENT OF A SHARBAT BEAUTY
Once the face is in place, the next step is to add a spritz of sweetness.  By sweetness I do not mean candy, instead a tropical, lush touch that evokes memories of cutting firm mango and cool watermelon on a summer evening, is ideal.  Aerin Hibsicus Palm captures the lively nature of Sharbat shades as its notes of Hibiscus Palm and Lotus Flower coupled with vanilla and coconut milk, evoke spring and prepare you for summer.
Sharbat shades, like their pastel counterparts, announce the arrival of spring.  Its warm undertone of cream, rather than white, means that South Asian skin tones are highlighted in a beautiful way.  The key is to focus on either the eyes and cheeks or the cheeks and lips, and to tap or dab on the shades, to ensure a fresh, spring look.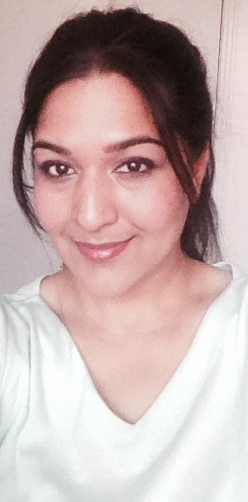 Author
Meena (@meenalaregina) always loved the idea of exploring the non-conventional idea of beauty. Having grown up as a pimply chubby teenager, she wanted to see the change in the world that best reflected your uniqueness as well. Her well-received collection of blogs where she tries on various beauty p...