Beauty /
Embarrassed By Your Knees And Elbows? Brighten Up Black Patches With Our Makeup Tips
Embarrassed By Your Knees And Elbows? Brighten Up Black Patches With Our Makeup Tips
Beauty Apr 10, 2018
Self-conscious about dark elbows, knees, and pasty limbs? Read on to find tips and tricks on how to brighten up black patches with our makeup tips right here! 
Adolescence is  hard enough and when you're caught in between three cultures (English, Quebecois and South Asian) and being a visible minority, the experience is intensified tenfold. One aspect of being brown-skinned that made me self-conscious was having hyper pigmented elbows and knees. I wish I had understood how dark skin works when I was younger because then I would have known the answer to the question I always got "Why are your elbows so dark?". I felt embarrassed and avoided skirts and sometimes wearing a t-shirt on a hot summer's day took more courage than I had in me.
WHAT DIDN'T WORK
So I decided to tackle the issue by exfoliating my elbows and knees. I thought that the dark skin was due to accumulated dead skin cells. I also noticed that my face was brighter and fresher after I exfoliated it, so if this beauty routine worked on the face, it must do the same for the elbows and knees.
I bought a pink exfoliating block, the type you use on the heels to smooth them out, and I rubbed away. I winced in discomfort as I used broad strokes to remove the offending accumulated dead skin cells. The pain was outweighed by my delight at seeing brown skin roll off.  I believed that I was moments away from having lighter elbows that would match the rest of my arms.
Ten minutes passed and I held my up my now throbbing elbows to the mirror. To my profound shock my elbows were a bright, strawberry milkshake pink, not olive brown. Worse, it hurt to bend my elbows because unbeknownst to me, I had removed the top layer of my skin.  Needless to say, I didn't do my knees.
I decided to work around my dark elbows and legs by avoiding dresses and skirts. I yearned to wear them but my embarrassment was profound and I had given up all hope of having a feminine wardrobe. Then several years ago, I discovered Make Up For Ever body makeup which covers up discolouration and scars. I realized two things: 1) I now had my chance to wear my skirts and dresses and feel confident; and 2) the body, like the face, has its own routine.
PREPARATION: EXFOLIATE WITH KINDNESS AND HYDRATE WELL
The elbows and the knees, like the face, accumulate dead skin cells.  Even though the skin on the joints is tougher than that of the face, my "pink block" experience taught me that the skin must be treated with respect and gentleness.  Matthew Richard, Make Up For Ever's Talent Relationship Makeup Artist, advises, "To get the best application, I would recommend exfoliating the night prior, and making sure to hydrate elbows and knees 5 minutes before applying makeup."
Based on this advice, I decided to try L'Occitane Ultra Rich Body Scrub.  It has 10% shea butter and ground walnut shells, and is exceptionally creamy.  I like how the creaminess permits me to exfoliate, massage and hydrate my body simultaneously. The granules are so gentle that it smoothes out the joints and refreshes the delicate cleavage area.  I made sure to exfoliate my joints twice to ensure that the tougher skin was exfoliated with kindness.
Hydration is key, and I realized that body oils and lotions are too runny and would require extra time to massage in; extra time that doesn't exist during the work week. Creams are simply too thick and in warmer climates  will be heavy. From textural and absorption viewpoints, I found that a balm would be the best option. It has a bit of heft but is not runny and is easy to massage-in. I tried the L'Occitane Amande Delightful Body Balm, and aside from swooning over the scent of sweet almond, it just wonderfully sinks right into my skin. My knees elbows and knees always feel soft!
EASY TIPS ON APPLYING THE PRODUCT
I was surprised to learn that applying product to the elbows and knees can be as complex as that of the face. The first step is to figure out the intensity of your darkness. For people whose joints are tad darker, a smidge of powder, primer and foundation can even out the hyper pigmentation. For others with darker joints, such as myself,  a heavier concealer, foundation and powder routine is required. Also remember that the elbows tend to be darker than the knees because they are exposed to the sun more often. Therefore, you have to do the research for the best shade of body make up.
These are the steps that I followed to make my elbows blend in with the rest of my arms:
Dab on body concealer such as Make Up For Ever Full Cover Extreme Camouflage Cream. It is quite thick so a small dab is all that is necessary to cover the joint.

Brighten Up Black Patches With Our Makeup Tips: Make Up For Ever Full Cover Extreme Camouflage Cream. Photo Credit: makeupforever.com

Use a sponge applicator such as the Beautyblender to dab it over the joint, making sure to gradate it outwards to the rest of the limb.

Brighten Up Black Patches With Our Makeup Tips: Beautyblender. Photo Credit: beautyblender.com

Squeeze two dabs of Make Up For Ever Water Blend Face & Body Foundation on the sponge applicator. It's super lightweight and dabbing allows for easy build-up of coverage. As in step two, make sure to blend it towards the rest of the limb.

Brighten Up Black Patches With Our Makeup Tips: Make Up For Ever Water Blend Face & Body Foundation. Photo Credit: Make Up For Ever Canada

Tap the sponge into a matte powder, such as Make Up For Ever Super Matte Loose Powder.

Brighten Up Black Patches With Our Makeup Tips: Make Up For Ever The Super Matte Loose Powder. Photo Credit: Make up For Ever Canada

Press the sponge into the foundation, making sure to not drag it, as this will displace the foundation and concealer.
Spritz on a setting spray such as Make Up For Ever Mist & Fix and wait 2-3 minutes for it to set.
I am pleased to report that my mother, by far the frankest and toughest person in my life, confirmed that my elbows looked lighter and more natural. I went out sporting a jean jacket and spring coat over my t-shirt, and there was only the slightest rubbing off on the inside of my  jacket. I agree with Richard "The great thing with using Make Up For Ever Water Blend Foundation is that it is water resistant and is extremely stable."  I am so excited to wear skirts and dresses this year!
WHAT ABOUT THE REST OF THE BODY? 
My journey on how to deal with hyperpigmentation made me realize that my legs and arms are pasty, and aside from having great joints, I want fabulous limbs too. Thankfully, there are products that answer the short and medium to long-term body colour goals of South Asian women.
For the short term — as in the party is in two hours kind of short term — I like to apply Caudalie Divine Legs.  It's a tinted body lotion with subtle gold shimmer that hydrates lightly. I usually apply two layers to my body for that certain glow. The effect is an overall soft-lit glow.
For the medium-to-long term , i.e. the party is next week and I have more coming up next month, St. Tropez Gradual Tan Tinted Lotion is a great option. After your shower, when you have thoroughly towelled off  apply a layer all over your body.  You will  need to wait for a few minutes for the product to absorb, so use that time to wash your hands. The skin should not  touch water for the next 4-8 hours.
This exercise needs to be repeated daily until you reach your desired level of "glow-tensity". Remember that exfoliation, be it with cream or shaving removes the tanned skin cells so you might stop the exercise for a few days and then re-start to maintain the "glow-tensity".
To ensure that your limbs and joints match, I like to mix the Super Matte Loose Powder with my bronzing powder before dabbing it on the make up, to ensure that the limbs are uniform.
GLOW BABY GLOW 
There's really no excuse to not celebrate having brown skin all over the body. Hyper pigmentation can be embarrassing but with a touch of cover-up in the form of made-for-the body concealer, foundation and powder, it is possible to minimize this issue and fully embrace yourself.
To truly rock the dark skin body glow, a fantastic option is to use body glow lotions and self-tanners that enhance the brownness and let Spring know that you my dear, are ready for your close-up!
Main Photo Image Credt: www.huffingtonpost.com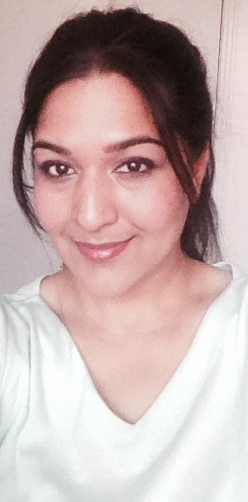 Author
Meena (@meenalaregina) always loved the idea of exploring the non-conventional idea of beauty. Having grown up as a pimply chubby teenager, she wanted to see the change in the world that best reflected your uniqueness as well. Her well-received collection of blogs where she tries on various beauty p...