Showbiz /
8 Hollywood Celebrities Who Created The Most Buzz In 2015
8 Hollywood Celebrities Who Created The Most Buzz In 2015
Showbiz Dec 28, 2015

2015 was a difficult year for some stars, and for others it was nothing less than great!
With 2016 right around the corner, we're taking a look back at this year's biggest celeb moments. Here are the eight Hollywood celebrities who created the most buzz in 2015.
1. Ariana Grande

Caught on tape, Ariana licks a donut and says she "hates" America. She apologized, but the donut shop still got in trouble with the health department for her donut licking.
2. Zayn Malik
One Direction fans were in an uproar when Zayn decided to leave the band. His fans are still by his side while he pursues his solo career.
3. Madonna
Madonna led the makeout session at Coachella and caught Drake off guard. After looking shocked and disgusted, Drake said, "Don't misinterpret my shock!! I got to make out with the queen Madonna and I feel 100 about that forever."
4. Zendaya
Fashion Police commentator Giuliana Rancic commented on Zendaya's dreadlocks, saying, "I feel like she smells like patchouli oil … or weed." Giuliana faced a backlash, and Zendaya was applauded for standing up for herself.
5. Scott Disick
These lovebirds have dated since 2006, and their relationship's ups and downs were chronicled on Keeping Up with the Kardashians. It came as a shock when they split, but they're still together co-parenting together.
6. Donald Trump
This television personality is a candidate for the 2016 presidential campaign, and it's always a shock when he expresses his bigoted political views. Whatever comes out of Trump's mouth always causes controversy.
7. Lamar Odom

Khloe rushed to her estranged husband's side after he was found unconscious in a brothel. Lamar suffered a drug overdose. Their divorce is now on hold, and Lamar is recovering.

8. Steve Harvey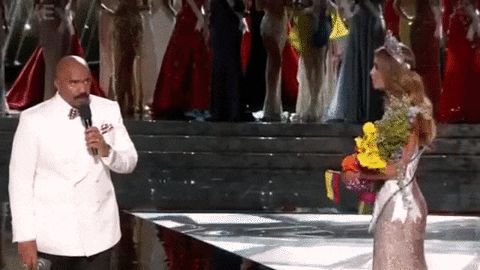 Steve Harvey accidently crowned Miss Colombia as Miss Universe when the actual winner was Miss Philippines. He has apologized, but he's the face of many memes poking fun of his mistake.
What do you think was the biggest Hollywood celebrity moment of 2015? Let us know in the comments below!
Main Image Photo Credit: www.usmagazine.com
Author
Rana is a Journalism graduate from London, Ontario. She is proudly Palestinian but has always had a ever-growing fascination with South Asian culture and her vast knowledge of Bollywood surprises many. She is an eyebrow master and lipstick connoisseur, shameless owner of 200 mauve l...