Heated Identity Debate: Will It Be 'India' Or 'South Asia'?
Culture & Lifestyle May 17, 2016

California students may soon be referring to India as simply "South Asia" as a debate to change South Asian history in textbooks sparks controversy.
"Columbus didn't come to the Americas looking for South Asia. Columbus came looking for India. To deny the existence of this term is a little bit nitpicking on semantics for something that is very modern," claims Suhag Shukla, executive director of the Hindu American Foundation.
His comment comes in retaliation to proposed changes to California textbooks that will replace the term "India" with "South Asia."
Satirical Image of the Proposed Changes to California Textbooks
Photo Credit: www.change.org
These proposed changes come from the California Department of Education. Opposing political and cultural groups claim the changes will alter South Asian American history in student textbooks along with many other educational frameworks for sixth- and seventh-grade students.
The changes aren't confirmed yet, but a vote will take place later in 2016 to decide whether these changes will take effect.
You can imagine the effect of these proposed changes! The news hasn't gone down well with global South Asian communities, who consider the proposed changes an attempt to eradicate Indian and Hindu identities. Groups have even launched a viral social media discussion called #DontEraseIndia
Satirical image of the proposed changes in textbooks in California
Photo Credit: www.andhrawishesh.com
What's the reason for this proposed change, you ask? "In some places of the curriculum framework, we have recommended use of 'South Asia' to more accurately reflect this shared civilizational heritage between India, Pakistan and Afghanistan," said Kamala Visweswaran, professor of ethnic studies at the University of California, to NBC.
"The recommendations that we've made did not exclusively say, 'erase India' or the Indian sub-continent from these descriptions," added Chris Chekuri, an associate professor of history and South Asian studies at San Francisco State University and also a member of the group. "We said, 'Let's be more context-sensitive.'"
After the proposed changes were announced, satirical images went viral on the internet, mocking the changes and highlighting the "old world" context and nature of the changes.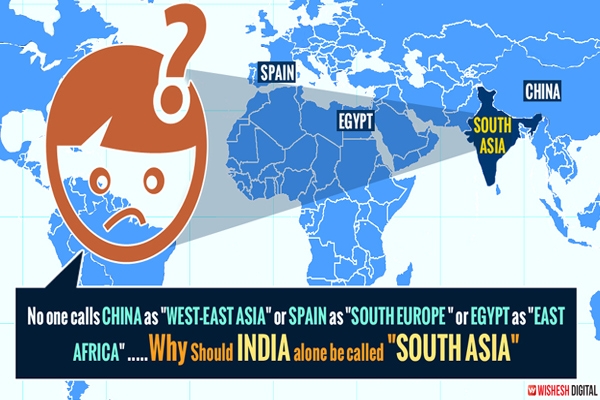 Satirical Image of the Proposed Changes to California Textbooks
Photo Credit: www.wishesh.com
But this satire hasn't watered down the anger of South Asians who find this proposed change hard to understand.
In fact, the anger is so great that an official petition against the California Department of Education launched on Change.org to fight the proposed replacing of "India" with "South Asia." The petition has garnered over 25,000 signatures already. The outrage has even led to student rallies, political campaigns and marches.
Do you feel "India" should be replaced with "South Asia"? Tell us what you think.
Main Image Photo Credit: www.timesofindia.indiatimes.com
Author
Daniel is the Digital Media Manager for ANOKHI MEDIA and the host for ANOKHI's entertainment channel, PULSE TV. As part of the dream team, Daniel manages all multiple channels under ANOKHI's portfolio, while also training new on-air talent, and showing budding p...