Beauty /
Wear The Colour Of The Leaves: How To Get Autumn Hues To Shine On Our Brown Skin
Wear The Colour Of The Leaves: How To Get Autumn Hues To Shine On Our Brown Skin
Beauty Oct 16, 2018
Autumn is upon us and with it comes inspiration from Canadian fauna. Rich hues such as chocolate brown, hunter green, soft gold and terracotta aren't typically associated with the vibrancy of South Asian beauty looks but they should be! Check out our tips on how to get autumn hues to shine on our brown skin. To prep your skin for fall click here! 
Autumn, like the different shades of leaves which give its rich beauty, inspires many beauty moods from rustling leaves to pins & needles  to the descending moon. The foundational shade for all autumnal beauty looks, i.e. the Crisp Canadian Look, is dark chocolate brown, similar to the shade of the bark of a fir tree. Its coolness evokes the coming weather and adds definition without the shadow created by black liner. A great example of a flattering dark chocolate brown pencil is Charlotte Tilbury  The Classic Eyeliner in Audrey. I like to softly line my upper and lower lash lines with this pencil after I do my eye look and prior to applying concealer.
Rustling Leaves
Summer's freshness is invoked by citrus scents while the gentle swirl of leaves hints at autumn's crispness. A fantastic way to capture the softness of this look is to dab a mix of metallic shades on the mobile lid and crease. For example, I like to apply a single layer of Lumbre (shiny copper) on the mobile lid and then blend in a single layer of Scorched (burnt sienna) in the crease, from the Urban Decay Naked Heat Palette. The shades veer towards reddish browns and flatter dark peepers. If your eyelids are darker apply a second layer of the eye shadows but do so with a light hand as to keep the rustle in the look.
South Asian skin tones are born for blush and Charlotte Tilbury Cheek to Chic in Ecstasy is a fantastic option because the centre circle is a deeper  peach shade while the outer circle is more coral. You can create your own bespoke blush to match your skin's intensity by mixing the shades, and the silkiness of the powder guarantees that you will never looked cakey.
The rustling of leaves should also apply to the lips, and for light-to-medium pigmented lips, Fresh Sugar Spice Tinted Lip Treatment adds the requisite deep pumpkin warmth.
If your lips are deeply pigmented Vasanti Power Oils Lip Gloss in Shimmering Brown is an excellent option.
Pins & Needles
Green is not an oft-recommended shade for South Asian beauties as its sedateness is eclipsed by the glamour of crimson and magenta. In autumn, the vivid beauty of the leaves is offset by such sedateness and this colour is meant for our beauty. I love the Stila Vivid & Vibrant Shadow Duo in Jade, in which half the kit is a shimmery jade while other half is an unabashed sparkly complement.
I like to take my left ring finger and tap the shimmery shade on my mobile lid, and then to give the eyes a bit of lift, I tap the sparkly shade on the middle of the mobile lid. To add an extra touch of glamour, I rim the lower lash line with the Laura Mercier Caviar Stick Eye Colour in Jungle. It is less intense than Jade but adds oomph to a glamorous eye look.
The cheeks should be soft and luminous so that the face will not be too busy. I recommend the Fenty Killawatt Freestyle Highlighter Duo in Mean Money and Hustla Baby. This golden highlighter duo permits all South Asian beauties to create their own bespoke highlighter.
The shimmery eyes and luminescent cheeks call for a soft matte lip, autumn is not only about colour, it is also about texture. A great liquid lipstick with a matte finish is Stila Stay All Day® Liquid Lipstick.  It goes on evenly and sets within seconds.  This product is samosa-strong and leaves a beautiful finish. For light-to-medium lips, the Palermo shade (warm terracotta nude) is great and for dark lips, while the Sienna shade (deep dusty brown rose) is ideal for dark lips.
Descending Moon
Autumn is not only pretty during the day, it is enchanting at night because the moon  crisply contrasts against the night sky. To create this look, I recommend colour washing the eye lids in a  soft metallic eye shadow such as Make Up For Ever XL Color Paint Extra Long Lasting Waterproof Eye Shadow® in Iridescent Copper Gold, to evoke the moon. This product glides easily onto the delicate eyelid, and it opens the eye area from the lash line to the eye brow. Iridescent Copper Gold is flattering shade for all South Asian women.
To continue the theme  of luminescence apply the Fenty Killawatt Freestyle Highlighter Duo is Mean Money and Hustla Baby.
The lips are where you can have lots of fun with the look because only dark shades, which have typically been the territory of our beloved aunties, remain supreme. In my photo, I opted to use Fenty Mattemoiselle in Shawty, a rich chestnut brown, but if wine is more your style, then Charlotte Tilbury Matte Revolution in Glastonberry, a purple berry, is a great option.
Falling Ideas
The arrival of cooler weather is not an excuse to retire the glam because the rich hues of fall will look beautiful of South Asian skin tones. The inherent crispness of these shades are made for our skin tones because they are rich and sumptuous. So this autumn, rise to, rather than fall from, the occasion of being cool glam!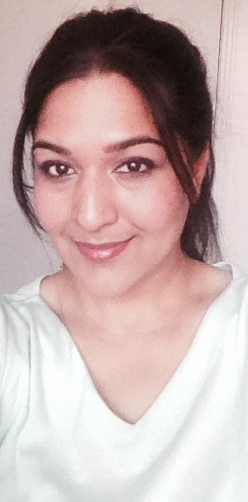 Author
Meena (@meenalaregina) always loved the idea of exploring the non-conventional idea of beauty. Having grown up as a pimply chubby teenager, she wanted to see the change in the world that best reflected your uniqueness as well. Her well-received collection of blogs where she tries on various beauty p...