Beauty /
From Office To Evening: Tips On Keeping Your Holiday Glam Game Going From AM To PM!
From Office To Evening: Tips On Keeping Your Holiday Glam Game Going From AM To PM!
Beauty Nov 06, 2018
The holiday season's here (those invites have started!) and yet we still feel pressed for prep time. How do we switch it up from work to cocktails when we typically only have sometimes just minutes between closing the computer to arriving at the venue? We've got tips on keeping your holiday glam game going from AM to PM! 
THE EYES —FOUR KEY TWEAKS
If you dedicate four minutes for four tweaks in preparing your eyes for the day, you will only require two minutes at 5 pm to have camera-ready eyes.
Tweak 1:
Define and set the eyebrows. I recommend using a twist-up pencil because the stick is a thin, ultra-defining stick that deposits colour easily and sets quickly. A fantastic one is the Diorshow Brow Styler Ultra-Fine Precision Brow Pencil and it comes in shades like Dark Brown and Black.
The hard work should be set with a clear gel such as the Givenchy Mister Brow Groom because the brush head lifts the hairs and sets them in pace in one fell swoop.
Tweak 2:
Use a corrector so potent that it eliminates the need for a concealer. I recommend the Benefit Boi-ing Brightening Concealer because the texture is creamy so it blends easily into the under eye, and the darker shades contain a healthy amount of peach, which literally neutralizes the circles with a few well-blended dabs.
I am so impressed by how my eyes open up, that I skip conventional concealer and set the corrector with a light dusting of the silken Urban Decay All Nighter Waterproof Setting Powder. The powder is truly translucent and does not leave an ashen finish on my skin.
Tweak 3:
Tap a long-lasting eye primer which opens the eye area and creates a base upon which eye shadow can stay set for the day. The naturally occurring darkness that many South Asian women possess ,can be a sexy look on its own, but of you wish to work eye shadow, then tap on Benefit Stay Don't Stray in Medium Deep. It is slightly tacky when you first dab it on but if you gently blend it all over using your ring finger, it sets to a soft neutral matte finish that welcomes eye shadow and eye liner.
Tweak 4:
If you want long wear, the best option is to use a liquid liner that comes in a pen format such as the Stila Stay All Day® Waterproof Liquid Eye Liner . The formula sets quickly and does not budge and the pen format ensure a smooth, sexy, alluring line that flatters all eye shapes. This product is designed for the long work days followed by evening cocktails.
THE SKIN AND LIPS: FOUR KEY TWEAKS
If you dedicate three minutes to four tweaks in preparing your face for the day, you will only require two minutes at 5 pm to have a camera-ready face.
Tweak #1:
The key to all day glam is to have properly hydrated skin which means that regardless of your skin type which can range from dry to oily, the skin can become parched, and fine lines and ashiness  become apparent. The parched skin literally absorbs makeup and leaves your face half made-up by noon. Consequently, regardless of skin type, add a hydrating serum under your face cream, such as Fresh Rose Deep Hydration Face Serum, to reinforce the skin's plumpness and smoothness. This particular product suits my mixed skin, as my drier parts feel smoother and my oilier parts feel normal and soft.
Tweak #2:
A hydrated, moisturized base means that long wearing foundations are accessible for all skin types, including dry ones. Modern formulations have made this type of foundation lighter and easier to blend with a few quick strokes using either your fingers or a sponge. I recommend the Estée Lauder Doublewear Stay-in-Place Makeup because it never cakes on my oilier cheeks; it rests above my fine lines in my drier areas; and does not turn orange on my medium skin.  The product does not transfer on my collar and at 5 p.m., I do not have to touch up my skin. There are 56 shades in the range, and this means every South Asian woman can create a beautiful, long-lasting canvas.
Tweak #3:
The lips are tricky because one can easily recommend a longwearing lipstick to wear from day to night but this does not address a harsh reality: by hour six the lips start to shrivel due to a lack of hydration.  I recommend that you start the day by mixing a hydrating, tinted balm such as Lanolips Tinted Lip Balm, which uses Lanolin and oils to hydrate the lips, and your favourite hydrating  lipstick, such as a shade from the Vasanti Ultra Luxe Lipstick with Peptide Technology, on the back of your hand.
Tweak #4:
After, apply the colourful balm with a lip brush as you would a lipstick and then press your lips together. At the start of the day you have hydrated lips with a hint of colour. At lunch repeat this procedure and you will notice that your lips feel soft and that the colourful balm has stained the lips.  The pressing motion helps makes the lipstick to stain the lips. The hydration from the balm and the lipstick means that your lips will look plump all day and sexy at dusk.
Bonus Tweak:
All of the make-up should be set with a setting spray that keeps the products in place. I recommend the Clarins Fix' Make-Up because this spray emits the finest mist of product and does not disturb the products, including the blush. I have found that some sprays moisten mascara but this one permits me to set without the wet.
THE COCKTAIL PREP – FOUR MINUTES 
After spending all day at work, you only have a few precious moments to fix your make-up.
Tweak #1:
For the eyes, the key is to refreshen the corrector and the best way to do this is to start from scratch. My experience has been that eye strain, and inadvertent touching of the face, disturb the under eye area. I recommend that  you take a makeup remover wipe and dab the under eye area. After, hydrate the area with a lightweight serum such as the Jowaē Wrinkle Smoothing Eye Serum  to relax the fine lines and add smoothness to the area.  The final step is to dab on the corrector and set with the powder. The rest of the eye make-up should remain as is because it has been applied on a strong base, created with long-wear technology, set with a spray, and is not typically touched throughout the day.
Tweak #2:
The next step is to apply your hydrating lipstick, without the balm all over the lips.  After a day bathed in double-layered hydration and gentle staining with pressing motions, the lips are ready for their close-up!
Tweak #3:
The final step is to spray a hydrating mist to revive the face.  My personal favourite is Fresh Vitamin Nectar Antioxidant Glow Water because of its citrus scent and the spray action results in your face being bathed in a gentle mist.  It feels soft and refreshing and none of the make-up budges.  I like to tap my cheeks (with clean fingers of course) to add some circulation, and then I am ready for the cocktails.
The holiday season is about spending time with family, friends and colleagues, not unnecessarily preening in front of a mirror. The essential step is the morning preparation where the strong base is established and then at 5 pm a few dabs is all you need to look fabulous on your terms.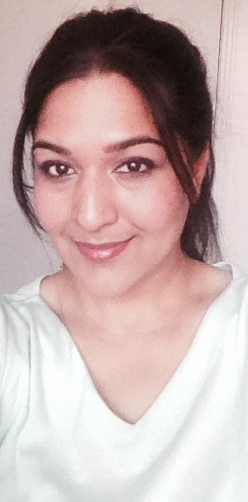 Author
Meena (@meenalaregina) always loved the idea of exploring the non-conventional idea of beauty. Having grown up as a pimply chubby teenager, she wanted to see the change in the world that best reflected your uniqueness as well. Her well-received collection of blogs where she tries on various beauty p...