Beauty /
Give Your Brown Skin Some 'Tude With Nude Hues!
Give Your Brown Skin Some 'Tude With Nude Hues!
Beauty Oct 02, 2018
The nude look, like its more colourful counterparts, is marked by depth, sensuality and fun.  The rainbow references might not be as vivid as crimson or cobalt but when shades that resemble desserts and coffee highlight your beauty, being nude with 'tude will always set the mood. So go ahead, give your brown skin some 'tude with nude hues! 
Nude is not about the natural look, rather it is about using a palette of shades that occur within our skin tones to create an unforgettable look.  Nude make-up can be matte, shimmer or cream, and there is no hesitation about highlighting an area of the face.  Conversely, natural make-up is about using the shades of your face to subtly define and create a presentable look.
South Asian women are fortunate because our skin tones can carry a variety of shades which range from cream pink to chocolate mousse and we look amazing.  Remember just because you are lighter skinned does not mean that you must shy away from deeper toffee shades, or if you are darker-skinned taupe is off limits.  The key is to mix shades, and most importantly add dimension to eyes, cheeks and lips by using different textures.
EYES – NAUGHTY NAKED TWINKLE!
South Asian women are blessed with intense peepers that can be blue but usually fall into the brown category which can be light as peridot, as playful as chocolate or as  intense as coal.  The key to selecting an ideal nude eye palette is to examine your overall skin tone: is it fair (think sand and bisque); medium (think honey and gold); or dark (think toffee and coffee)?  Once this overall skin tone is established, look at the colouration of your lids.  If it is naturally-pigmented, you will need to go for deeper nude shades, as lighter ones will either disappear or leave an ashen finish.
If you like to focus on your eyes, there are two excellent nude palettes that will compliment South Asian skin tones.  The first one is the Laura Mercier Bohème Chic Eye Clay Palette which is a sextet of shimmery and matte eye shadows, four of which are fantastic nudes for light-to-medium skin tones. I like to use the Metallik Bronze Gold on my mobile lids to add a touch of twinkle, and then define my crease with the complementary Earth Clay, a Swiss chocolate brown, to create a professional look.  If I am in a more romantic mood, I apply Metallic Rosegold on the mobile lid, and then define the crease with Rose Clay.
If you are blessed with a  deeper skin tone then the Charlotte Tilbury The Dolce Vita Luxury Palette is perfect!  The quartet of shadows play with deeper nude tones to create a sexy effect.  For example, I like to use the deep champagne shimmer on the mobile lid, define the crease with the sienna shimmer and then line the eyes using the Swiss chocolate shadow.
If your look is more swipe and go, there are two excellent options to create a nude eye.  For light-to-medium skin tones, I recommend Stila Shimmer & Glow Liquid Eye Shadow in Kitten.
Kitten is a legendary pink champagne shade that ruled the nineties and is a fixture in my vanity.  I like to dab it at the centre of my lids and then blend it all over to create a soft, colour wash of glow which enhances my natural skin tone.  If your skin tone is darker, an excellent alternative is Marc Jacobs O!MG O!MEGA Shadow 550, a soft copper that lends a refreshing metallic, and perfectly nude sheen to the eye area.
CHEEKS – GLOW IS THE SHOW
I struggled with this aspect of the blog because brown blushes on brown skin tones brings the whole nude look too close to the precipice of being washed-out, with no hope of return. I have looked at irrefutable photographic evidence of my dalliance with taupe blush from the nineties, and I assure you, it was not pretty.
I then examined the nude look through the prism of what are the objectives of this look.  Clearly, in using nude shades makes for an fantastic opportunity to highlight what makes nudity fun. i.e. the skin. I recommend that instead of looking for a brown or nude blush, use highlighter and bring out your skin tone. The cheeks occupy two thirds of the face, and if this part looks sullen then the nude look loses its lustre.
Stila's legendary Kitten shade as interpreted in its Heaven's Hue Highlighter is an easy-to-use gel product that blends-in seamlessly with a few taps on the tops of the cheeks.  It is ideal for light-to-medium skin tones and adds a healthy glow to the face.
An excellent alternative for deeper skin tones is the Fenty Killawatt Freestyle Highlighter Duo in Mean Money and Hustla Baby.  This highlighter radiates like the sun.  I like to mix the two shades with a big bronzer blush and then pass it over the cheeks to add illumination.
LIPS – PERFECTING THE NUDE POUT 
In the nineties, nude meant a cool-toned beige that looked beautiful on blondes and pasty on my lips. I am thrilled to see that nude lip products have evolved to address the needs of all South Asian women.
Given that my recommendations thus far have included shimmer, which is a fantastic way to capture the light and open up the face, I prefer to use matte and cream finishes on the lips, top act a textural counterpoint.
The key criterion when selecting a lip product is to examine your lips' natural pigmentation. You should examine if  the pigmentation is even, e.g.  the top lip is darker than the bottom one, and analyze whether the intensity of pigmentation requires a heavier texture that delivers more punch of colour. The following five lip products have impressed me because they truly enhance South Asian lips:
Kat Von D Studded Kiss Creme Lipstick in Bow N Arrow is the taupe lipstick that I yearned for in the nineties.
It is slightly more pink than brown, and when I put it on, I truly have nude lips, not something that looks like smeared-on concealer. This is a great taupe with a  lovely, creamy finish.
If matte is more your speed, then Charlotte Tilbury Matte Revolution Lipstick in Very Victoria is a great nineties throwback option.
The matte is sensual, not drying, and it truly brings out the lips' dimension in a soft way. The shade itself is a great go-to when you have no time to think, you just need to move quickly.  Its matte finish is incredibly sophisticated.
If you prefer a warmer, glossier finish, then Fenty Stunna Lip Paint in Unbutton is a beautiful peach nude.
It goes on intensely but as you tap it into the lips, it settles into a soft finish. Its orange tinge is ideal for deeper skin tones which possess warmth.
If you prefer an outright, unapologetic gloss that leaves your lips looking wet, then Marc Jacobs Hydrating Lip Gloss Stick in Choco-lata! Enamored is perfect.
This nude has a touch of pink but when it goes on to the lips, it literally melds in and enhances your natural lip shade.
If you prefer convenience and a creamy texture then try the Vasanti Matte Crush Lipstick Pencil in Rosy Pout.  It has a touch of rosiness but the brown element brings it into the nude territory.  It glides on easily and stays for several hours.  The finish is a soft matte and works on all shades of lips, from pale to deep mauve.
NAKED THOUGHTS
Nude has come a long from the crayon that was called flesh.  It is a universal beauty look that is particularly flattering on South Asian skin tones because they contain incredible, sensual depth and variety.  The key to a successful nude look is to assess your skin tone and then apply flattering shades in all finishes, namely shimmer, cream and matte.  The colours are so easy to use, its like wearing your own skin… with 'tude!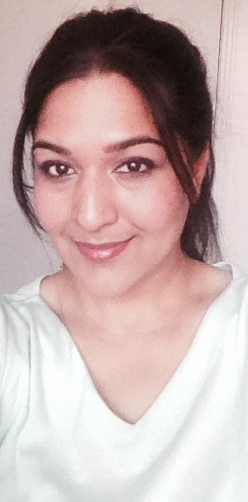 Author
Meena (@meenalaregina) always loved the idea of exploring the non-conventional idea of beauty. Having grown up as a pimply chubby teenager, she wanted to see the change in the world that best reflected your uniqueness as well. Her well-received collection of blogs where she tries on various beauty p...