Beauty /
Post Summer Skincare 101: Get Your Skin To Fall In Love With Fall!
Post Summer Skincare 101: Get Your Skin To Fall In Love With Fall!
Beauty Sep 11, 2018
As the days become shorter and the clothes become baggier, it is easy to lose the discipline of maintaining one's body beauty … this would be an error because before we know it the holiday season is upon us and with it comes those fancy party ensembles and endless stream of selfies. So read on and find out little tips and tricks that will maintain the body glow as the sun sets on summer. Go ahead, get your skin to fall in love with fall! 
Body beauty is a discipline like skin care, and has four elements: cleanse, repair, hydrate and treat. The products you select depend on your personal needs but what is certain is that the textures need to be luxurious in colder temperatures because scaliness impacts all South Asian skin tones. The beauty of our shades of brown skin is that when they are exfoliated, cleansed and hydrated their innate warmth shines through in the midst of a harsh Canadian winter.
CLEANSERS
Colder climes call for richer cleaning products that contain oils and  are soft on the skin. Remember cleaning does not mean stripping of oil, it means gentle removal of sweat, bacteria and toxins from the skin. In addition, it is important to use a gentle shower puffy that should  be washed on a weekly basis.
Pro Tip: The puffy is essential because if you rub it all over your body using circular motions you stimulate blood flow, especially to the parts that are squashed in the office chair like the backs of the thighs and the buttocks. The skin rubs continually against the fabric of your bottoms but it is never revved up. A great two-minute rubdown with a rich cleanser adds freshness to these areas of skin.
If you love the silkiness of shower gels, then I strongly recommend Fresh Brown Sugar Bath & Shower Gel.  Aside from smelling like heavenly mix of brown sugar, primrose, sweet almond, apricot kernel, and jojoba, the shea butter leaves the skin soft. It lathers richly, and gently cleanses the skin.
If a classic bar of soap is more your speed, then try the Beautycounter Citrus Mimosa Body Bar.  It contains a sensual mix of organic shea butter and antioxidant-rich organic marula and mongongo oils. The soap embraces the skin, never leaving its taut and parched.  To make the bar last longer, I like to drag my puffy along the wet bar, and then leave the bar outside of the shower, so that it will not disintegrate in the water.  I then proceed to give clean myself while doing a light massage.
EXFOLIATION
Exfoliation is an essential part of body care for all skin types, except for the most sensitive. As with the face, the goal of this activity is to remove dead skin cells so that the ashiness is eliminated and creams can penetrate. I enjoy the Beautycounter Sugar Scrub Lemongrass because its smells like a citrus dessert which relaxes my mind, and its gentle brown sugar crystals smooth the body and free ingrown hairs on my bikini line. The mix of primrose  sweet almond, apricot kernel, and sunflower oils hydrate skin, so you never feel like you have removed dead skin, you just feel like you gained a soft layer of skin.
Pro Tip: For a successful exfoliation, do it every other day, and turn off the shower when you do it. The water washes away the granules which you need to rub in circular motions all over the body, including the delicate décolletage. Brown sugar is gentle enough  to be used everywhere so it will not scratch thin skin or irritate minor cuts. The buttocks and inner thighs need particular care, and I recommend sticking out the buttocks and rubbing with extra vigour where the buttocks meet the thighs.  This area is prone to sponginess and a good exfoliation keeps the tautness intact.
I like to rinse off the grains with a  blast of cool water that reinforces the tautness and the shower fresh feeling.
REPAIR
Summer brings us much joy and irritants such as sun spots, mosquito bites and scrapes, all of which leave scars.  On South Asian skin, even a minor trauma can result in a dark brown scar that takes a while to heal because the pigment lives to (over)react. This year, my source of scars was courtesy of the chicken pox (which I got 35 years late, but hey, better late than never). I have five, now considerably faded, brown spots which mark where the virus manifested itself.
Since May, I was disheartened by the five dark brown scars because they were just ugly, and after forty-odd years of existence I was used to a scar-free, smooth décolletage. I was intrigued by the Clé de Peau  Concentrated Brightening Body Serum because it claims to reduce the appearance of uneven skin tone in the décolletage area courtesy of the theanine plant. My scars were dark and I had my doubts about the product's potential  until I realized after five days of regular dabbing resulted in faded scars. I am amazed by how the scars which were an even brown are now only partly brown. The healing of my scars has progressed significantly, and this a must-have for South Asian body beauty.
HYDRATION
Fall is a tricky because some days are like an Indian summer while others remind us that winter is coming.  Consequently the hydrating product that you use at the start of the season differs from what is used at the end.
September and October are too crisp for a lightweight lotion and require something with heft that is not greasy. A fantastic option is the  Shiseido Revitalizing Body Emulsion, a delicately-scented  hydrator that is rapidly absorbed by the skin.  The lightweight texture permits you to apply using long broad strokes in a south-north direction, as you always want to the body to be lifted.  It keeps the skin lush for a full day and leaves a greaseless finish.
Hydration time can also be used to treat nominal sagging. For example, I have a slight loss of elasticity above my knees, and I am also concerned about the possible loose skin between my thighs.  I enjoy using a firming cream such as Clarins Extra-Firming Body Cream.  Its shea butter guarantees hydration, while the lemon thyme reinforces the firmness of the skin.
Pro Tip: As with the emulsion, I use long  south-north strokes along most of body. However for the knees, I gently knead the skin in clockwise and then counter clockwise directions.  I also knead the skin of my upper inner  thighs, being careful not to pull this thin skin. In addition, I apply stronger strokes on my buttocks to encourage the lifting and firming effect. After several days, I am pleased to report that the routine works.
AREAS WHICH ALSO NEED YOUR ATTENTION 
The bust and abs are two delicate areas that require daily quick two-minute massages to maintain their beauty.
The breasts, if they are on the large side, tend to sag quicker than smaller-sized pairs. One way to ensure their smoothness and perkiness is to massage them daily using a specialized bust cream. I like the Lierac Bust-Lift because this silk pink cream is lightweight and is rapidly absorbed by the skin. It makes the décolletage look as smooth … as silk and afterwards I feel like I have a light bra because it feels lifted. I massage this product  for two minutes and then I feel incredibly confident as I put on my shirt.
The abdominals are the bane of my body confidence. I have a great abs under the fat … In addition to exercise, drinking tea and learning to say farewell to bread, I found two massages that helped to define my midsection. First, after I have hydrated my body, I apply a layer of Lierac Body-Slim Beautifying & Reshaping Body Contouring Concentrate. I rub it in as if I was kneading dough (yes I have that much fat), and then I pass over the area my ab fat massage machine for five minutes. I use the Bliss fabgirl slim Lean Machine, and initially I could not believe it: I am an educated, middle-aged woman, and I am using a machine to try to obtain J-Lo abs. The machine suctions the fat and rolls it. It is uncomfortable but after three weeks of use (several times a week), I noticed something — the fat around my middle got looser and my abs looked more defined. A gym trainer will proclaim that abs are made in the kitchen but I say that this pantry move helps the cause!
Pro Tip: In the morning, I am sometimes bloated and this does not work with my corporate wardrobe. I like to gain a few millimetres of waistline mercy by massaging my midsection for two minutes with a dry oil such as Fresh Rice Dry Oil as its combination of rice bran, borage seed, grapeseed and sunflower seed oils  oil, and white tea extract leave the skin smooth with a greaseless finish. I notice that after the massage that my zipper closes with ease and I feel confident.
BODY OF CONCLUSIONS
There is no silver bullet for body confidence for the holiday season or for our daily challenges for that matter.  A great body is based on physical and mental health, smart food choices, exercise and few nudges in the beauty department. The nudges can add up to a maximum of 10 minutes a day spread between the shower and morning routines. The start is slow but with a disciplined approach you will see within a month's time, little lifts, touches of perkiness that enhance the beauty of your healthy habits. A great moment of satisfaction will come when you are getting ready for a party and you slide into your dream outfit without worrying about what you have been hiding under the layers of clothes – because you were never hiding, you were  just preparing in secret.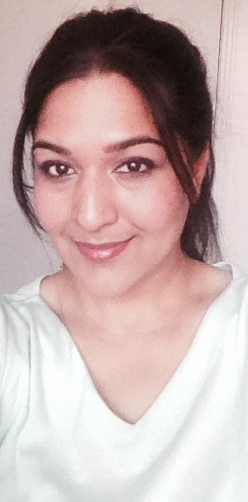 Author
Meena (@meenalaregina) always loved the idea of exploring the non-conventional idea of beauty. Having grown up as a pimply chubby teenager, she wanted to see the change in the world that best reflected your uniqueness as well. Her well-received collection of blogs where she tries on various beauty p...