Beauty /
Stick With It! Travel Without Melting Your Face Off With These Stick Beauty Products!
Stick With It! Travel Without Melting Your Face Off With These Stick Beauty Products!
Beauty Aug 14, 2018
Travelling the world requires not only cultural, but beauty adjustments as well. Read on to find out how you can travel without melting your face off with these stick beauty products! 
THE ISSUE DEFINED: MELT ME A RIVER
Summer and the winter holiday season (yes those plans are traditionally being made now!) are common time for many South Asians from North America and Europe to visit their ancestral homelands which are typically located in the regions of South Asia, the Caribbean and Africa. The destinations are undoubtedly exotic but they also present a unique beauty challenge, namely how to deal with melted and separated makeup that falls apart under the heat, humidity and pollution that is prominent in these destinations.
WHAT'S STICK BEAUTY? 
I suggest that when selecting travel products, that the focus should be on stick beauty products. Stick beauty products are those that deliver colour in a stick format such as an eyeliner and eye brow pencil, and tend to be matte or slightly creamy in texture. For dry-skinned women, stick beauty products might be seen as risky because they will highlight fine lines. I researched several stick beauty products to find the latest formulations go on quite well and sit above the skin rather than accentuate lines.
STICKY TIPS
If you opt for stick beauty products, check these out:
Always use a sponge such as the Beauty Blender because this product picks up the pigment and blends it in well.
Wash your hands with soap prior to application because fingers are also a great way to blend products.
Focus on creating watercolour-inspired looks, because the reality of humidity is that the sharpest edges are reduced to melted ghee. Try to create diffuse lines of colour with your fingers and sponge.
Don't store your products in the refrigerator because the constant cold will impact the formulation.
Instead, store your makeup in a cool space so that they can maintain their integrity but when you travel between cities and villages the journey's beauty struggles are real so…
Consider placing your products in a zipped bag in one compartment of your purse, and then in a separate compartment insert a thin icepack, making sure that the two never touch. The ice pack will cool down the bag and you will arrive at your destination with workable makeup.
Always carry a double-barreled sharpener so that you can sharpen your pencils and use a fresh surface of product on a daily basis.
A MATTE, NOT FLAT, AFFAIR
The priority is to create the ideal surface to receive makeup, and the best way to achieve this is by using a blur stick such as the Givenchy Matte and Blur Primer Stick.  This clear stick with soft, gel-like texture glides on evenly, and fills in pores and fine lines seamlessly. It leaves the face matte but never flat. The subsequent makeup products will stay on for several hours longer, and it can used to touch-up oily parts of the face. The second use is helpful because patting on powder can result in cakyness in the T-zone.
FOUNDATION AND CONCEALER— SWIPE AND BLEND
Once the surface is smooth, spot apply a foundation stick which goes on slightly creamy and dries to a soft finish. Spot application is when you apply on to the trouble spots only and then you blend it out using a sponge. You should blend towards the hairline or jawline, depending on where the discolouration is located. The hairline (or jawline) connection is important because it makes the coverage look more natural. I use the Beauty Blender dry because I want to avoid introducing moisture to the skin, and the stick formulations are "diluted" when they are tapped and well-blended.
I recommend Clé de peau Radiant Stick Foundation SPF 17 because it is hydrating and has a creamy texture. It sets beautifully for several hours, and  if your concern is fine lines then this product 's texture is ideal.
For normal-to-oily skin, I recommend the Nars Velvet Matte Foundation Stick. It glides on well, covers for several hours, and the built-in sponge means that you will never be without this essential tool.
Dark circles are still a beauty challenge even when you are on vacation, and I suggest that a mixture of a corrector and foundation stick is ideal. The problem with using liquid concealers is the risk that they will not set in the midst of humidity and sweat. The first step should be to hydrate the eye area with a lightweight gel such as Estée Lauder DayWear Eye Cooling Anti-Oxidant Moisture GelCreme. The eye contour tends to look crepey and a gel will correct that issue without the heaviness of a traditional eye cream.  Further, the antioxidant property of the GelCreme means that there is a built-in environmental protection.
Once the gel is gently tapped into the eye area, using the sponge, tap on a stick corrector such as Clé de peau Concealer Broad Spectrum SPF 25 Stick. This corrector is legendary because it stays atop the skin for several hours and never migrates. Further it has a sun protection which is essential for the delicate eye area. Once the corrector is set, I then use the same sponge and apply a bit of my foundation stick to blend the area with the cheekbones.
NO STICK IN THE EYE
Afterwards, I add the illusion of eight hours of sleep by using the Laura Mercier Caviar Stick Eye Shadow in Au Naturel, a matte nude that effectively diminishes the darkness and covers up fine veins. The Caviar Sticks are an excellent eye shadow option because they glide on, blend in beautifully with a few taps of the finger and remain in place for several hours. The colour range includes nudes, earth tones and metallics, which are easy to use on all South Asian skin tones. A great combination is Rose Gold on the mobile lid and Sand Glow in the crease. To ensure that it looks molten hot just tap long the crease to ensure that the colours blend.
Kajol is a makeup bag must-have but there is nothing more disheartening than seeing flecks of black in the eye contour. I suggest that a fantastic alternative is the Charlotte Tilbury Colour Chameleon in Dark Pearl. It's recommended for brown eyes and I love how this thick pencil softly defines my eyes without ever veering into drama territory. The pencil sets within seconds and as the pearl suggests there is a hint of glint that adds a beautiful glint to the eyes.  This stick can be used alone or to complement a more intricate eye makeup look.
The next step is the cheeks, and here is another area  for creativity and fun. Given that travelling light is ideal, I recommend that you should only pack two sticks, one should serve as the base colour for the cheek, while the other is a highlighter that can be used at the highest points of the cheekbones, under the eyebrow, and the centre of the lips. The highlighter is important because it unites the face.
Beauty Counter, a leader in the green beauty movement, has two base sticks that are beautiful on South Asian skin tones. For light skin tones, I recommend the  Beautycounter Illuminating Cream Highlighter in Rose Glow, because this soft pink is incredibly romantic and sets quickly.
The equally gorgeous counterpart for medium-to-dark skin tones is the Beautycounter Cream Blusher in Hibiscus.  The colour verges on a ripe watermelon shade, goes on softly,  and stays for several hours.  Its vibrancy looks beautiful when worn with traditional outfits.
A fantastic way to add a touch of light without resorting to a liquid is to use a stick highlighter on the cheeks, eyes and lips. Nars the Multiple in Orgasm is a world-renowned peachy, gold favourite that suits all skin tones.  It glides on creamy and sets quickly.  Its illuminating effect is immediate, and looks wonderful when used as a complement to Rose Glow.
For medium-to-dark skin tones, I recommend the Charlotte Tilbury Beach Stick in Moon Beach.  It is a golden cantaloupe shade that brings out the warm tones of darker skin beautifully.
The final step is to apply a stick lip product. I recommend a matte one because South Asian food tends to be a tad greasy, and you need a product with staying power. The lips will not look like a dry point on the face so long as you dab a highlighter in the centre of the lips, as described previously. Vasanti Cosmetics has a collection of Matte Crush Lipstick Pencils that deliver in terms of staying power and colour impact. I recommend that you pack two pencils, one for day such as Natural High, and the other for evening events such as Rose Mauve.
STICKING POINTS
Stick beauty is convenient because you can carry your makeup without fear of spills and the formulations tends to remain steadfast in the face of heat, pollution and humidity. It also teaches us that we do not need a million products to look like a million bucks. A few well-selected sticks can create a variety of inspired beauty looks that are at once natural and unforgettable.
Main Image Photo Credit: www.neimanmarcus.com, Meena Khan, Vasanti Cosmetics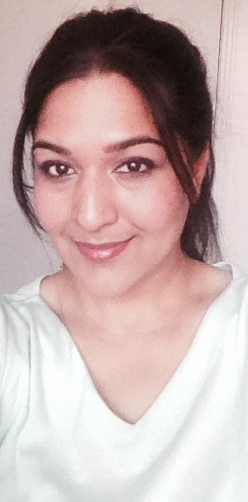 Author
Meena (@meenalaregina) always loved the idea of exploring the non-conventional idea of beauty. Having grown up as a pimply chubby teenager, she wanted to see the change in the world that best reflected your uniqueness as well. Her well-received collection of blogs where she tries on various beauty p...