Beauty /
Hey Brown Beauties Be A Green Goddess With These Eco-Friendly Products!
Hey Brown Beauties Be A Green Goddess With These Eco-Friendly Products!
Beauty Jul 24, 2018
Green beauty is more than just crunchy granola ingredients, it's about practises and packaging too. The movement is increasingly important and there are several brands that embrace it whole heartedly so you too can be a green goddess with these eco-friendly products! 
WHAT'S GREEN BEAUTY?
Green beauty is a movement that is gaining momentum as its focus is on reading cosmetic labels and highlighting the use of questionable ingredients such as parabens, and practises such as animal testing. There are some companies who have taken the green beauty movement further by using certified organic ingredients or add labels such as "natural" and "vegan" to their packaging. There is no formal definition as to what constitutes a green beauty company but there are recognized green practises which enforces their commitment to environmentally-friendly packaging, refusal to have animal testing and the strict control of ingredients.
ALWAYS MAINTAIN A CRITICAL PERSPECTIVE
At first blush the green beauty movement is a great counterpoint to conventional cosmetics which have been scrutinised for using questionable ingredients and animal testing. However Health Canada which regulates the use of ingredients has no formal definition for terms such as natural, organic and vegan, which are used in the realm of green beauty.
There is also questions about whether ingredients such as parabens (which preserves the shelf life of products) and aluminum (it helps to stop sweat in antiperspirant) are dangerous because there have been no definitive studies that have been widely accepted and inspired regulation.
Personally, I am avoiding ingredients such as parabens and aluminum because I have done my own research but I do not blindly accept a product label as being green unless I read the label and look up words that I do not understand. Here is a helpful link regarding cosmetic ingredients from Health Canada.  For the beauty curious outside of Canada, you can check out similar websites from other governmental agencies as well including this publication which looks at the global space when it comes to green beauty regulations and policies.
In the current beauty environment, you should employ the same vigilance to green products as you would to conventional ones.
IS GREEN BEAUTY FOR BROWN BEAUTIES?
Note that many of the chemicals used in conventional products provide them with the texture for a smooth application; ensure that you can use the products for longer time without risk of bacterial growth; and permit the creation of shades of make-up. These ingredients answer the modern South Asian woman's pressing needs for products that perform well, last a while, and can work on various skin tones.
The question arises whether products that are embracing the green ethos actually address the beauty needs of South Asian women, or are we faced with a situation where our beauty needs are not addressed in the formulations? I researched many brands, and I was disappointed to note that some of them had foundations that were darker but looked grey on my skin. Fortunately, I also found excellent products that last several hours in the middle of a Montreal summer.
YES, IT IS EASY BEING GREEN
Complexion perfection is a 365-52-24-7 endeavour, and a primer is key to adding a subtle glow. I tried Juice Beauty Phyto-Pigments™ Illuminating Primer, which is made from organic, botanical juices and coconut alkanes, and does not contain silicone.
This product is pearlescent but when you massage it into the skin it just adds luminosity, without leaving an ashen finish.  My combination skin never looks greasy and it always feels softer upon application. Juice Beauty's values include producing vegan products (no animal testing and the products are not created from living beings),  and is formulated without controversial ingredients such as parabens and petroleum.
For skin coverage, I discovered  two products which are ideal for South Asian skin tones.  If you prefer a lighter, softer coverage that just adds a hint of sophisticated sheen, then I recommend Beautycounter Tint Skin Hydrating Foundation (10 shades available).
Two droplets cover the face beautifully and seamlessly.  I am pleased to report that this product which contains several types of oil such as rose, orange peel, sweet almond and clary, softened my skin, and neither oxidized nor creased. The Beautycounter has The Never List™ which includes ingredients that it will not use in its formulations, and is also conscious about its packaging.
Unfortunately, I suffered from a minor break out last week, and I needed a slightly heavier coverage. Fortunately, the bareMinerals BarePro™  Performance Wear Liquid Foundation which is available in  30 shades, addresses the rainbow of skin tones that comprise the South Asian community.  The foundation is lightweight, glides easily, and covers softly, so my skin looks real and touchable.  The effect is achieved through the use of bamboo extract and papaya.  It withstood Montreal humidity and I never felt like my skin was clogged.  bareMinerals does not conduct animal testing or work with partners who engage in this practise.
During my research for concealer, almost ever brand I tested came up grey or pale.  bareMinerals BarePro™  18-Hr FullCoverage Concealer saved my circles. The stick concealer glides on easily and the product can be tapped in and it sets within seconds.  It did not cake in my lines and added brightness.  The line comes in 15 shades so South Asian women are covered!
GREEN WITH ENVY
There is a popular stereotype that green liners and shadows do not have lasting power, because they crumble and fade within a matter of a few hours. I tried the Vasanti Brow Powder Pencil, and braced myself for a trickle of colour as I walked the humid streets of Montreal. The trickle never came and this pencil, which adds thin lines of colour without the crumble, lasted all day. This product is vegan, paraben-free and cruelty-free, and 100% ideal for South Asian eyebrows.
Eye shadow is another challenge, and bareMinerals Gen Nude™ eyeshadow Palette is a fantastic option. There are four intensities, Neutral, Rose, Copper and Latte, so depending on your skin tone, there is a palette  for you. I loved how the eye shadow just stayed all day on my eyes without me having to tap my lid to adjust the creased particles. It goes on light so that you can build intensity, and look lovely all day.
VERDANT LIPS
Green products have been accused of not having enough pigment or lasting power to be used on daily basis.  I tried  the Vasanti Best Balm Forever, and was impressed by how it glides on and stays put for several hours.
The pigment is rich and the texture is light.  bareMinerals Gen Nude™ Radiant Lipstick is a satin finish lipstick that glides on easily and delivers on colour.
The finish is incredibly sophisticated and will make you feel confident.  If you prefer a matte finish, then try the Vasanti Matte Crush  Lipstick Pencil because it glides on like butter but stays on for six hours. I only needed one touch up during the course of my day and my lips never looked shrivelled or dry. It delivered on the matte without the flat.
LEAFY THOUGHTS
It is a fantastic practise to be conscious about what we consume but we should always maintain a critical perspective. Therefore, even if we are at the dawn of a green ethos, because of the lack of regulation, green products must also be researched. It is important to note that green beauty encompasses ingredients and practises, and that there is a spectrum of green beauty. If you are passionate about animal testing, there are beauty companies that share your values, and if you are militant about ingredients and packaging, you will find brands that suit your needs.
Green beauty, like conventional beauty, does not always have shades that suit South Asian skin tones. The search is real and products like foundation and concealer can pose a challenge. However the brands that I have featured in this article are a great place to start because they are inclusive and encompass green practises.
Main Image Photo Credit: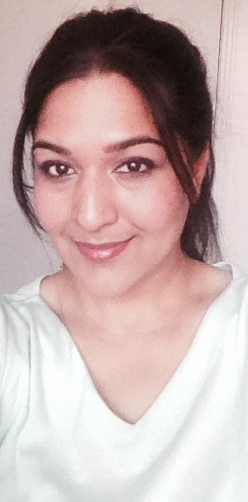 Author
Meena (@meenalaregina) always loved the idea of exploring the non-conventional idea of beauty. Having grown up as a pimply chubby teenager, she wanted to see the change in the world that best reflected your uniqueness as well. Her well-received collection of blogs where she tries on various beauty p...