Beauty /
Your Skin Needs A Drink! Achieve Complexion Perfection With Key Hydrating Tips For This Season
Your Skin Needs A Drink! Achieve Complexion Perfection With Key Hydrating Tips For This Season
Beauty Sep 25, 2018
The sun has left our hemisphere but this does not mean that our glow has to go too.. read on to learn about skin care tips so that you can achieve a hydrated complexion  throughout the fall and winter. Achieve complexion perfection with key hydrating tips for this season.
The unmistakable bite of fall's crispness after a humid summer is a shock to the senses, and in particular to the face and neck.  On South Asian skin tones, the change results in a  dull complexion, whiteheads and tightness.
Unfortunately, it only gets worse because winter is coming…
So what adjustments can we make to our skin care routine to save our natural warm glow?  The key is to infuse hydration in each step of your routine, and this is achieved by using richer textures and ingredients like vitamin C and rose.
HYDRATION — CLEANSING
I suggest that the double cleanse routine is simply too stripping when you are dealing with cool winds, drier air and indoor heating. The skin has its own moisture, protective barriers, which are weakened when it is scrubbed clean like a kitchen floor. The stripping can trigger excess oil production or cause dry patches.
I recommend that in the morning, after washing your hands with soap, use a soft, creamy cleanser that glides over the skin, rather than sinking into pores and removing naturally-occurring oils. A great one is Clé de Peau Cleansing Cream Oil, which you apply to a dry face and neck,  and then rinse off.
At night, when your face is full of skin care, make-up and city grime try a cleansing balm such as Estée Lauder Advanced Night Micro Cleansing Balm, the newest member of the Advanced Night Repair family.  This translucent white balm comes in a pot and looks simple… I washed my hands, massaged a small dollop over my dry skin, watched in amazement as it turned into an oil, gasped as my mascara just fell away and was wowed at how my skin looked clear after a good rinse.
HYDRATION OBSERVATION: Remember that a gentle cleanser does not mean that it is an ineffective one.  I have combination skin and it has never felt softer, cleaner and fresher, after using two gentle products.
HYDRATION — EXFOLIATION
As it gets colder, and you sweat less, you need to make sure that the pores are free of dead skin cells so that your products penetrate and your skin breathes.  Exfoliation is important but it should be done at most once a week for dry skin and  twice a week for oilier skin types. When you exfoliate, the key is to massage the face in gentle circles. The granules  can cause redness if you rub in the skin too harshly.
If your skin is dry, Lierac Supra Radiance Double Peeling Radiance Mask is an excellent option. The translucent white gel which contains AHA and tiny granules, spreads easily across the face and neck.  The mask dries within five minutes and you can remove it by wetting your hands with warm water and massaging your face.  The skin looks rosy fresh afterwards.
If your skin is oilier, the Fresh Sugar Face Polish  is ideal.  This scrub is made with strawberry seeds, and aside from smelling like a sweet, citrus dessert, the granules are effective at freeing pores from blackheads and refreshing the face and neck.  The granules are not abrasive and leave a soft finish.
HYDRATION OBSERVATION: Remember that exfoliation is essential, and that it does not mean to scrub, rather it is about gently removing dead skin cells. This can be achieved via traditional dedicated product or a mask. When the pores are free and clear, the hydrating products penetrate and nourish the skin.
HYDRATION — TONER
After cleansing and/or exfoliating, the skin might feel tight, and rose water, a tried-and-true South Asian beauty ingredient, soothes the skin. I enjoy the Fresh Rose Floral Toner.  The spray covers a good amount of area without drenching the face, the rose water instantly revives the skin and the gentle scent transports you back to summer. I like to use my clean fingers to tap it into my face and neck, turning it into a twice-daily mini massage moment.
HYDRATION OBSERVATION: Remember that all skin types need a bit of a pick-me-up after cleansing, and rose water is a classic approach to restore the skin and prepare it for skin care.
HYDRATION — NIGHT ROUTINE
Regardless of how oily your skin tends to be, all skin types become drier in cooler seasons.  At night, I like to use a lightweight hydrating serum all over my face, even on my oilier areas like my nose and cheeks. The reason is that at night we sweat and expel moisture, and I do not want to wake up with a  drier complexion. I love the Beautycounter Intense Moisture Serum because this  sunflower oil-infused, lightweight product sinks into my skin without clogging it, and I wake dewy, not dry.
Afterwards, I massage into my face and neck the Laura Mercier Flawless Infusion de Rose Nourishing Oil.  I am amazed at how it quickly sinks into the skin and it gentle rose scent relaxes me.  My oilier and drier parts drink this product with fervour and I love how plump my skin looks.
HYDRATION OBSERVATION: Remember that texture is an important consideration when selecting a product.  An oil does not necessarily clog oily skin, or that a serum is simply too thin for dry skin.
HYDRATION — DAY ROUTINE
After cleansing the face, you want to maintain the gentle glow.  Vitamin C is about complexion perfection, and it plays a starring role in the Ole Henriksen Truth Serum, which smells faintly of freshly-squeezed orange juice.  This lightweight serum harnesses the power of Vitamin C to add radiance to the face and neck.  It sinks in easily and leaves no sticky residue.
A moisturiser is essential, and I thoroughly enjoy Veriphy Self Absorbed Facial Moisturiser. In addition to being lightweight and easy to massage in with no residue, it contains helpful ingredients such as licorice root extracts to brighten, cucumber to soothe and PhytoSpherix® to reveal a brighter skin tone.
The neck needs its own cream because between scarves, turtle necks, indoor heating, and leaning over a screen, it tolerates a lot of stress. I recommend a specialised firming cream such as Clarins Extra Firming Neck Cream.  This non-greasy cream lifts and firms this delicate and important skin, so that you can wear necklaces with confidence.
Finally, always apply sunscreen!  Remember that even though the sun's warmth has left our hemisphere for several months, its rays are still attacking our collagen and elastin — even in the middle of a snowstorm. I use a lightweight sunscreen like Shiseido Future Solution LX Total Protective Emulsion E SPF 20. I massage in into my face, neck and ears, and love how it sinks in, so that it will not interfere with subsequent make-up application.
HYDRATION OBSERVATION:  Remember that vitamin C is a great complexion booster that enhances the effect of a hydrating cream.  Additionally,  sun protection protects that hard work you put into achieving complexion perfection, even when it is minus 10 degrees.
HYDRATION — EYE ROUTINE
The thin skin around the contour of the eyes is tricky. If the cream is too thick you will develop white dots which is where the cream entered but was never fully absorbed by the skin, or it is too thin to plump your fine lines. I recommend the Veriphy 20/20 Eye Cream, because like the Facial Moisturiser it absorbs quickly without residue and it brightens and soothes the eye area.
I do not use an eye cream for day and one for night because I do want to expose this sensitive area to too many products. I want hydration and brightness and Veriphy does an admirable job, night and day.  I do make sure to apply sunscreen by rubbing the Shiseido Clear Stick UV Protector SPF 50 on my fingers, and then tap the eye contour.
HYDRATION OBSERVATION:  Remember the eye area is all about simplicity and adding brightness.  Also the eye contour, like the neck and face, needs sun protection all year round.
HYDRATION — LIPS
The skin on the lips is thin and it needs TLC otherwise you risk entering cheese grater territory. At night, I like to massage my lips and the contour with a treatment such as Fresh Sugar Wonder Drops which uses sugar, hibiscus flower and natural fruit extracts to gently re-texturize the lips.
It absorbs quickly and after a few minutes I add a layer of the Fresh Sugar Coconut Hydrating Lip Balm.  It smells like (a calorie-free) dessert and adds deeps moisture.  In the morning, I wake up with pretty pout.
HYDRATION OBSERVATION: Remember to not neglect the lips because they dry out quickly and easily develop lines in the contour.
Skin care, like a wardrobe needs to be updated with the change of season.  The tricks are to always treat your face and neck with the same consideration, and to examine the ingredients and texture of your products.  A few tweaks is all you need to achieve a complexion perfection when the sun has taken a vacation.
Main Image Photo Credit: www.clarins.com, www.shiseido.com, www.lierac.ca, www.esteelauder.ca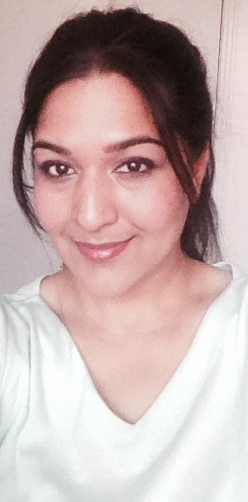 Author
Meena (@meenalaregina) always loved the idea of exploring the non-conventional idea of beauty. Having grown up as a pimply chubby teenager, she wanted to see the change in the world that best reflected your uniqueness as well. Her well-received collection of blogs where she tries on various beauty p...