Showbiz /
Juke Box Hero: Manu Narayan Raises The Roof In Broadway Play "Gettin' The Band Back Together"
Juke Box Hero: Manu Narayan Raises The Roof In Broadway Play "Gettin' The Band Back Together"
Showbiz Sep 07, 2018
Pittsburgh-born singer, actor and musician Manu Narayan chats exclusively with us about his current Broadway musical, "Gettin' The Band Back Together" (running until September 16, 2018), his impressive motion-picture track record and the current state of diversity in entertainment. Check out how Manu Narayan raises the roof in his latest Broadway Play, "Gettin' The Band Back Together". 
Narayan who plays Robbie has starred in films like The Love Guru, opposite Mike Myers, Jessica Alba and Justin Timberlake.  He also played Hungarian Professor Zoltan Karpathy in the Tony nominated production of My Fair Lady.
Marriska Fernandes:Tell us about your character Robbie Patel and what drew you to this script?
Manu Narayan: Robbie is a first generation Indian American like myself. Unlike me, he didn't follow his dreams of being a musician and instead became a doctor like his father. I liked the idea of portraying a first generation Indian American who, through the help of his friends, finds the courage to follow his dream in mid life.

MF: What will audiences love most about this musical?
MN: The musical is very, very funny. It was created by a bunch of improvisors in the Will Farrell, Mike Myers and Saturday Night Live comedy. I think that audiences already are enjoying coming to our show and putting all of the stresses of the 24 hour news cycle on the shelf for a couple of hours.

MF: It's been 16 years since you made your Broadway debut, what made you go back on stage?
MN: I have been doing stage work intermittently between the films and TV. The ability to come back to New York this year and to open two Broadway shows – My Fair Lady and Getting The Band Back Together was too good to pass up. In My Fair Lady, I got to work with Dame Diana Rigg and Lauren Ambrose, and in Gettin' The Band Back Together, I get to work with the great Marilu Henner. The two shows could not be more different and I love that about this time back in New York.
MF: What do you like most about stage performances? Do you prefer that over film and TV?
MN: I love the daily interaction with the audience when I am on stage. Because of the long rehearsal process, there is a camaraderie that forms with all of the actors and director. I enjoy making a community with the people that I work with. Doing a film is similar especially if you are on location. TV is fun as well but the turn around is much quicker.
MF: How would you say the entertainment scene has changed over the years in terms of diversity? Is it still a struggle?
MN: Things are a lot different now than they were even a few years ago. We have so many more south Asian actors who are writing and producing their own stories. Because of that, there are more and more South Asians being hired across the board. When you zoom in to the individual actors and actresses, of course it is still a struggle to be seen and to structure a career, especially if you are not writing your own stories.
MF: You're also doing a film with Kamal Hassan. Tell us a bit about that.
MN: It is a film called Sabaash Naidu in Tamil and Telegu or Sabaash Kundu in Hindi. It is along the lines of Peter Seller's The Pink Panther series. It is a fun international detective comedy starring Kamal-sir and his daughter Shruti Haasan. I play Shruti's love interest and we are hoping to finish it in the next year.
MF: What's next for you?
MN: Well, I am under contract for GTBBT through July. During which, I am continuing to develop an original musical with my music partner Radovan Jovicevic. When there some time in my schedule, I have to finish Sabaash Naidu. There is talk of doing a Good Night Good Morning sequel as well, but that is in the very initial stages.
Main Image Photo Credit: Robert Ascroft/broadway.com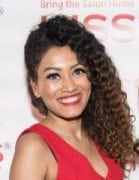 Author
Marriska (@marriska.fernandes) is an entertainment expert who has been creating celebrity, movies and pop culture content for digital outlets for over ten years. From reporting headline-grabbing celebrity news to reviewing movies to interviewing Hollywood and Bollywood's finest actors and industry...