Showbiz /
Wax On! Wax Off! Bollywood Celebs Who Got The Tussauds Treatment
Wax On! Wax Off! Bollywood Celebs Who Got The Tussauds Treatment
Showbiz Aug 10, 2018
Deepika Padukone recently shared that she is getting her wax statue at Madame Tussauds in London. Her wax statue will be unveiled in London early next year,  followed by another wax statue at the Madame Tussauds in Delhi. Check other Bollywood celebs who got the Tussauds Treatment!
Soon after she broke the news, Shahid Kapoor also shared that he too will soon be waxed at Madame Tussauds. More details are yet to be revealed.
Deepika Padukone
The actress shared a photo of the team behind her wax statue.
Shah Rukh Khan
King Khan was immortalized at Madame Tussauds in London in 2007. He then had his wax statue in other Madam Tussauds around the world, including Berlin, Washington, Singapore, Sydney and Delhi. His latest makeover being his character from Fan. The dimpled actor needs more wax statues, no?
Amitabh Bachchan
He was the first Bollywood celebrity to get a wax statue at Madame Tussauds in London. He was also the first person nominated by fans to get waxed.
Aishwarya Rai Bachchan
Aishwarya was the first Bollywood actress to be waxed at the Madame Tussauds in London. Her statue is draped in a red saree.
Katrina Kaif
Katrina got her wax statue after she was voted for by fans. She is seen wearing a piece by Manish Malhotra.
Madhuri Dixit-Nene
Madhuri also has her wax statue at Madame Tussauds in London. She unveiled her statue in front of family and friends.
Salman Khan
Salman got his statue waxed in 2008 at Madame Tussauds museum in London. His statue is seen sporting a black vest with denim jeans and a leather jacket over his shoulder. Classic Salman style!
Kareena Kapoor Khan
Kareena was the second Bollywood actress to get her wax museum at Madame Tussauds museum in London in 2011. Her wax statue is clothed in the same outfit from Mauja Hi Mauja. It has recently been updated with her outfit from Chammak Challo.
Hrithik Roshan
After Dhoom 2, he got his statue at Madame Tussauds Wax Museum in London.
Main Image Photo Credit: www.masala.com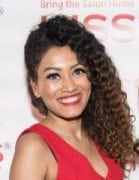 Author
Marriska (@marriska.fernandes) is an entertainment expert who has been creating celebrity, movies and pop culture content for digital outlets for over ten years. From reporting headline-grabbing celebrity news to reviewing movies to interviewing Hollywood and Bollywood's finest actors and industry...