Gardening Gadgets To Help Build Your Home Oasis
Culture & Lifestyle May 04, 2015

Getting Some Help for Your Green Thumb.
Indoor and outdoor gardening can be a relaxing and fulfilling activity. However, time sometimes prevents us from maintaining our gardens and plants as much as we'd like to. Incorporating some gardening technology systems can help with this problem by ensuring that every plant flourishes with a little help from gadgets so that your home-grown subji or mini paradise is well kept.
You can insert this system into any plant pot or outdoor garden. It uses sensors to assess sunlight, temperature, fertilizer and moisture levels and tell you what's best for every plant to thrive. These results display via a downloadable app for the system. The app's notifications will alert plant and garden owners if a plant requires more sunlight, water or fertilizer or even if you need to transfer the plant to another pot.
This system uses sensors to ensure that a plant has the optimal sunlight, humidity and temperature. Plus, sensors can determine if the soil is nourished enough to accommodate plant growth. The system works in conjunction with a downloadable app that notifies the plant owner of all this information. The system also comes with a high-tech water device that only waters plants based on how much water the plant needs. Plus, this gadget takes factors like the weather into account, ensuring water conservation. Last but not least, the system is powered by sunlight, with a solar panel to make sure that plants are always taken care of through environmentally friendly and energy-efficient solutions.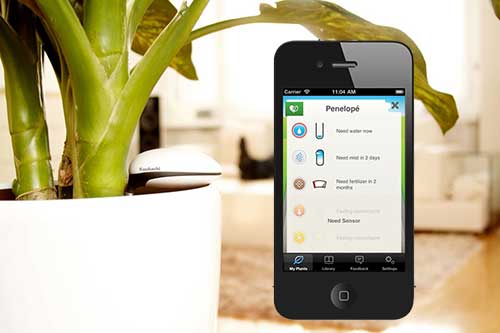 This garden system uses sensors to check when indoor and outdoor plants need to be watered. Plus, it monitors sunlight, infrared light, weather, temperature and other crucial conditions. The device is tailored to cater to each plant with an individual plan using additional knowledge about the plant's species. For example, you can grow an aloe plant (popular among us South Asian folk) optimally by assessing the plant by species and determining its individual needs, such as its soil type. This garden system is low-maintenance, with a battery that lasts for an entire year and a durable waterproof exterior that ensures that the device can survive a rainy day in an outdoor garden. Plus, the system works with a downloadable app to provide immediate and custom-designed notifications to care for plants.

This gardening system is designed to help conserve water in an outdoor garden. It's automatic and it uses Wi-Fi to examine weather and sunlight patterns and ensure that plants get the right amount of water. It's also controllable via any smart device, such as an iPhone or iPad. The device is also designed to sync with other gardening systems like Parrot Flower Power and Koubachi.
Each of these gardening systems comes with an app to guarantee that plant care is easy, convenient and accessible from any location — so rest assured when you're poolside. Picking any of these gardening systems is sure to make your outdoor space an oasis.
Feature Image: gamerchronic.com
Blog Images source in order of appearance:
i.imgur.com, blogcdn.com, the-gadgeteer.com, i.ytimg.com

Author
Maresah (@sah_mare) our guest tech expert is a University of Toronto graduate with a double major in Political Science and English. She has an ever-present passion for journalism and she loves staying updated on all things tech. Maresah also loves karate, reading, running and sight-seeing. Check her...