Fashionable Medical ID Bracelets To Protect Your Child
Culture & Lifestyle May 17, 2013
With summer soon on its way, kids suffering from allergies would need a medical ID bracelet while on a field trip or on summer camp. Hope Paige offers fashionable and stylish ID bracelets for kids.
Children are flooding to summer camps or summer school. But are they safe? The camp and school cafeterias contain a number of peanut butter sandwiches, fruit and nut desserts or dishes containing egg or wheat. This is a high concern for many kids who suffer from food allergies.

According to Food Allergy Research and Education (FARE), there are 5.9 million kids in the U.S.. who have food allergy. This is equivalent to one in every 13 kids in the U.S.. Managing food allergies is therefore quite important. In comes Hope Paige's medical ID bracelet. And yes, many parents are already aware of medical ID bracelets.
What's different about this one? Well, these bracelets for kids are fun and fashionable. They blend in with other stylish bracelets and are still medical accessories that are kid-approved! During a time of need, these bracelets will help medical professionals give a child the proper treatment and care.
Each of these bracelets can be personalized according to your child's taste. You simply have to go through a number of steps to create your own bracelet. First, you select a type of bracelet, you then choose a number of pretty charms. Charms like 'Hope', 'Faith', 'Love' and 'Dream' are also cute ways to personalize your kid's wristlet. And the final step involves adding custom text for engraveable charms.
The bracelets can be engraved with important information about a child's medical condition or a parent's phone number. This will be quite useful in case of an emergency.

Living with food allergies does not mean less or no camping, play dates or field trips for a child.
They can play freely by just taking precaution and wearing this stylish and affordable medical ID bracelet. Hope Paige offers a number of fun and affordable wristbands like the 'Fish Allergy Wristband: Detective Fin', 'Cat Allergy Wristband: Nine' and even a 'Diabetes Wristband'.
Hope Paige has created an interesting infographic titled 'Attack of the Allergens.' It breaks down the statistics of the number of children in the U.S.. who are living with allergies.
Have a look and then give your child a medical ID bracelet that could protect them while they enjoy a carefree life.
Sources: www.hopepaige.com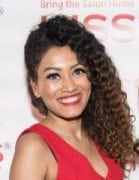 Author
Marriska (@marriska.fernandes) is an entertainment expert who has been creating celebrity, movies and pop culture content for digital outlets for over five years. From reporting headline-grabbing celebrity news to reviewing movies to interviewing Hollywood and Bollywood's finest actors and industr...