Beauty DIY: Hair Masks How-To
Beauty Dec 06, 2015

With the cold weather in full force, it's time to give your hair the TLC it deserves with new mask technology.
South Asian locks are stunning but, like any beauty trait, they need maintenance. This is particularly true for wavy hair which tends to be coarse and in drier weather morphs into crunchy, electro-shock strands.
Conditioner Versus Masks
Conditioners are designed to hydrate hair and to temporarily seal the roughed-up cuticle. However, in the middle of winter, when hair is subject to tuques, Arctic winds and electrical heating, hair looks and feels parched. In short, conditioner alone is insufficient to meet the demands of winter.
To maintain lustrous locks you need to apply a restorative hair mask on a weekly basis to complement the effects of conditioner. A hair mask is more intense than a conditioner; deeply nourishing strands with ingredients such as shea butter or keratin, leaving the hair softer for two to three days.
Selecting Hair Masks
Wavy hair tends to be normal-to-dry which means that nourishing, hydrating and smoothing are important. Kiehl's Superbly Smoothing Argan Hair Pak ($35 CDN) delivers nourishment, softness and shine to wavy hair. Colour-treated hair is more vulnerable to breakage and tone fade, which requires a specialised mask such as Kerastase Masque Chroma Captive ($59 CDN) to prolong colour and add shine. Damaged hair due to daily styling will benefit from L'Oréal Professionel Pro-Keratin Refill which uses keratin to strengthen strands and reduce breakage.
Kiehl's Superbly Smoothing Argan Hair Pak
Photo Credit: www.kiehls.ca
Kerastase Masque Chroma Captive
Photo Credit: www.kerastase.ca
Applying the Hair Mask
After shampooing, squeeze out the excess water and apply the mask to the lower half of your hair which is older and more porous. Hair that is closer to the scalp benefits from the latter's oils so it does not need treatment.
The amount of mask varies:
· short hair needs a dime-sized dollop;
· medium hair (between shoulders and mid- back) needs a quarter-sized dollop; and
· long hair (past mid-back) needs a loonie-sized dollop.
With the dollop in hand:
1. Rub it between the palms.
2. Pass the palms over hair.
3. Tie hair in a loose bun with a metal-free elastic because metal roughs up cuticles.
4. Set timer for 5 to 15 minutes. Pro-Keratin only requires 3 to 5 minutes but a typical treatment is between 10 to 15 minutes.
5. Remove the elastic.
6. Rinse hair until water runs clear.
7. Squeeze excess water with a towel but do not towel-dry because it roughs up the cuticles.
8. Put hair into loose bun.
9. Wait until hair is 60 per cent dry.
10. Remove elastic.
11. Blow-dry.
The Finishing Touch
Do not blow-dry your hair immediately after rinsing it out, as this will require your hair be exposed to extra heat. Instead, wait until your hair is 60 per cent dry, apply between 2 to 5 drops, depending on length, of a protective hair oil such as Mythic Oil by L'Oreal ($23 CDN) and rub it in starting several centimeters away from the roots to the tips. Thereafter, separate the hair into sections and blow-dry using a round brush which permits volume at the roots.
Mythic Oil by L'Oreal
www.lorealprofessionel.com

South Asian locks are true crown jewels and the above tips will ensure that you maintain their lustre in the face of a harsh winter.
Main Image Photo Credit: www.hairlavie.com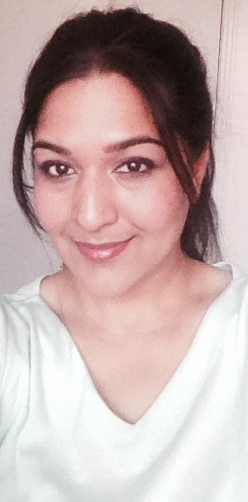 Author
Meena (@meenalaregina) always loved the idea of exploring the non-conventional idea of beauty. Having grown up as a pimply chubby teenager, she wanted to see the change in the world that best reflected your uniqueness as well. Her well-received collection of blogs where she tries on various beauty p...