Beauty /
Our Look At Fab French Beauty Products That Enhance Your South Asian Beauty Routine!
Our Look At Fab French Beauty Products That Enhance Your South Asian Beauty Routine!
Beauty Jan 12, 2016

France is world-renowned for their iconic beauty products! We list our top 10 hottest beauty products straight from Paris!
France, and in particular Paris, is a temple of beauty. At first blush, France differs from the colourful beauty style of desi déesses but an analysis of French beauty products reveals that France has contributed innovative products that meet the needs of desi déesses, re-interpreted desi beauty classics, and enhanced desi beauty traditions.
Innovations
Desi hair is beautiful but can require half a can of hairspray to get it stay in place due to its coarseness. The solution is Kérastase Laque Noire ($40 CDN), a strong hold, anti-humidity spray that fastens desi hair into position and is not intimidated by heat or tuques.

It can be difficult to find quality foundation that matches desi complexions. Try Diorskin Forever Perfect Makeup ($62 CDN), a matte foundation which comes in 15 shades, glides on like ghee and stays put like henna, making it perfect the modern desi déesse.
Dark circles are another complexion issue. Givenchy Teint Couture Embellishing Concealer ($39 CDN) contains a stripe of brightening pink to lift dark areas and a stripe of colour to hide circles and pimples. It's 3-in-1 function and packaging are convenient.
Givenchy Teint Couture Embellishing Concealer
Photo Credit: www.sephora.com
Re-Interpretations
Cold cream is a classic desi beauty product which soothes hot skin and hydrates ashy arms. L'Occitane Ultra Rich Cream ($48 CDN) with 25 per cent shea butter is the modern-day equivalent. Its soft scent, luxurious texture and immediate hydrating effect prevent ashiness and add a delicate sheen.
L'Occitane Ultra Rich Cream
Photo Credit: L'Occitane Canada
Where would a desi déesse be without kajal? Givenchy Magic Kajal ($31 CDN) creates a lasting charcoal haze with one swipe which you blend with a cotton bud. It stays in place so that you are front and centre instead of in front of your compact removing errant particles.
Givenchy Magic Kajal
Photo Credit: www.sephora.com

Many desi déesses love a strong lip. Clarins Joli Rouge in Hot Pink ($27 CDN) delivers an unabashed fuchsia that evokes both the fun of Holi and the sharpness of a wild rose, and it's a refreshing departure from wine. The other side of the desi déesse is the low-key look. Instead of opting for the trusty coral lipstick, Dior Addict Gloss in Bed of Roses ($34 CDN) is a petal pink that makes lips look ready for play.
Clarins Joli Rouge
Photo Credit: www.clarins.ca
Dior Addict Gloss
Photo Credit: www.sephora.com

When my mom arrived in 1972 her first beauty purchase was a dark nail polish because it added instant glamour. Chanel Rouge Noir ($31 CDN) is 20 years old and it's still the greatest universal shade ever. Its black-tinged red is dramatic and enhances all skin tones.
Enhancements
An Indian head massage is much-needed after a tough day. You can achieve a mini-massage and enhance scalp health with Kérastase Chronologiste Revitalizing Exfoliating Care ($50 CDN) which detoxifies and purifies. Its warm scent is so relaxing. After five minutes of massaging, shampoo it out. Afterwards your head and hair will feel lighter.
Kérastase Chronoligiste Revitalizing Exfoliating Care
Oil is an essential element of a desi déesse's routine. Forget the thick coconut oils and try Nuxe Huile Prodigieuse ($26 to $45 CDN), a dry oil composed of botanical oils that hydrates and soothes the body and hair.
Nuxe Huile Prodigieuse
This collection of nine French products demonstrate that within every desi déesse is a Parisienne waiting to slink forth.
Main Image Photo Credit: www.organixbeauty.com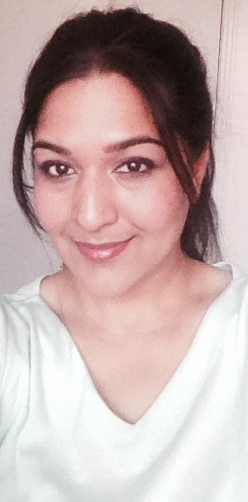 Author
Meena (@meenalaregina) always loved the idea of exploring the non-conventional idea of beauty. Having grown up as a pimply chubby teenager, she wanted to see the change in the world that best reflected your uniqueness as well. Her well-received collection of blogs where she tries on various beauty p...