Beauty /
DIY: Get Your Eid Makeup On-Point From Dawn To Dusk!
DIY: Get Your Eid Makeup On-Point From Dawn To Dusk!
Beauty Jun 22, 2017
Eid is coming up and there are two things we know for sure: We look fresh-faced first thing and the morning, and then we look haggard when attending the last of the many food parties of the celebratory day. Here's our step-by-step tips on how to keep your Eid makeup on-point from daytime to prime time.

Eid-ul-Fitr marks the finish line for millions of Muslims, of which South Asian women constitute a significant number, after a month of daily fasting and reflection. It is also time to celebrate but it is difficult to pull off the glam look when Eid prayers are held in the early morning. There is scant time to engage in a full-on glamour ritual and for women who are responsible for families, often, they must get  the children ready for prayers. The problem is further exacerbated by the celebration ritual which involves visiting friends  for the full day while driving around during a muggy Canadian summer.
It might seem next-to-impossible to look fresh and glam on Eid but I assure you that beauty technology has developed to a point where make-up really stays on looking fresh for up to eight hours when you use a combination of tip tricks and products that outlast the daily fast.
Skin Prep (Estimated application time: 3 minutes)
Regardless of the degree of dryness of your skin, during a muggy summer, a mattifying primer is a must because it fills in little crevices which prevents foundation from caking, and provides a first line of absorption for excess sebum. Mister Mat by Givenchy is a gel that goes on smoothly and does not add a hint of ashiness. It immediately settles into the skin and creates a smooth canvas.
DIY Tip Trick: Apply the primer all over the face, making sure to add a few extra taps along the T-zone, to ensure a smooth complexion all day.
The next step is foundation, and I am thoroughly impressed with Stellar Limitless Foundation. Aside from being assured that every South Asian woman will find her beautiful skin in one of the 22 shades available, it adds a subtle glow to the skin.
I like its subtlety because under the flash of cell phone cameras and sunshine, it is easy for the skin to look greasy.
I strongly advocate to spot apply foundation where there is a discolouration because the effect is fresh, confident and effortless. For example, if you have some scars on your cheeks but your forehead is flawless, just apply the foundation to the scars. A perfectly matched foundation will cover the scars and blend in seamlessly.
DIY Tip Trick: Use a foundation brush to tap on and precisely blend the foundation on the discoloured areas of the face. My personal favourite is the Shiseido Foundation Brush because it's angled, dense head lets me stipple foundation and achieve a natural finish.
The beauty bane of many South Asian women is dark circles, as too many concealers do not have enough peach to counteract against the blueness of the veins and vessels under the eye area.  Stellar Limitless Concealer  neutralizes the blueness and opens up the eye area.
The sponge tip goes on gently and I blend it in the product using a concealer brush.
DIY Tip Trick: The eye contour is delicate and is one of the first places on the face to develop lines. To stave off lines, use a soft concealer brush rather than your finger to prevent needless tugging.
The Eyes Have It (Estimated application time: 4 minutes)
It is not enough to merely fill in the sparseness of the eyebrows, because of humidity and activity, there is a risk that the colour may migrate. To ensure that your eyebrows act as frame for the face and not as fallen arches, set them with a colourless gel such as Givenchy Mister Brow Groom. 
The tiny brush head ensures a precise and quick application.
DIY Tip Trick: Turn your head slightly right when you are setting the left eyebrow and vice versa, to ensure that you have applied the gel up to the last millimetre of the eyebrow tail.
Aside from dark circles, many South Asian women have dark eyelids. On a morning when there is scant time for eye shadow artistry, apply a brightening eye shadow base that neutralizes the darkness and adds a sophisticated sheen to the eyes. Urban Decay Eyeshadow Primer Potion is legendary in terms of its longevity and vibrancy.
I love how its applicator adds just the perfect amount of product, and then I use my concealer brush (which I wiped off previously) to blend it into the eyelid.
DIY Tip Trick: Make sure to apply the eye shadow base to the inner corner of the eyes to open up the whole area.
The eyes are incomplete without kajal and instead of applying the standard black on the upper lid, swipe a stripe of colour. The colourful kajal defines the eyes and compensates for the lack of eye shadow. Vasanti Kajal Extreme Graphite liners come in a host of colours such as emerald green and bright blue. These kajals glide on creamy and stay set for the whole day.
Complement the colourful swipe of colour by lining the waterline with the Vasanti Waterliner Eyeliner in Intense Black to add further definition and an eye-catching counterpoint to the colour.
DIY Tip Trick: Curl your eyelashes before applying the kajal so that the curler will not interfere with the line.
If the eyes are the windows to the soul, then surely the eyelashes are the curtains. On Eid, you need a long lasting mascara which will not flake, add volume and will not require industrial-strength remover to take-off when you are exhausted.  Dior Pump 'N Volume Mascara is simply perfect.
The innovative tube has an indented rubberized section which you squeeze to deposit product on the brush. This means you never have to pump the brush to get enough and equal amounts of product on each set of eyelashes. Further,  the bristle dense brush head means that each and every lash is covered and lifted.
DIY Tip Trick: Apply extra coats on the outer lashes to create a lifted, cat-eye effect.
Cheeks Are Not Cheeky (Estimated application time: 2 minutes)
The problem with blush is that it starts off bright and fresh and then fades to nothingness. The key to lasting blush is to use different textures of the same shade, i.e. liquid followed by powder, to lock in the colour. I love the NARS Liquid Blushes which come in four South Asian complexion-friendly shades, namely Orgasm (golden peachy pink), Torrid (sunset orange), Dolce Vita (rose) and Luster (caramel orange), which sink into the skin, leaving you look lit from within.
To heighten the blush, I love to layer the famous Orgasm powder blush on top of its liquid sibling to create a lasting, glowing effect.
DIY Tip Trick: Use your finger to tap on the liquid blush, making sure to blend it into the hairline and then use a matching or similar shade of powder blush on the tops of the cheeks to add further definition.
Lips – Can they Last? (Estimated application time: 1 minute)
I believe the ultimate test for a long lasting lipstick is how it can withstand the assault of samosas and pakoras. If there is even a hint of colour on the lips after eating these greasy, salt-laden pieces of heaven, the lip product is a winner. Experience has taught me that the waxy pigment of lipstick and the polymers of glosses are no match for the might of ghee. The best way to add colour that stays on the lips is to use a lasting stain such as the Dior Lip Tattoo.
This wonder product stains the lips and the colour does not transfer without a whole lot of elbow grease. It imparts a fresh pop of colour and guaranteed you will never be photographed with faded lips when you tattoo them with Dior.
DIY Tip Trick: Make sure to dab a bit of stain on the corners of the lips so that your lips look full and not like a fish's mouth.
Spray, Set and Finish (Estimated application time: 2 minutes)
To ensure that your face does not fade midway through your day, set the make-up with a setting spray. Urban Decay Chill Cooling Makeup Setting Spray cools the face and ensures that my make-up lasts a full eight hours.
I only needed to touch up my concealer after four hours but it feels amazing to know that you do not need full-on touch ups.
DIY Tip Trick: I cannot emphasise how important it is to keep the eyes closed when you spray your face, and make sure that the nozzle is 15 centimeters away from the face to ensure that it is misted on in a subtle manner.
If your skin is exceptionally oily, instead of loading powder when you decide to freshen-up, just use Shiseido Pureness Oil-Control Blotting Paper. Take a sheet and press it against your T-zone to gently remove the excess sebum without disturbing the make-up.
DIY Tip Trick: Use your ring finger to press the sheet to the face because it has the least pressure and will be the least likely finger to disturb the make-up.
Fragrance is a wonderful way to top off the look, and Eid desserts are an inspiring place to start.  My aunt used to make a an almond-based suji ka halwa which contained an essence of kewra, which is like the vanilla of South Asia. I yearn for her halwa and when I tried on Laura Mercier Almond Coconut Milk EDT, I was transported back to a time when my mother had no time to do the full-on glamour because she had to get me ready. I smelled delicious all day long!
DIY Tip Trick: Spritz your fragrance on the crook of your elbow, cleavage and behind the ears to intensify the scent, and avoid spritzing the clothes as they might get stained.
Eid is a wonderful holiday, and with beauty technology reaching new heights in terms of colour variety, longevity and impact, there is no reason that you need more than 12 minutes to get your glam on.
Main Image Photo Credit: Vasanti Cosmetics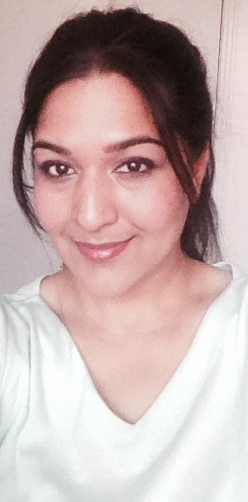 Author
Meena (@meenalaregina) always loved the idea of exploring the non-conventional idea of beauty. Having grown up as a pimply chubby teenager, she wanted to see the change in the world that best reflected your uniqueness as well. Her well-received collection of blogs where she tries on various beauty p...