Beauty Trends at Cannes International Film Festival 2017
Sure, the fashion game was on point on the iconic red carpet but we couldn't help but drool over the fabulous beauty trends at Cannes International Film Festival as well! Check out our faves! 
This year, Cannes was once again the epitome of fashion, style and beauty as some of the season's hot trends made the rounds. Bollywood celebs like Sonam Kapoor, Aishwarya Rai Bachchan and Deepika Padukone walked the red carpet with flamboyance and sported some of the hottest beauty trends. Here are some of the top Cannes 2017 beauty trends.
Smoky Eyes
Smoky eyes in colours like gold and green were pretty hot on the red carpet. Deepika Padukone sported emerald green eye shadow matching her chic green gown. Style queen Sonam Kapoor chose to go gold with her gold outfit. These smoky looks certainly kept these leading ladies at the top of the trends list.
Bold Lips
Bold hues were splashing all over the red carpet. Aishwarya Rai Bachchan sported a splash of colour for each day at Cannes. From coral to magenta, Ash complemented her brilliantly bright lips with striking blue eyeliners. Deepika also sported burgundy lips on the carpet as did Amy Jackson.
Winged Eyeliners
Apart from Ash's winged eyeliner looks, even Shruti Hassan sported black winged eye looks that created a smoky look.
Soft Pink
Sonam Kapoor sported a lot of pink in her beauty palette at Cannes. From baby pink lips and eye shadow to hot pink, she went for a romantic, wispy do. Looks like these divas have called the shots for this season's trends!
Main Image Photo Credit: L-R: instagram.com/thevalgarland, instagram.com/charlottewillermakeup, instagram.com/namratasoni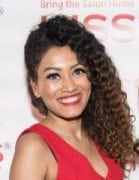 Author
Marriska (@marriska.fernandes) is an entertainment expert who has been creating celebrity, movies and pop culture content for digital outlets for over ten years. From reporting headline-grabbing celebrity news to reviewing movies to interviewing Hollywood and Bollywood's finest actors and industry...