Beauty /
DIY: Must-Have Liquid Matte Lipsticks
DIY: Must-Have Liquid Matte Lipsticks
Beauty May 25, 2017
Sport this summer's luxe look for your lips! 
Liquid matte lipsticks are the IT trend that will carry on in 2017, be it rain or shine. This year, summer will welcome hot pink and red pouts. Matte shades have been in big demand and even though I was resistant to try matte (due to the dry impact it has on lips), I was surprised how different matte products vary from brand to brand. Here are some of the most buzz-worthy liquid matte lipsticks to try out (which I loved).
NARS
Nars Velvet Lip Guide, $34 CDN, is the smoothest and least dry matte lipstick. It glides on very easily and looks like lipstick. It doesn't dry out or feel sticky. In my opinion, it's the best of both worlds.
DIY Tip: Since this applies like a lipstick, you don't have to apply lip balm before applying the colour. It will last for good few hours. Maybe a gloss for added impact?
NYX Cosmetics
NYX Cosmetics Lip Lingerie, $9 CDN, is the most weightless liquid lipstick I ever tried. It is complete matte that dries quickly but the nude colours available are just too good to miss. When you want a simple natural look, the NYX shades are your go-to.

DIY Tip: They have shades that will complement South Asian skin tones as they introduced Deep Rich and Deep Dark options earlier this year.
Nudestix
Nudestix's Magnetic Matte Lip Color, $28 CDN, is a lip crayon but glides smoothly like a liquid matte lipstick. I love how pigmented and lightweight this product is. It is non-drying and it if particularly trending because of their brown and burgundy shades (channeling Kylie Jenner).

DIY Tip: I love how extra pigmented this product is. It's waterproof and stays on for a good eight hours. It's rich with a super smooth coverage. You must try the Vino, Greystone, Burgundy and Boho shades.
Sephora
Sephora's cream lip stain, $18 CDN, is one of their bestselling formulas. Infused with avocado oil, this highly pigmented formula stays on all day and is just the right amount of matte for summer.
DIY Tip: It's a soft and creamy option for summer and you can apply lightly for a simple look if you're taking a trip to the mall or hanging with your squad.
Kat Von D
Kat Von D's Everlasting Liquid Lipstick, $24 CDN, is so creamy and dries to a true matte finish. The highly pigmented formula is the reason I love putting this one on every other day.
DIY Tip: Apply an extra layer after a few hours for a more mega-watt smile.
Lise Watier
Lise Watier's Baiser Velours, $28 CDN, is a matte liquid lipstick with intense coverage and long-lasting formula. It gives a deep rich shade that will take you from day to night.
DIY Tip: Apply just one layer over the lips as it does tend to have high coverage.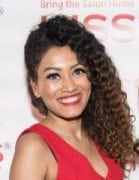 Author
Marriska (@marriska.fernandes) is an entertainment expert who has been creating celebrity, movies and pop culture content for digital outlets for over ten years. From reporting headline-grabbing celebrity news to reviewing movies to interviewing Hollywood and Bollywood's finest actors and industry...