Top 5 Fashion Apps
Beauty Apr 21, 2014

It's all about getting the best and the trendiest at your fingertips. But with apps being introduced from every corner, which ones do you really need to look at?
For the fashion savvy women in you, here are five irresistible fashion apps that will keep your day-to-day style in check.
This app allows you to see all the items in your closet and how many times you wore them. Using the calendar, you can even schedule what to wear ahead of time. You can organize your closet categorically like according to the season. Isn't this a convenient app?
Are you one of those fashion mavens who are constantly exploring the net for fab nail ideas? If you are, then OPI is your calling. The app allows you to change the skin tone to match yours and then try on each and every color until you find your perfect match. Being a nail manic, I use this app every time I need a mani.
Ever second-guessed your outfits in the trial room? This app could be your best friend. Simply click a photo of your outfit, post your look and get feedback from the community. This mobile style app might actually replace your best friend, just sayin'.

Go Try It On/fashinvest
I often look to style magazines for pairing trendy pieces and this app, is my sure friend. Using the app's catalogue, you can mix and match pieces and create a look that you can then go around shopping for. Now you have an expensive and trendy look on a budget that suits you. Cool, eh?
Do you follow countless blogs and find it hard to keep up? ChicFeed brings together all your favourite blog's latest photos on one page. You can then browse through all the street style snaps with just one click.
Featured Image: blog.centricsoftware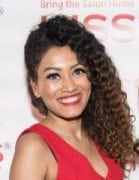 Author
Marriska (@marriska.fernandes) is an entertainment expert who has been creating celebrity, movies and pop culture content for digital outlets for over five years. From reporting headline-grabbing celebrity news to reviewing movies to interviewing Hollywood and Bollywood's finest actors and industr...