Showbiz /
2018 Holiday Gift Guide: Totally Entertaining Gift Ideas For The Arts & Entertainment Lover!
2018 Holiday Gift Guide: Totally Entertaining Gift Ideas For The Arts & Entertainment Lover!
Showbiz Nov 30, 2018
Are you ready to give the gift of entertainment? From board games to gaming consuls to movie merch, there's something for that inner geek. Check out our totally entertaining gift ideas for the arts & entertainment lover! 
Nintendo Switch
From Shoppers Drug Mart, you can gift someone the Nintendo Switch. The new video game system from Nintendo has single & multiplayer options. Someone can now enjoy a full home console experience anytime and anywhere. $380 CAD.
ALEX AND ANI
ALEX AND ANI has some magical options for movie fans this holiday season. Harry Potter fans will adore the Harry Potter Golden Snitch Adjustable Necklace, $78 CAD, or even the "You're a Wizard Harry" bangle in rose gold, $38 CAD. If they're not a Harry Potter fan, how about some good old' Christmas charm? The Raised By Elves Charm Bangle, $38 CAD, from the movie Elf is a special something fans will enjoy.
Pandora
The Pandora Disney Santa Mickey's Candy Cane Dangle Charm, $75, will warm its way into any Disney fan's heart. This charm is truly a holiday treat and who doesn't love Mickey Mouse? Pandora has several collections from Disney, including Mary Poppins charms. If Disney isn't your cup of tea, there's gorgeous charms and bracelets from the new Reflexions collection that will win anyone over. Should I go on?
Google Home
Who doesn't love technology, especially If it makes life easier. Powered by Google Assistant, the Google Home, $89.99 CAD, voice-activated speaker responds to voice commands – whether you need weather info or just some music.  Google Home connects with and controls all compatible smart devices, connecting to your TV and more.
Celeb-favourite Miraj Hammam Spa
Something that everyone will appreciate is the gift of relaxation at a celeb-favourite spa. During the high celeb season especially during The Toronto International Film Festival, do a little celebrity watching while getting some serious self-care done! Founded by Surinder Bains, the Vancouver native wants you to give the gift of self care and relaxation with a treatment at the Moroccon-inspired Miraj Hammam Spa by Caudalie — it'll transport them to another world without having to leave the city! The Hot Stone Aromatherapy Manicure and the Hot Stone Aromatherapy Pedicure are a must this holiday season! So spoil someone with a trip to the Miraj Hammam Spa by Caudalie. $215 CAD.
Pyjamas are Forgiving Book
Twinkle Khanna's new book Pyjamas are Forgiving is also a great gift option this holiday season. Twinkle Khanna is one of India's top-selling writers and the author of two national bestsellers, Mrs .Funnybones and The Legend of Lakshmi Prasad. $5 CAD.
Whiskey in a Teacup Book
Reese Witherspoon's Whiskey in a Teacup is the latest book by Academy Award–winning actress, producer, and entrepreneur who invites you into her world as she shares the southern style, parties, and traditions she loves. $20 CAD.
Game of Thrones
HBO's Game of Thrones seasons one to seven are available in a special gift pack on Blu-ray and DVD. Each season comes with the original special features from the individual Blu-ray and DVD release. It's the perfect gift for fans of the sci-fi fantasy series. With the final season coming up next year, this is a wonderful addition to anyone's movie/TV collection. $130 CAD.
UA X Project Rock
Dwayne Johnson collaborated with Under Armour to introduce his line of athletic wear. Both men and women can enjoy his pieces, which include UA Project Rock 1 Men's Training Shoes, $150 CAD, UA x Project Rock Track jacket $130 CAD and more. Fitness fans and fans of The Rock will appreciate sliding into the actor's collaboration of UA athletic wear.
Hasbro's Jenga
If someone on your gift list doesn't own a set of Jenga, then you need to get them this stat. It's a fun game for the whole family and always brings everyone together, $20 CAD.
With these unique gifts you will go directly to the heart of your arts & entertainment lover in your life!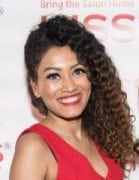 Author
Marriska (@marriska.fernandes) is an entertainment expert who has been creating celebrity, movies and pop culture content for digital outlets for over ten years. From reporting headline-grabbing celebrity news to reviewing movies to interviewing Hollywood and Bollywood's finest actors and industry...