Showbiz /
Vogue India Women of the Year Awards 2017 Highlights
Vogue India Women of the Year Awards 2017 Highlights
Showbiz Sep 26, 2017
Stars from all over the cinema and style worlds congregated for what could only be seen as the hottest red carpet of the year at the Vogue India Women of the Year Awards to celebrate ten years of Vogue India. 
Mumbai saw a star-studded affair on Sunday night as Vogue India handed out its Women of the Year Awards. The event also marked Vogue India's tenth anniversary. The milestone moment was celebrated by hosting the very first Women of the Year awards — from the always-entertaining Shah Rukh Khan to the always-radiant Aishwarya Rai Bachchan, Bollywood's biggest stars walked the red carpet and picked up their awards. Also present were Anushka Sharma, Sonam Kapoor, Anil Kapoor, Arjun Kapoor, Karan Johan, Kirti Sanon, Gauri Khan, Padma Lakshmi and Manish Malhotra.
Mrs. Funnybones Twinkle Khanna won the Vogue Opinion Maker of the Year Award and won over audiences with a hilarious speech about the ten things she learned over the last decade. One of them was, "Millions of Indian women fast for their husbands' long lives every Karva Chauth. My dear friend who just won an award is immortalised in his movies, but I don't think our 3,033 Gods are really listening. Because on the mortality charts there are 147 countries above us where their men outlive our good old Indian dudes. So, ladies stop because it's clearly not working." 
She concluded by saying, "The most important thing I have learned is this—for centuries, women have been looking for a cape and they've been handed an apron. And it's only recently that we've learned how to swing our aprons around, let it fly on our backs and take to the skies. Awards like these validate our work and help us soar higher so I'm truly grateful to be going home with this one."
Karan Johar received the Vogue Man Of The Year award while Anushka Sharma earned the Vogue and BMW Game Changer of the Year award. Sonam Kapoor took home the Vogue and IWC Fashion Icon of the Year award, which was handed to her by her father, Anil Kapoor.
Aishwarya Rai Bachchan was honoured with the Vogue Influencer of the Decade award. The superstar of all time Shah Rukh Khan, who's always equipped with wit and charm, was presented the Vogue Entertainer of the Decade award. Padma Lakshmi, Top Chef host, picked up her award for Tastemaker of the Year.
See the complete list of winners below.
Aishwarya Rai Bachchan: Vogue Influencer of the Decade Award
Nita Ambani: Vogue Global Philanthropist and Leadership Award
Shah Rukh Khan: Vogue Entertainer of the Decade Award
supermodel Natalia Vodianova AKA Supernova: Vogue Global Philanthropist and Style Icon of the Year
Twinkle Khanna: Vogue Opinion Maker of the Year
athlete Deepika Kumari, conservation biologist Krithi Karanth and model Ketholeno Kense: Vogue and Colours Infinity Young Achievers Awards
SBI chairman Arundhati Bhattacharya: Vogue Business Leader of the Year Award
HCL chief Roshni Nadar Malhotra: Vogue Philanthropist of the Year Award
Sonam Kapoor: Vogue and IWC Fashion Icon of the Year Award
fashion designer Anita Dongre: Vogue and Yes Bank Designer of the Year Award
Karan Johar: Vogue Man of the Year Award
Anushka Sharma: Vogue and BMW Game Changer of the Year Award
Founder of Forest Essential Mira Kulkarni: Vogue Beauty Pioneer of the Year Award
Indian women's cricket team skipper Mithali Raj: Vogue Sportsperson of the Year Award
Supreme Court advocate Karuna Nundy: Vogue Crusader of the Year Award
Padma Lakshmi: Vogue Tastemaker of the Year Award
Main Image Photo Credit: www.news18.com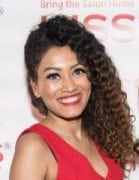 Author
Marriska (@marriska.fernandes) is an entertainment expert who has been creating celebrity, movies and pop culture content for digital outlets for over ten years. From reporting headline-grabbing celebrity news to reviewing movies to interviewing Hollywood and Bollywood's finest actors and industry...