Our Fab Mother's Day Gift Guide!

Our fabulous guide gives you a few ideas on how to treat mom this Mother's Day. From fashion to fitness, there's something every mother would simply adore.
With Mother's Day around the corner what better way to spoil mum than by gifting her with some adorable items. It's always hard to decide on a perfect gift for the irreplacable person in your life. When deciding on a gift keep one thing in mind: what wiil bring a smile to her face? Any thoughtful gift that comes from the heart is your best bet. You can combine any of these below gifts with a card or even a collage of photos of your favourite memories from childhood.
Fashion-Forward Mom
Swapnanjali is a Pune-based jewelry studio that houses fine jewelry as well as costume jewelry. These real diamond earrings ($610 CDN) in 18 karat gold are simply perfect to pamper mom.
Swapnanjali Real Diamond Earrings
Photo Credit: Swapnanjali Jewellery Studio
Creative Mom
Yves Saint Laurent Coloring Book ($12.95 CDN) is a cute idea for the fashionable mom. It is based on many original designs from iconic designer Yves Saint Laurent. A creative mom will have fun creating her own designs.
Yves Saint Laurent Coloring Book
Photo Credit: www.arsenalpulp.com
Trendy Mom
Mom should be the trendiest person strolling on the beach, what say? Josephson Opticians provides chic shades for men and women so why not make mom feel special with a touch of fashion. Prices available upon request.
Josephson Opticians Leisure Society
Photo Credit: www.josephson.ca/
Athletic Mom
I love this brand for their comfortable and reliable footwear. I'm sure moms will adore their spring collection which involves beautiful spring prints and colours. This Flora boot ($75 CDN) is perfect for a rainy day in spring.
Cougar Boots Flora
Photo Credit: www.cougarboots,com
New Mom
The Bugaboo Buffalo Classic Collection ($1,430 CDN) is a fun stroller designed for parents who want to tread through the woods, mountains and beaches. This cute collection brings foam-filled wheels to the forefront with elegance being the icing.
Bugaboo Buffalo Classic Collection
Photo Credit: www.bugaboo.com
Healthy Mom
Genuine Health's fermented Vegan Proteins+ ($60 CDN) contributes to improving gut health, is non-allergenic, soy free and contains a balance of essential amino acids. The healthy mom will appreciate trying new proteins and bars.
Genuine Heath fermented Vegan Proteins+
Photo Credit: www.genuinehealth.com
Beauty-Obsessed Mom
One of my favorite go-to brands to spoil mom is The Body Shop. Every year their collection keeps getting better and better. For their 40th anniversary, The Body Shop introduced a range of products, including The British Rose Deluxe Collection ($65). Treat mom like a queen, right? It includes Shower Gel, Vitamin E Moisture Cream, Body Butter, Body Essence and Eau de Toilette.
The Body Shop British Rose Deluxe Collection
Photo Credit: www.thebodyshop.ca
Chic Mom
How about a personalized touch to a fragrance bottle? Not only can you label the bottle with a name and a picture, but UNIQUE Fragrance is also offering to create your own fragrance from pink grapefruit to white musk. How's that for special? A custom scent is available from $79.90 US.
UNIQUE Fragrance
Photo Credit: www.uniquefragrance.com
Indie Mom
Canada's indie cosmetic brand that has got my attention is Mistura Beauty. The 6-in-1 Beauty Solution ($56.49 CDN) has a self-adjusting shade which works on any skin tone and can be substituted for a bronzer, foundation, concealer and blush.
Mistura Beauty
Photo Credit: www.misturabeauty.com
Hands-On Mom
How about an at-home pamper treatment to spoil mom on stressful days? The Micro Nail ($59.99 CDN) and Micro Pedi ($49.99 CDN) is a great gift idea, especially if mom doesn't have time for herself in her busy schedule.
Micro Nail
Photo Credit: www.micronail.ca

Micro Pedi
Photo Credit: www.micropedi.ca
Main Image Photo Credit: www.daluclub.ca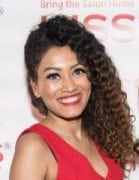 Author
Marriska (@marriska.fernandes) is an entertainment expert who has been creating celebrity, movies and pop culture content for digital outlets for over ten years. From reporting headline-grabbing celebrity news to reviewing movies to interviewing Hollywood and Bollywood's finest actors and industry...