Beauty /
DIY Tips On Giving Yourself The Perfect Pedicure In Time For Eid
DIY Tips On Giving Yourself The Perfect Pedicure In Time For Eid
Beauty Jul 03, 2016

Eid-Al-Fitr is just days away so get your feet ready for those glam chappals!
Here are our tips for the perfect pedicure!
Foot Prep!
Chappals expose every crack on the heels. A simple buffing is insufficient, as cracked heels next to the hem of a lengha is like presenting broken papars to a guest.
The first step is to soften the feet in a tub of tepid water mixed with two to three tablespoons of Barefoot Venus Mustard Bath ($21.50 CDN). It's a mix of mustard seed powder, which draws-out impurities; eucalyptus leaf oil, an antibacterial ingredient; chamomile flowers, which reduce inflammation; and rosemary essential oil, which detoxifies.
After soaking, towel-off and use Bliss Achilles Heel ($49 CDN) to reduce your Himalayan calluses to prairie flatness. This battery-powered, handheld smoother, comes with exfoliating and buffing discs. Place the exfoliating disc on the machine and pass it over the calluses to reduce the bumps to flatness and afterwards use the buffing disc to smooth the surface. The final step is massage.
Bliss Achilles Heel
Photo Credit: www.sephora.com
Take a dollop of the Bliss Foot Patrol ($19 CDN), which contains AHA and peppermint oil to gently exfoliate and refresh the feet, and apply it to the soles. Make a fist, and then knead the cream into the skin, making sure to add a few extra strokes over the joint of the big toe. Apply a second dollop on the top of the foot and using the thumbs stroke the cream from ankle to toe.
Colour Time!
Wearing simple chappals to an Eid gathering is like serving rice without shorba — plain and disappointing. Consequently, when you wear fancy chappals, engage in nail art to match the colour and verve of your outfit. (Note that some Muslims interpret abulition to exclude nail polish but I was raised in a home where I wore nail polish.)
After removing the dead cuticles (I recommend Deborah Lippmann Cuticle Remover $24 CDN), clipping and shaping the nails, applying basecoat (I recommend Dior Apricot [$30 CDN]), apply nail art, and seal with a top coat (I recommend Deborah Lippmann Addicted to Speed ($24 CDN).
Deborah Lippmann Cuticle Remover
Photo Credit: www.sephora.com
Deborah Lippmann Addicted to Speed
Dior's Vernis Polka Dots, limited edition, ($38 CDN) is a trio of nail polish sets that are designed to be worn together, with one shade as the base and the other as the dots. Each duo — Pastilles (blue-nude), Confettis (melon- cherry) and Plumetis (pink- mauve) — comes with a dotting tool for making and placing dots on the nail bed. This is nail art at its simplest and most effective, as the cheerful combinations and polka dots complement the chappal look.

Dior's Vernis Polka Dots
Photo Credit: www.dior.com
With smooth, soothed and colourful feet, you are now ready to celebrate Eid!
Main Image Photo Credit: www.bigfashionworld.com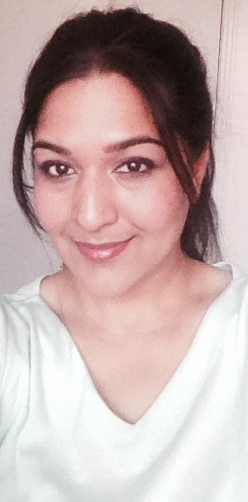 Author
Meena (@meenalaregina) always loved the idea of exploring the non-conventional idea of beauty. Having grown up as a pimply chubby teenager, she wanted to see the change in the world that best reflected your uniqueness as well. Her well-received collection of blogs where she tries on various beauty p...