Beauty /
Shining Star: Be A Sitaara With These Silver-Hued Beauty Looks
Shining Star: Be A Sitaara With These Silver-Hued Beauty Looks
Beauty Jan 08, 2019
Every South Asian beauty has it in her to look like a silver belle, a woman who is a cool  star that sparkles in the night sky. Be a festive sitaara with these silver-hued beauty looks! 
Silver is typically associated with ice blondes while South Asian beauties tend to be associated with gold.  The pairings are beautiful but as I looked at the first snow of the season, I could not help but wonder if a South Asian beauty could adapt iciness  on her terms… and the answer is yes.
The pairing is counter intuitive because shades like silver and platinum are inherently cool-toned while South Asian beauties tend have warm tones.  The theory of warm and cool tones is that if you switch tones, you will look ashen and the colours will simply not mix into your skin.  The theory holds some mettle if you apply silver and platinum shades with a heavy hand.  Conversely, if you focus on using silver and platinum shades as accents to a matte-based face, you run the risk of becoming a silver belle!
THE MATTE FACT
The key to the look is balance which in this context means using a matte base and highlighting with a delicate shimmer.
The foundation should be a soft matte finish since a heavier texture will make the facial contours look flat and boring.  I recommend the Fenty Pro Filt'r Soft Longwear Matte Foundation because it comes in 40 shades; the liquid is easy to blend; and itsets for the full day (or night).  I like to apply the foundation with a  Beautyblender, making sure to dab an extra bit on discoloured spots.
The eyelids should be matte.  My favourite matte eye base is Laura Mercier Eye Basics which comes in South Asian-friendly shades like Wheat and Buff.  I dab a bit on each lid and use my ring finger to spread it all over, being careful to never tug the delicate eye area.
The eyeliner should also be matte to create a gravitas-foil against the shimmer of silver.  I recommend using an inky black liquid liner such as Stila Stay All Day® Waterproof Liquid Eye Liner in Intense Black.  I like to draw a cat  eye which creates the illusion of thicker lashes and a lifted eye shape, which is perfect for the twinkles to come.
The final  area where a matte finish is necessary are the lips.  The delicate nature oif silver and platinum shades demand a statement red lip, to act as a naughty foil to these cool metallic shades.  The red should undiluted and unapologetic.  If your skin tone is light-to-medium, a fantastic shade is Laura Mercier Velour Lip Color in Mon Cheri, and if  your skin tone is dark, an excellent option is Stellar Beauty Opus Liquid Lip in Mythic Moon 08.
Platinum Moments to becoming a Silver Belle
The approach to applying silver and platinum make-up can be summed as: a light hand.  The coolness of silver and platinum means that adjectives such as a "wash of' or a "hint of" will work beautifully on warm skin tones.
For the eyes, I recommend dabbing snow silver twinkles such as Stila Heaven's Dew All Over Glimmer on the mobile part of the eye lid.  It imparts a touch a silver dust which stays in place and add a twinkly, silvery touch to the eyes without veering into hyper metallic territory.
If your skin tone is deeper, an excellent alternative is Stila Shimmer & Glow Liquid Eye Shadow in Kitten.  This champagne-tinged product is warmer than Heaven's dew but its impact icy and sparkly on darker skin tones.
The cheeks are a delicate question because if you over apply silver tones you risk becoming a silver bell.  In this area, I first recommend using a deeper blush shade to work with the red lip.  I love the Charlotte Tilbury Pretty Fresh Pretty Youth Glow Filter because it comes with two pans, one for the highlighter and the other for the brush.  The tapered blush called the Cheek Hug is indented in the middle so that the product is truly deposited on the cheeks in a professional manner.  Moreover, given that there are two shades, you can adjust the shade to your own skin tone thus creating your bespoke shade.
The second step for the cheeks is to dab the highest parts with a  hint of silver.  The Fenty Match Stix in Star Struck creates a holographic, platinum touch on the cheeks.  I like to dab on the tops of the cheeks going all the way to under the eyebrows.  By linking the two areas together at the temples you bring extra light to the area.  The trick is to swipe once on the cheeks, and no more, otherwise you go into silver bell territory.
The final swipe of silver is on the lips.  Matte red lips are beautiful but a dab of Charlotte Tilbury Luxe Colour Lasting Lip Lacquer in Ibiza Nights at the centre makes the lips beautiful and juicy.  This champagne-toned, sparkly gloss, shimmers like cool metal and adds dimension and playfulness to the pout.  It works on all South Asian skin tones.
 SILVER THOUGHTS
Skin tone should never be a barrier to trying a cool-toned makeup.  The key is to create contrasting texture and to us e a light hand when applying shades that are counter intuitive.  The delicate balancing act results in your embracing your inner silver belle! So go ahead and be that sitaara in the night sky!
Main Image Photo Credit: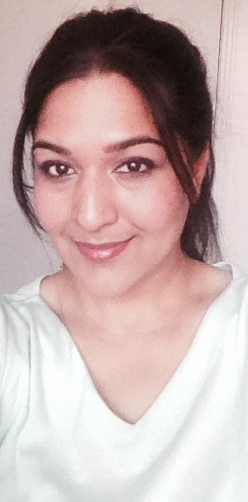 Author
Meena (@meenalaregina) always loved the idea of exploring the non-conventional idea of beauty. Having grown up as a pimply chubby teenager, she wanted to see the change in the world that best reflected your uniqueness as well. Her well-received collection of blogs where she tries on various beauty p...