Beauty /
Stop Being A Beauty Martyr And Give Some Self-Love Now With These Key Must-Have Goodies!
Stop Being A Beauty Martyr And Give Some Self-Love Now With These Key Must-Have Goodies!
Beauty Jan 01, 2019
The holiday season need not be fraught with stress if we give ourselves some focused attention through various activities. Culturally speaking we tend look after everyone and forget about ourselves in the process. Typical martyr material. Some alone time, meditation and exercise are excellent ways to really practice some self-love. But what about our skincare routine? Check out how to get give some self-love now with these key must-have goodies! 
My main work-out is hot yoga. After each session I feel refreshed and I  smell of sweat. It's  satisfying to know that I exerted my body for at least 60 minutes and …  let's face it, a little bit of lost water weight goes a long way in the ego department, especially when dealing with cheese platters and pastries during the holiday season.
Over the past several years, I have discovered four tips for my post work-out routine that keep my body feeling tight and my skin supple, well beyond the 60 minutes. The result is that mentally I feel confident and  when I need to slide into my fitted "going out" pants, there is no fear, just pride.
STEP #1: HAIR LOVE
My first step is to use a cleansing conditioner such as Kérastase Cleansing Conditioner Curl Idéal on my wavy hair.
This product is designed to gently lift away sweat and grime without the intensity of a shampoo and conditioner routine.  I like this  because I pump about four dollops in my hands and then massage them into my scalp by circular motions with my fingertips. The massage releases any remaining tension in my head and the soft rose scent  gently wafts through the shower stall, leaving me relaxed. I then rinse my hair until the water runs cleans and my hair feels soothed and soft.  In addition to its innately relaxing impact, I love that I need one bottle of product to clean and condition my hair!
STEP 2: BODY LOVE 
Now it's time to use a shower gel with a refreshing or relaxing scent. For example, if I am heading out to cocktails after my session, I want to feel energized and gravitate towards citrus scents such as the Fresh Lemon Hesperides Grapefruit Bath & Shower Gel.
As the name suggests, the tart and bracing scent of the grapefruit is front and centre which means that as I lather up in the shower, I make a particular effort to inhale the scent. Smell impacts our mood, and the grapefruit scent is renowned for its energetic quality.  I also deeply appreciate that this shower gel contains hydrating shea butter; and vitamins C and E, which all nourish the skin.
Then there are times when I'm  going for a relaxing night out where the focus is being as cozy as toast. In this situation, a gourmand scent (think vanilla, chocolate, sweet desserts) is just perfectionl. A great example of a warm, gourmand shower gel that leaves you relaxed is Laura Mercier Body & Bath Ambre Vanillé Crème Body Wash.  The texture is creamy and suds up into big bubbles which adds a joyful element to the shower routine.  I enjoy inhaling the scent and I feel calmer after a few deep breaths.
STEP #3: SOME MORE BODY LOVE 
Hydrating the body  is a great way to show your skin—your largest organ—much-deserved respect. After a tough work-out, the muscles needs TLC, and one way to ensure circulation is to apply product using long strokes up and down the torso and the limbs. Conversely for the buttocks and breasts, I only stroke in an upward direction, to encourage lift. I apply the product to the palms of my hands, rub them together, slightly curve them so that they can engage with the curves and contours of my body, and then apply the product using firm strokes.
As fall gives way to winter selecting the correct product is tricky, and this is why I do not focus on scent, as much as I do function and texture. A few weeks ago, I was using my fall body lotion and I noticed that my skin was parched at the end of the day. Furthermore, my legs became so itchy that I scratched them until I bled.  I quickly realised that I needed to switch my body moisturizer to a richer formulation that nourishes the skin, until it adjusts to the colder temperature.  I am thrilled to report that Lano-allover Everywhere Multi-Cream, is multiple-great.
This paraben and petroleum-free cream is based on lanolin which hydrates the sheep's wool and mimics human skin lipids.  My  skin responded amazingly well and it started to feel "normal" after only one week of daily usage. The product is a true comfort, and since it is scent-free, it means you can add scent afterwards without risk of overload.
My skin is now fully-adjusted to the winter weather, and even though my muscles are strengthened by exercise, I like to reinforce my overall elasticity with the Fresh Black Tea Age-Delay Body Cream.
This gently-scented, thick lotion which hints at the power of black tea infuses the skin with black tea ferment and extracts of black tea  blackberry leaf, lychee seeds. Nopal flower; and mango seed butter.   The power cocktail not only leaves my skin supple from head-to-toe, it also looks lifted and I feel confident!
STEP #4: NOSE LOVE
The fourth and final step is to add a touch of scent. Scent is an invisible accessory and should be applied strategically so that you benefit from its aromatic quality without giving others a headache. Given that the holiday season is chockfull of people who are simply drenched in scent and then congregating in party venues with poor air circulation, Here's my tip: Spritz a bit of scent and then walk into the mist, making sure to lift up your wrist to shoulder-level, so that it is lightly scented.
The experience is somewhat magical, as you feel it the molecules land on your skin. The advantages of the mist application technique are that both the body and hair capture the molecules and there is no over-concentration of scent on any singular body part. Not only have you taken a moment to stretch out the positive vibes of your work-out, you have also avoided nullifying someone else's moment  by imposing a cloud of fragrance.
As with shower gel, the type of fragrance you use depends on your mood and the event. If you're in need of something energizing because you are attending a holiday cocktail, I recommend Belle de Jour from Christian Dior. This pear-based scented which morphs into a soft rose, is playful and flirtatious, like a twinkling star.  It truly harnesses the positive energy of a work-out and carries you through the evening.
If you will follow your work-out with a relaxing night out, an excellent gourmand option is Un Bois Vanille by Serge Lutens.
This fragrance contains some classic desi notes such as coconut milk and sandalwood, in addition to licorice and black vanilla. Each time I walk into its mist, I am reminded of when my mother makes mitthai and when I leave the mist, I am just happy and cosy.  Scent and taste are closely linked senses and sometimes just smelling a dessert-like scent is enough to stave off a craving for a real life one, which makes it even easier to strut in my fitted "going out" pants!
Start Focusing On Yourself 
These  tips are easy  and within a week you will start to appreciate how the positive aspects of exercise extend well into your holiday events.  The underlying element is to harmonize your products with your events and goals, which means just because you are going out does not mean you must wear a fancy fragrance —wear the one that works with your body and mind on that day!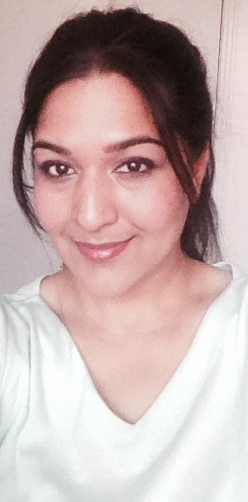 Author
Meena (@meenalaregina) always loved the idea of exploring the non-conventional idea of beauty. Having grown up as a pimply chubby teenager, she wanted to see the change in the world that best reflected your uniqueness as well. Her well-received collection of blogs where she tries on various beauty p...